Gun retailers report a run on firearms ahead of new California restrictions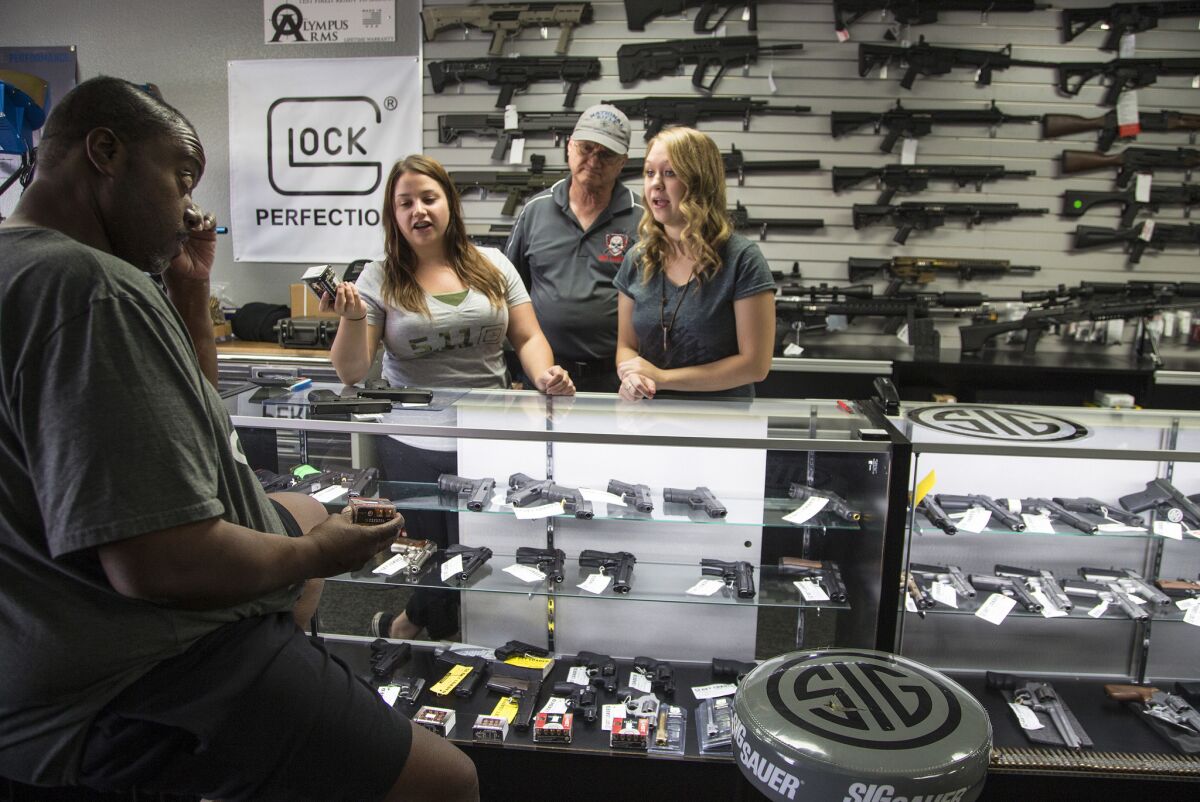 Reporting from Sacramento —
Gov. Jerry Brown's approval of sweeping gun control legislation in July has triggered a run on firearms in California, with some stores reporting sales have doubled since then.
Starting Jan. 1, the general public in California can no longer buy a semiautomatic rifle equipped with bullet-buttons that allow for the quick removal and replacement of ammunition magazines, under a new law signed by the governor.
Guns purchased before Jan. 1 can be kept as long as the owner registers them with the state as assault weapons.
As a result, sales of the long guns have at least doubled at many California gun stores, owners report.
"When Gov. Brown signed that bill, the first 30 days in July were just insane," said Joshua Deaser, the owner of Just Guns, a store in Sacramento. "It died down for a while but now we are back with everyone trying to get what they can before the end of the year."
Terry McGuire, owner of the Get Loaded gun store in the city of Grand Terrace in San Bernardino County, said people are clamoring to buy semiautomatic rifles before midmonth, given that the state background check process takes about 10 days.
"We have people lined up out the door and around the block," McGuire said.
State officials confirm there has been a surge in gun sales.
The number of semiautomatic rifles registered this year with the state has more than doubled over last year, according to the state Department of Justice.
In the less than six months since the July 1 signing of the rifle ban, 257,895 semiautomatic rifles have been purchased, eclipsing the 153,931 rifle purchases reported to the state in all of 2015, the state agency said.
Purchases of all firearms, including handguns, have jumped 40% over last year, to nearly 1 million this year, according to the state agency.
"We expected this," said Sam Paredes, executive director of Gun Owners of California. "Any time the government comes up with a ban on guns, the public rushes to buy them to make sure they have at least one."
The state Legislature approved a raft of new gun control measures this year in response to mass shootings from Newtown, Conn., to Tucson, Ariz.
The new law was also in response to a terrorist shooting in San Bernardino last year in which weapons including AR-15 rifles were used to kill 14 people attending a holiday party at the Inland Regional Center.
Assemblyman Phil Ting (D-San Francisco), a coauthor of the bill, said military-style weapons "enable shooters to take the most lives in the least amount of time" and there is no place for them on California's streets.
"All of us should be able to go to work and send our kids to school free from the fear of becoming a mass shooting victim," Ting said. "The bullet button loophole undermined California's assault weapons ban and the shocking loss of life in San Bernardino last year revealed the subsequent threat to public safety."
Assemblyman Marc Levine (D-San Rafael), another coauthor of the bill, said the new law is important.
"We raise our children in communities, not war zones," he said.
Levine downplayed the increase in gun sales currently being experienced by California stores.
"Gun sales have trended up for a while now," he said. "Anxiety and strife are being sowed throughout American society. The Legislature acted to limit bloodshed in our communities."
Paredes said he expects a lawsuit challenging the new law, but said he understands why people are stockpiling the weapons in the meantime.
In addition to the rifle ban, gun owners are anxious about a law by Senate leader Kevin de León (D-Los Angeles) that will require ammunition purchasers to undergo background checks in 2019, and the recently approved initiative by Lt. Gov. Gavin Newsom that included gun control measures such as a ban on possessing magazines that can hold more than 10 rounds.
"It's like Gavin Newsom, Kevin de León and Jerry Brown are the biggest marketing and sales guys for AR-15 and AK-47-style rifles in the state of California," Paredes said. "Because of their actions, people are buying them any way they can."
Brown, Newsom and De León did not respond to requests for comment on the run on guns. An aide to Brown referred to his signing message on the gun control bills that said he was approving them "to enhance public safety."
Customers who are buying the guns are as upset as store owners, according to Pete Brown, the retail sales manager at American Gun Works in Glendale, where he said sales are "way up."
"People are angry," Brown said. "They are angry with the Legislature because [the law] doesn't address crime. Nothing in the law addresses criminals. It's another way of cutting back on what's available to law abiding citizens, and that's why they are angry."
Alex Lopez, the owner of Western Firearms in Bell, confirmed that gun buyers don't like the direction the new laws are taking the state.
"They can't figure out how this is going to affect criminals from getting access to firearms," Lopez said.
To read the article in Spanish, click here
Follow @mcgreevy99 on Twitter
ALSO
NRA not putting up much of a fight against California gun control ballot measure
Olympic medalist featured in new ads against gun-control initiative Proposition 63
California, other states not doing enough to take guns from felons, new study finds
---
Life is stressful. Our weekly mental wellness newsletter can help.
You may occasionally receive promotional content from the Los Angeles Times.