Stem cell scientist to become the latest Democrat trying to topple Dana Rohrabacher in O.C. House race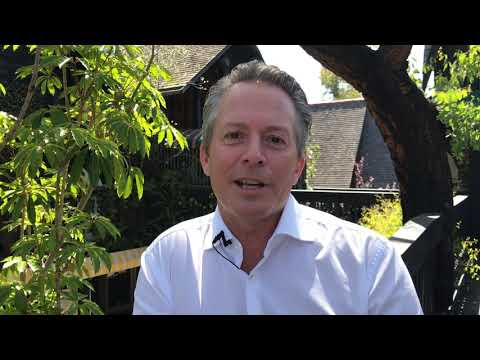 Former UC Irvine professor Hans Keirstead is announcing that he will run for the 48th Congressional District seat currently occupied by Dana Rohrabacher.
An internationally known stem cell scientist and entrepreneur will join the ranks of candidates trying to unseat Republican incumbents in contested House races next year when he announces Thursday his challenge of 18-term Rep. Dana Rohrabacher.
Hans Keirstead, a 50-year-old Democrat from Laguna Beach, said Wednesday that he will run in the 48th Congressional District, one of more than half a dozen in California that have been targeted by Democrats seeking to harness sentiment against President Trump in their fight for a House majority.
Keirstead's candidacy has been sought by some national Democratic figures, who see his science and business background as a good fit for the district. It runs along the Orange County coastline from Laguna Beach to Seal Beach, and includes some nearby inland cities.
Republicans represent a plurality of the district with more than 40% of its registration, to about 30% for Democrats. A quarter of voters are registered as nonpartisan. The Huntington Beach-based Rohrabacher, who is 69, has served in the House since 1988.
Part of the reason for the Democratic drought in the 48th and other districts now seen as competitive has been the party's candidates; Rohrabacher last faced a serious challenge in 2008, when he won by 10 percentage points. In November, he won by more than 16 points. Hillary Clinton won the district by almost 2 points en route to becoming the first Democratic presidential nominee to win Orange County since 1936.
Several other candidates already have announced their intention to run against the veteran House member.
Follow California politics by signing up for our email newsletter »
Nationally and in California, Democrats say they have been swamped by candidates interested in running for office to oppose Trump and Republican majorities in the House and Senate. Keirstead said that is one of his motivations.
"I've come to realize more acutely than ever before the deficits in Congress and how my profile can actually benefit Congress," he said. "I'd like to do what I'm doing but on a larger stage — and I think Congress provides that, provides a forum for doing the greater good."
Keirstead was a pioneer in stem cell research, first in his native Canada and, since 2000, in Southern California. He helped lead UC Irvine's stem cell research program and, in his only political endeavor, served as an advisor to a successful 2004 state measure, Proposition 71, that sought to steer $3 billion into medical research.
He also has started and sold several medical research companies that have invented therapies for ovarian, skin and brain cancer, as well as spinal cord injuries, rheumatoid arthritis and ulcerative colitis.
Keirstead has made millions of dollars off of his business endeavors but said he will not use his own money for his campaign.
Although his background gives him a network of allies to help raise money, Keirstead is likely to face criticism for leaping into politics mid-ladder, without the relationship-building that usually precedes a first run.
He became a citizen in 2008, he said. County voting records show he cast ballots in general elections that year and in 2010, 2012 and 2016. The records indicate that he did not cast any ballots in the 2014 midterm elections, and he has not voted in primary elections.
Asked about the missing votes, Keirstead said he had "other commitments and responsibilities" but stressed that the result of last fall's elections show "how important it is to participate in our democracy."
Campaign finance records show he has not donated to federal or state candidates.
In an interview, Keirstead suggested he is still studying policy positions. He said that he would prefer to improve the Obamacare insurance program rather than adopt a universal healthcare plan favored by some liberal Democrats.
"I think Obamacare put in place a very large system that is fantastic in some measures and very flawed in others," he said. "There's a lot we can do with the existing system rather than cripple it first as the Trump administration is doing in order to justify a replacement."
On trade, another issue that has divided Democrats, he declined to take a position on the North American Free Trade Agreement, which Trump and some Democrats favor dumping. He also would not say whether he favored Clinton or Sen. Bernie Sanders last year.
"I just don't really like the labels," he said. "I'm trying to run as authentic Hans.… I am personally tired of partisan politics where the labels are driving the decision making. I think we should be more results driven."
But he was happy to criticize Rohrabacher for his advocacy of friendlier relations with Russia and for voting for the House Republican healthcare plan. And he also defended, with a laugh, his unorthodox path to politics.
"I can tell you without a doubt my cancer treatment, my spinal cord injury treatment, would never have been invented had I followed a step-by-step straight path in academia and business, for sure," he said. "Doing things differently has been responsible for my success. And it's actually encouraged me to take on bigger initiatives like running for Congress."
Twitter: @cathleendecker
ALSO:
Vulnerable House Republicans fear political consequences after healthcare vote
Democrats moving staff to Orange County in effort to flip House seats
Get our Essential Politics newsletter
The latest news, analysis and insights from our politics team.
You may occasionally receive promotional content from the Los Angeles Times.