California lawmaker makes aggressive push against local development restrictions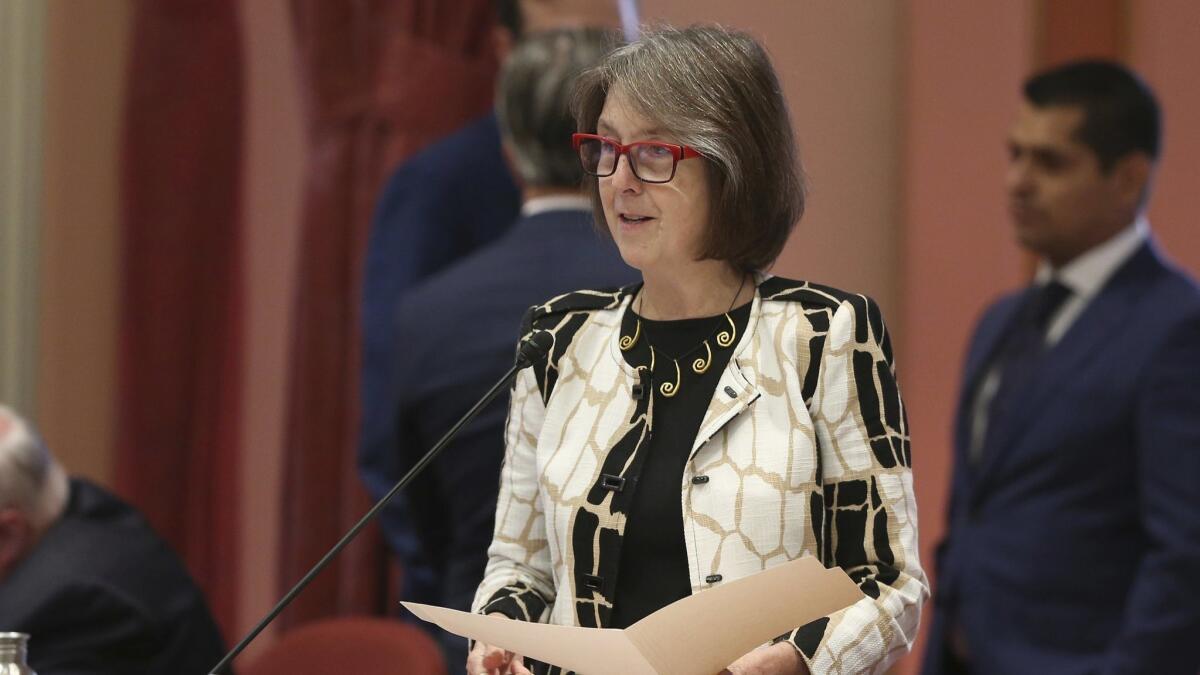 Reporting from Sacramento —
Citing the increasing cost of housing across California, a Bay Area lawmaker wants to sweep away a host of local restrictions on development in an effort to spur new homebuilding.
Sen. Nancy Skinner (D-Berkeley) has introduced new legislation that would block high-cost regions from imposing new prohibitions on housing construction or decreasing the number of homes allowed on certain pieces of land. It would also prohibit local governments in those areas from enforcing requirements that developers install parking spots alongside buildings among a number of other proposals.
Skinner likened the state's housing affordability challenges to those residents face after an earthquake or wildfire and said local governments should react accordingly. The provisions in her legislation, Senate Bill 330, would be in effect for a decade.
"We're in a crisis of supply and we're in a crisis of affordability," Skinner said.
After Huntington Beach lawsuit, Newsom warns cities he'll continue housing law crackdown »
Her plan is among the most aggressive proposed by state lawmakers in dismantling city and county restrictions on development, which legislators have identified as a major contributor to housing cost increases. Sen. Scott Wiener (D-San Francisco) has introduced a bill that would force local governments to allow four-to-five story apartments and condominiums near transit stops statewide.
Gov. Gavin Newsom has taken similarly strong steps against cities and counties, which control decisions over what is built in their communities. Newsom has threatened to take away transportation funding from cities that don't approve housing, sued Huntington Beach over allegedly failing to follow state laws requiring cities to zone for housing and warned that he'll continue to crack down on dozens of other local governments.
Today, an average California home costs two and a half times the national average and monthly rents are about 50% higher than the rest of the country, according to a new report by the state's nonpartisan Legislative Analyst's Office.
"While many factors have a role in driving California's high housing costs, the most important is the significant shortage of housing, particularly within coastal communities," the report said.
Skinner has yet to say which communities her bill would affect, but she expects it would apply to wide swaths of Los Angeles, San Francisco, Silicon Valley and other areas where housing costs have ballooned. The legislation also would set deadlines for cities and counties to decide on housing developments that they have the discretion to approve.
For low-income housing, Skinner's bill goes further by eliminating local fees on development. Skinner's plan also prohibits the demolition of rent controlled apartments and those that offer Section 8 assistance in an effort to prevent displacement from new construction.
The changes proposed by Skinner's legislation are significant, and would prompt big shifts across California. For example, government mandates for new parking exist in nearly every city and county in the state. Skinner said developers could still build parking if they wanted to, but the state could no longer afford to allow those rules given the threat that high housing costs pose to economic growth, livability for teachers and other middle-class workers and rising homelessness.
"It's like an epidemic," Skinner said. "We're facing something of statewide importance."
Skinner's bill is almost certain to be opposed by local governments and other groups that prioritize neighborhood control over development. A representative with the League of California Cities said the organization was reviewing Skinner's plan and wanted to meet with her before commenting.
Get our Essential Politics newsletter
The latest news, analysis and insights from our politics team.
You may occasionally receive promotional content from the Los Angeles Times.