California's housing supply law fails to spur enough construction, study says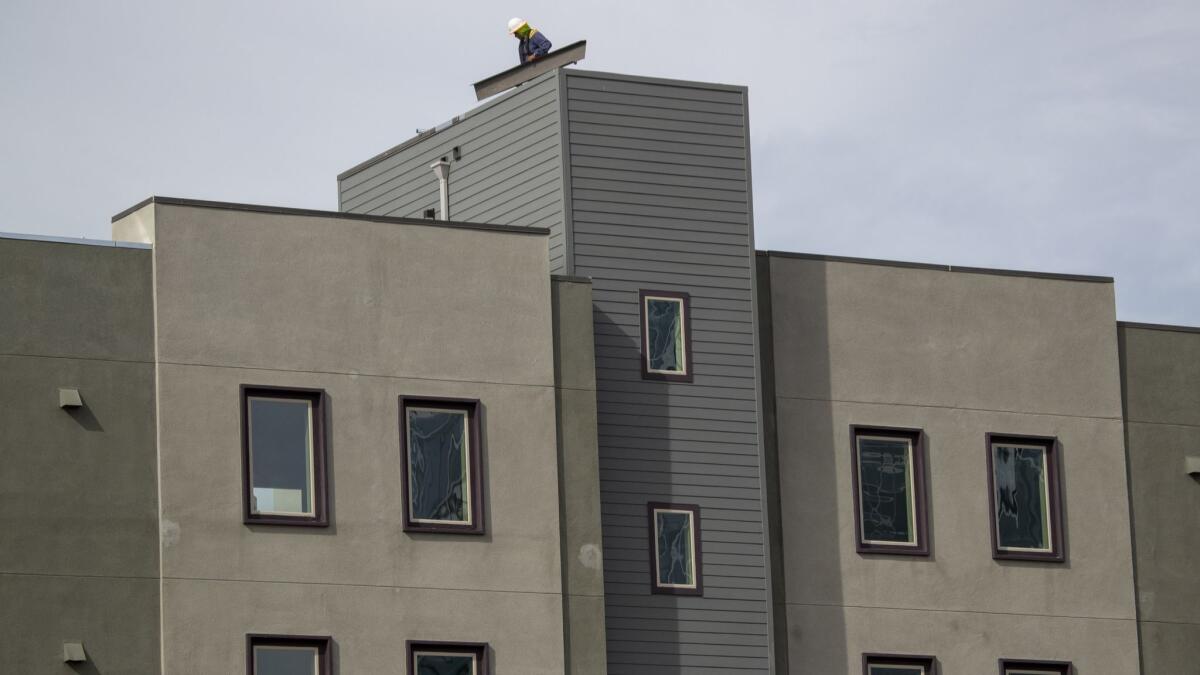 Reporting from Sacramento —
California's housing supply law has failed in its goal of spurring enough new home building to meet demand, especially for low-income residents, according to a new report from public policy think tank Next 10.
The law, which requires cities and counties to plan for development, is the state's primary policy for encouraging growth. But the report concludes that the law fails to ensure enough land is set aside for new homes statewide, doesn't force cities with booming employment to accept sufficient home building to accommodate population increases and doesn't facilitate construction.
For example, under the law local governments must zone enough land for low-income housing to meet projected demand over an eight-year period. But actual progress on building low-income homes is far behind.
"In some cases, jurisdictions won't be meeting their goals for many, many years," said Noel Perry, a venture capitalist and Next 10's founder. "Like, millennia."
The report found that it would take until after the year 3000 for Santa Clara, Irvine, Burbank and many others to achieve their low-income housing targets, assuming current production rates.
California lawmakers have tried for 50 years to fix the state's housing crisis. Here's why they've failed »
The study's conclusions mirror those in a 2017 Times investigation of the housing supply law, which is known formally as the "housing element." The Times found that the 50-year-old law requires cities and counties to produce lengthy reports to plan for housing, but it doesn't hold them accountable for any resulting home building.
Though cities and counties don't actually build housing and can experience difficulty in encouraging low-income housing due to a lack of public funding, academic research says that local government restrictions, such as requirements for developers to install parking spots with their homes limits on building heights, make construction more difficult.
Any changes to the law should simplify the process for how housing goals are assigned, said Adam Fowler, director of research at Beacon Economics, the firm that authored the report. The state currently projects population growth, which is converted into a number of new homes estimated to meet that growth and those figures are given to to individual cities and counties via one of 19 regional agencies.
Fowler said the system should instead base its calculations on housing production rates per capita in similar states or other metrics that are more easily understood by the general public.
"It would be great if this process weren't a Rube Goldberg-contraption or an M.C. Escher painting where the stairs lead to other stairs," Fowler said.
State lawmakers have recently tried to strengthen the housing supply law by forcing cities behind on their goals to approve certain projects and redefining how the goals are developed to take into account overcrowding and other signs of tight housing markets.
Gov. Gavin Newsom also has pledged to redo the system so that it better aligns with his pledge of 3.5 million new homes to be built in the state by 2025.
Get our Essential Politics newsletter
The latest news, analysis and insights from our politics team.
You may occasionally receive promotional content from the Los Angeles Times.