California Assemblyman Joaquin Arambula charged with child cruelty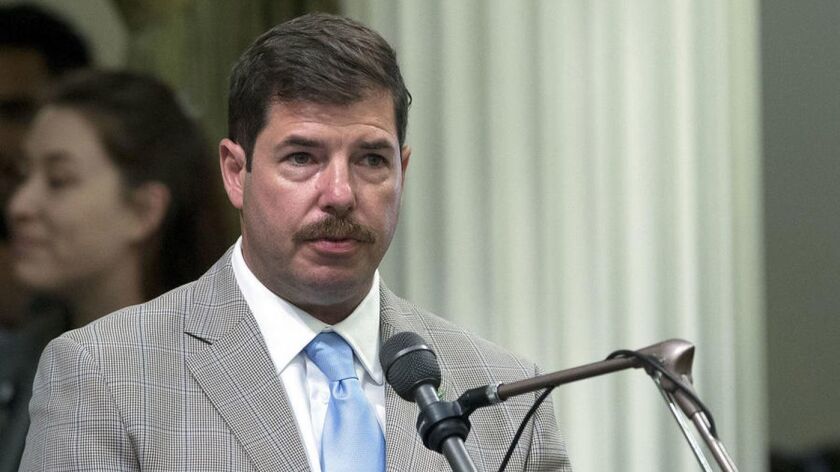 Reporting from Sacramento —
The Fresno County district attorney charged California Assemblyman Joaquin Arambula (D-Fresno) on Tuesday with one misdemeanor count of cruelty to a child, three months after the state legislator was arrested on suspicion of injuring one of his daughters.
Arambula said he will take a voluntary leave of absence from the Assembly, according to a statement released by his attorney.
"My wife and I are shocked that the district attorney has decided to file charges," he said. "The allegation that I may have harmed one of my daughters is false and unthinkable."
Fresno police arrested Arambula, 41, on Dec. 10 at his daughter's elementary school. At the time, Fresno Police Chief Jerry Dyer said Child Protective Services was summoned to Dailey Elementary Charter School after a student, who Arambula later identified as his 7-year-old daughter, walked into the administrative office on campus with an injury that occurred the night before.
The child said Arambula was responsible for the injury and police called the assemblyman and his wife to the school, where he was taken into custody, Dyer said.
Arambula, a medical doctor, offered his own explanation of events days after his arrest, saying he spanked his daughter on her bottom with his hand as a punishment for acting out. He said he did not see any injuries on her and did not know why the school notified CPS the next day.
Arambula said his daughter was upset by what he considered appropriate discipline at the time and a "tool of last resort" for him as a parent. The legislator said he spanks his children no more than once a year.
"My daughter was pretty upset, to be fair, and angry," Arambula said in an interview with The Times on Dec. 12. "The next day she woke up still angry and went to school angry."
Arambula said his three daughters were placed in the custody of his parents after his arrest and allowed to return home two days later. In December, he downplayed the potential for the situation to negatively affect his political career and said his constituents "trust and believe that I am a great father."
Spanking a child is generally legal under California law, unless the act is considered excessive or unjustified.
The Fresno County district attorney's office said in a release that it filed one misdemeanor count of cruelty to a child against Arambula, alleging that he inflicted unjustifiable physical pain or mental suffering. If convicted, Arambula could face up to six months in jail.
"While politics may have influenced the decision to file, we are confident that our judicial system will find this allegation to be false," Arambula said in a statement.
The assemblyman did not provide further details and his attorney, Margarita Martinez-Baly, did not immediately respond to a request for comment on why Arambula believes politics might have influenced his case.
Assembly Speaker Anthony Rendon (D-Lakewood) said in a statement that Arambula's leave of absence will be unpaid. He appointed Assemblywoman Eloise Reyes (D-Grand Terrace) to head Arambula's budget subcommittee on health and human services while he's gone.
"For those of us who know and respect Assembly Member Arambula, we know this has been a difficult experience for him and his family," Rendon said. "Due to the seriousness of the allegation and the need for due process, I respect his decision to take an unpaid leave from the Assembly while he addresses this charge."
Arambula, the son of a politician, won a special election in 2016 to fill a seat left vacant by former Assemblyman Henry Perea in the 31st Assembly District. His father, Juan Arambula, served in the Assembly and on the Fresno County Board of Supervisors.
More stories from Taryn Luna »
Follow @tarynluna on Twitter.
---
Get our Essential Politics newsletter
The latest news, analysis and insights from our politics teams from Sacramento to D.C.
You may occasionally receive promotional content from the Los Angeles Times.