Former candidate for state attorney general censured by state judicial panel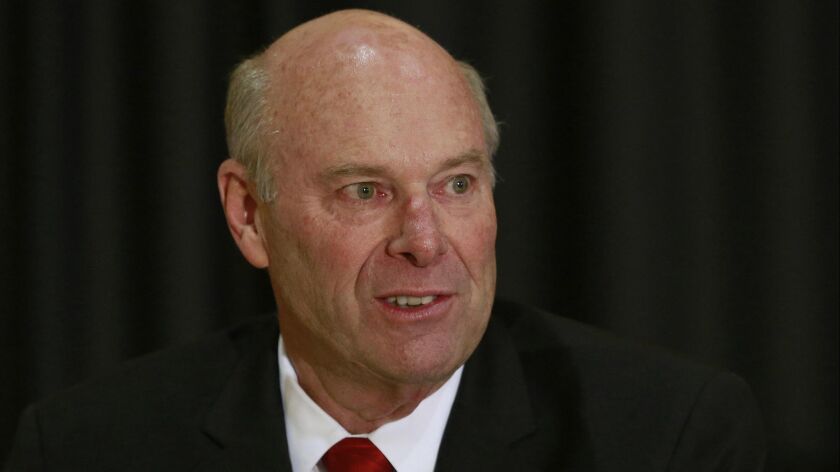 Reporting from Sacramento —
A state panel censured retired Republican Judge Steven Bailey for misconduct on Wednesday, citing the use of his judicial title and prestige of office to raise funds for and promote his unsuccessful campaign for California attorney general last year.
The decision by the California Commission on Judicial Performance bars the former El Dorado County Superior Court judge from seeking or holding judicial office, or accepting assignments and appointments from any California state court. It says the commission's review of the record and observation of Bailey reveals "a judge who plays by his own rules with little concern for whether his conduct comports with the rules applicable to all judges under the Code of Judicial Ethics."
Bailey issued a statement disputing the commission's findings, saying he followed advice from a judges' organization in regard to limits on activity when considering a run for office.
"This is and was a political hit by a Democrat-dominated commission designed to damage me politically — nothing more, nothing less," Bailey said. "I sought, received, and followed ethics advice from the California Judges Association that is now being second-guessed 10 years later."
Bailey lost the November election for state attorney general to Democratic incumbent Xavier Becerra, who received 61% of the vote.
The commission announced its investigation before the Nov. 6 election. It said in a statement that Bailey's conduct "in raising funds and campaigning for a partisan, nonjudicial office while working as a judge, explicitly referring to his judicial title, and relying on the prestige of judicial office, is fundamentally inconsistent with the independence, impartiality, and integrity of the judiciary."
Among its findings, the commission said Bailey attended political events at which he distributed campaign donation envelopes and cards that referred to him as a "sitting judge" and stated that his "judicial experience and his legal and legislative skills make him uniquely qualified to be California's Attorney General in 2018."
Bailey argued that any rule preventing a sitting judge from running for office violates the First Amendment.
"Judge Bailey alleges that he did not engage in misconduct because he was conducting an exploratory, rather than actual, campaign," the commission's report added.
The panel also found that, when referring defendants to an alcohol monitoring company, Bailey failed to disclose that his son worked on commission for the firm.
Twitter: @mcgreevy99
---
Get our Essential Politics newsletter
The latest news, analysis and insights from our politics teams from Sacramento to D.C.
You may occasionally receive promotional content from the Los Angeles Times.