These men want to be California's next governor and they are putting the spotlight on a little-known but powerful panel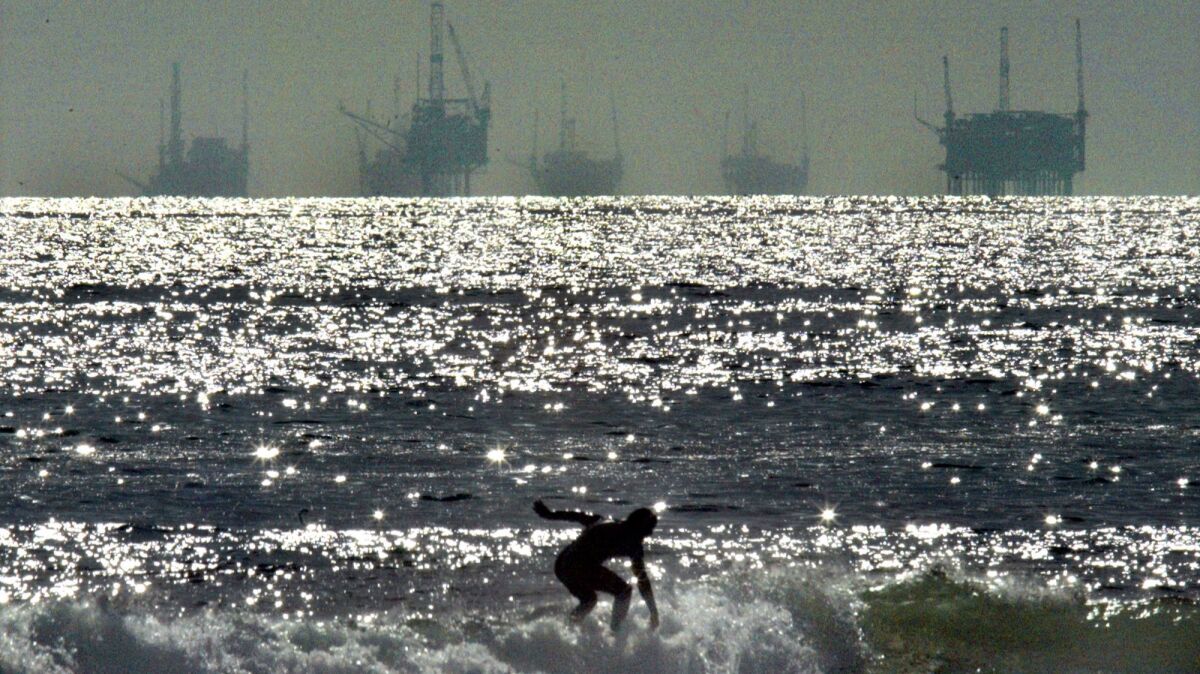 When John Chiang joined the State Lands Commission, it quickly became a platform to showcase his environmental record, starting with his 2007 vote to block construction of a shipping terminal for liquefied natural gas in Ventura County.
The commission has served the same purpose for Gavin Newsom, who often uses his seat on the panel to remind Californians that he opposes offshore oil drilling.
Now that both Chiang and Newsom are running for governor, they are drawing rare attention to the little-known but powerful State Lands Commission.
It oversees 4 million acres of land beneath California waters: the state's entire Pacific coast and its lakes, rivers and inlets, along with the harbors of San Diego, Long Beach, Los Angeles, Oakland and San Francisco.
Shipping, fishing, oil and gas wells, waterfront real estate development — it all falls under the State Lands Commission.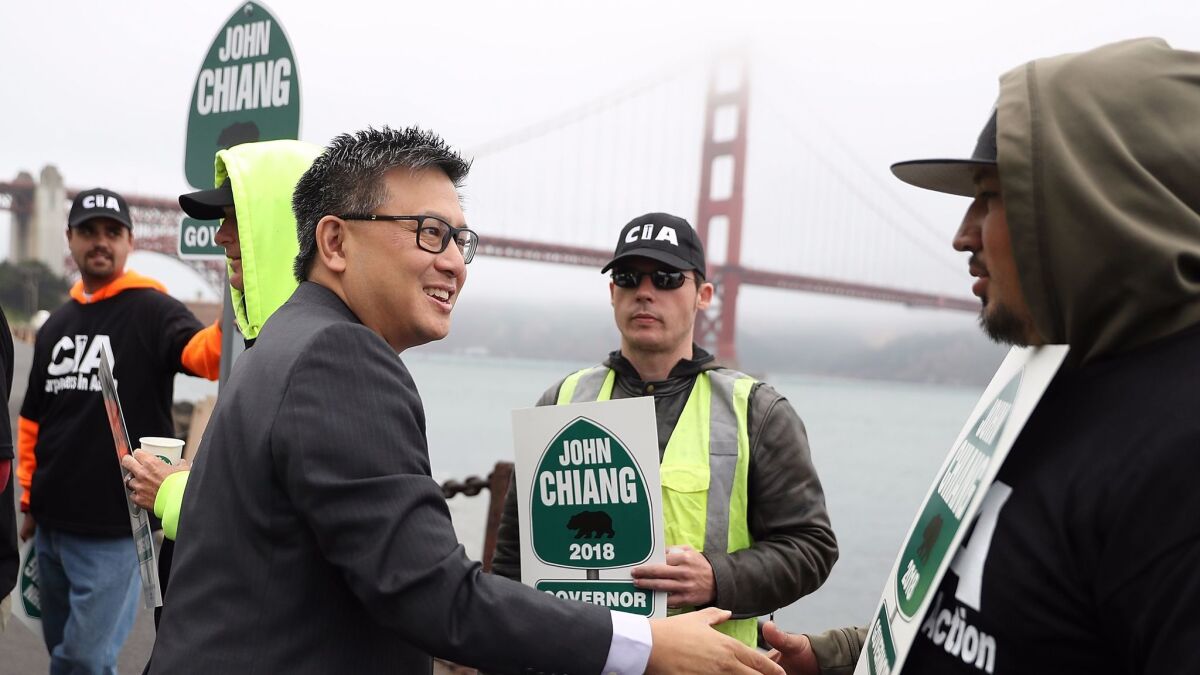 By law, the commission is composed of two elected officials — the state controller and lieutenant governor — and the state finance director.
What does the commission do?
It oversees the land beneath the public waterways that California acquired when it became a state in 1850, including the ocean, up to three miles from shore.
The commission manages these "sovereign lands" as a public trust for the benefit of all Californians. Fishing, boating, commerce, recreation and ecological preservation are the main legal uses.
In places where landfill has extended the shoreline since 1850, such as San Francisco's Embarcadero, the State Lands Commission maintains control over the added land.
Why was it created?
In the 1930s, state Finance Department officials were accused of taking bribes in return for coastal oil leases.
That and other irregularities led California lawmakers to create the State Lands Commission in 1938.
"The necessity of an independent commission that makes its decisions in public was made apparent by the behavior of these individuals," the commission says on its website.
Does it make its decisions in public now?
Not always. In a closed meeting in 2014, the commission voted to sue San Francisco to overturn a city ballot measure that restricted the height of waterfront buildings.
Once the suit was made public, the commissioners refused to say which of the three voted to authorize it, citing "attorney-client privilege."
"It's confidential information, because it was a vote taken in closed session," said Jennifer Lucchesi, the commission's executive officer.
The commissioners also do not disclose their private meetings with paid lobbyists who try to influence their votes.
On May 8, for instance, Newsom, the lieutenant governor, and Betty Yee, Chiang's successor as state controller, met separately with Barbara Boxer, who was representing Poseidon Water LLC, a water treatment company.
Boxer, a former U.S. senator, urged them to approve Poseidon's plan to build a seawater desalination plant in Huntington Beach, a project that some environmentalists oppose.
Newsom and Yee, who are likely to vote on the project at the State Lands Commission's Aug. 17 meeting, disclosed their conversations with Boxer only in response to questions from The Times. Neither has met privately with opponents of the plant.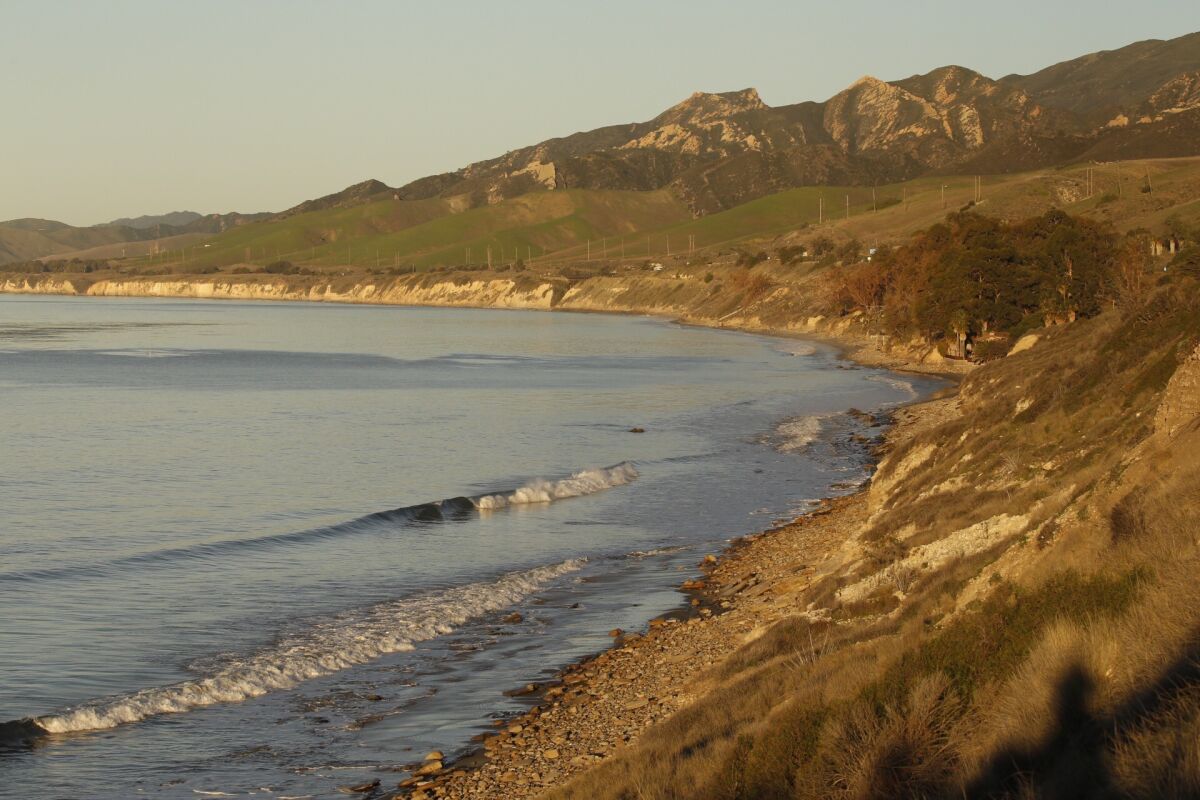 How does the State Lands Commission differ from the Coastal Commission?
Unlike the Coastal Commission, the State Lands Commission is in effect a giant landlord, issuing leases and contracts for use of its vast properties, from kayak piers on Lake Tahoe to oil tanker terminals in San Francisco Bay.
Its leases now generate about $100 million in state revenue each year, much of it from the leasing of oil and gas drilling rights. The State Lands Commission employs 202 people.
The two commissions do have overlapping regulatory powers — both will vote on the Huntington Beach desalination plant — but the Coastal Commission controls development on a much wider expanse of land, in some places stretching as far as five miles inland.
Are Chiang and Newsom the first to see political opportunity in the commission?
Not at all. Many lieutenant governors and state controllers aspire to higher office, and the State Lands Commission can spawn good publicity for the savvy ones.
Gray Davis, who served on the commission for 12 years before his 1998 election as governor, was among the most aggressive.
"Our message to the oil companies is very simple: We aren't going away," he declared in 1991, when four companies agreed to pay $220 million to settle a suit that accused them of conspiring to fix the price of oil pumped in Long Beach.
As California has turned increasingly Democratic in recent decades, the State Lands Commission has become a prime vehicle for candidates to take on Big Oil.
"Offshore drilling in California is a no-no, and to be in a position of opposing it is a big deal," said U.S. Rep. John Garamendi (D-Walnut Grove), a former lieutenant governor. In 2010, Garamendi joined Chiang in blocking then-Gov. Arnold Schwarzenegger from allowing new oil wells off the coast of Santa Barbara.
Newsom faces backlash over San Francisco waterfront »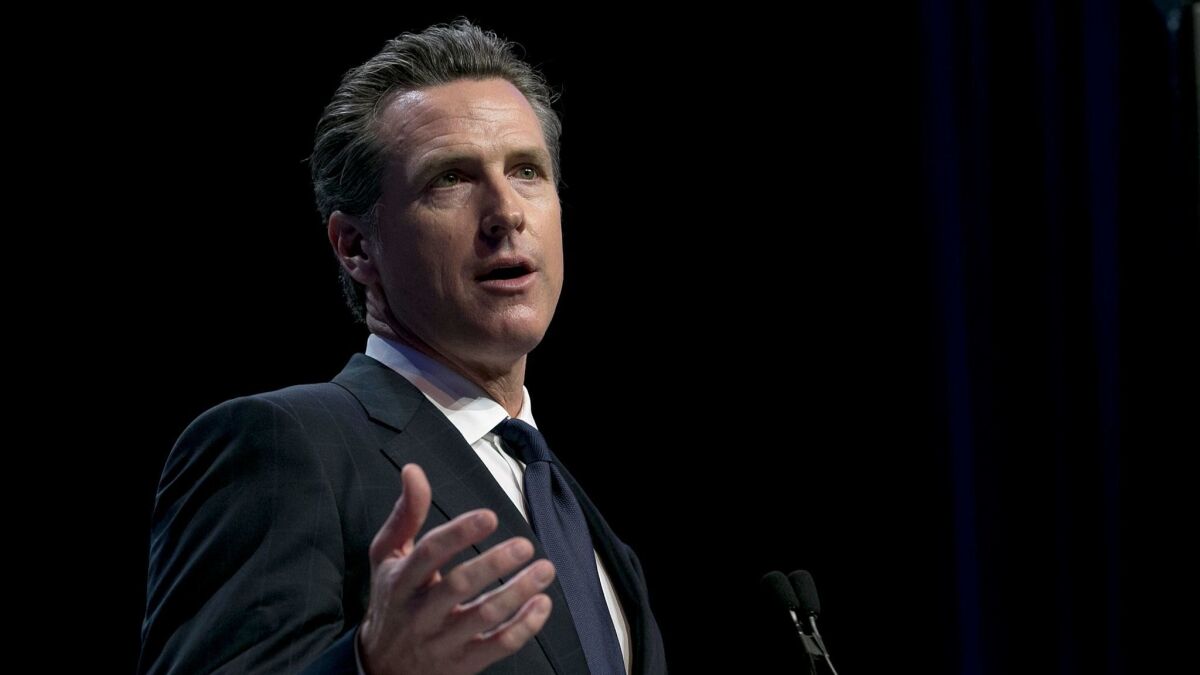 Most recently, Newsom vowed to use his chairmanship of the commission to block President Trump from expanding oil and gas drilling in federal waters beyond the state's three-mile boundary.
"California's door is closed to President Trump's Pacific oil and gas drilling," Newsom said.
So is it always a source of good PR for the commissioners?
No. The commission's lawsuit against San Francisco has drawn fierce criticism of Newsom from the Sierra Club and Art Agnos, one of his predecessors as the city's mayor.
The suit seeks to nullify Proposition B, passed with the support of 59% of San Francisco voters in 2014. It requires voter approval for any waterfront project that exceeds the city's height limit.
The State Lands Commission says state law prohibits voters from having a direct say on the use of public waterfront, putting Newsom in the awkward spot of trying to thwart the will of the people of the city he once governed.
The lawsuit is the first item up for discussion in the closed portion of the commission's public meeting Thursday in Los Angeles. A final court ruling in the case could come as soon as next week.
ALSO
Billionaire Tom Steyer at a crossroad: Run for California governor or go after Trump?
The race to become California's next governor is already awash in cash
---
Life is stressful. Our weekly mental wellness newsletter can help.
You may occasionally receive promotional content from the Los Angeles Times.