The Times asked the California Legislature about sexual harassment. Here's what we learned — and what we still don't know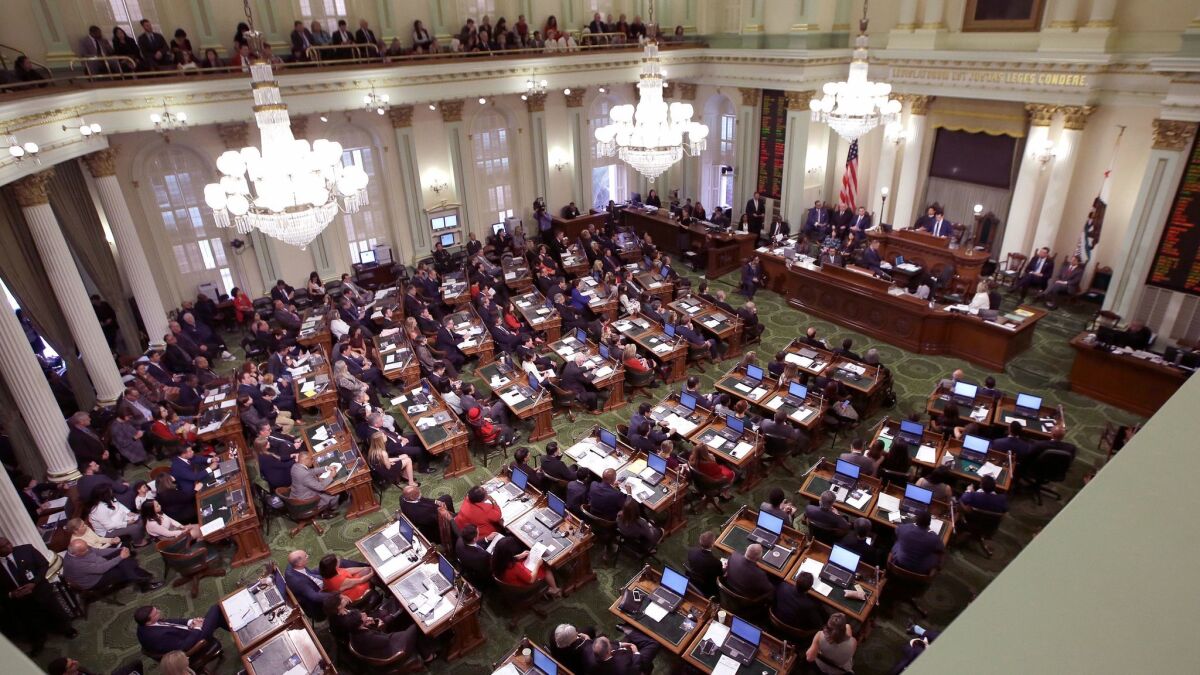 In the wake of accusations that there is a "pervasive" culture of sexual harassment in and around the state Capitol, the Los Angeles Times asked both houses of the California Legislature for information regarding abuse and harassment complaints from 2006 to the present.
On Nov. 9, state Senate and Assembly officials responded with a "summary" document. Here's a detailed look at what The Times asked for in records requests made on Oct. 17 and 24, and the responses from Senate Secretary Daniel Alvarez and Assembly Chief Administrative Officer Debra Gravert.
REQUEST: ABUSE COMPLAINTS MADE OR SETTLED IN THE LEGISLATURE, 2006-2017
Response: Officials released only some of the data
The Times' Oct. 17 records request asked for "the number of abuse complaints filed" with both houses in each calendar year since 2006. The request was only for the number of complaints and not for information that might identify the accusers or the accused.
The request also asked "the number of settlements of abuse complaints, for each calendar year since 2006."
A complaint is the first action taken by a legislative employee who alleges sexual harassment or abuse. Legislative officials have not offered details on whether or why some complaints they receive are ultimately dismissed without first conducting a more rigorous inquiry.
Both houses, in identical letters to The Times on Oct. 31, invoked the Legislative Open Records Act in denying access to broad data on complaints.
"The public disclosure of records concerning complaints and investigations compromises the privacy rights of victims, witnesses, and others," the letters said.
On Nov. 9, the Senate and Assembly did provide copies of what they said were all employee settlements from 2006 to the present. Not all of those documents, covering 15 settled complaints, clarify the nature of the employees' complaints, and officials said that not all were abuse- or harassment-related issues. There are mentions of "harassment" in only three of documents related to settlements.
REQUEST: DATA ON STAFFING CHANGES AFTER ABUSE COMPLAINTS, 2006-2017
Response: No response
To better understand the process that takes place after an abuse investigation leads to discipline or other action, The Times asked both houses for the number of staff members who either changed work assignments or left the employment of the Legislature after "any involvement in a reported abuse complaint."
Legislative officials did not answer the request in the letters sent to The Times on Oct. 31 or the Nov. 9 release of information. Without that data, it is impossible to determine how sexual harassment complaints disrupt the workflow of the Legislature. Staff members are "at-will" employees, meaning they are exempt from civil service regulations. Employment "may be changed or terminated with or without cause," according to the Assembly's personnel manual.
REQUEST: ABUSE COMPLAINTS FILED AGAINST LAWMAKERS, 2006-2017
Response: No response
Legislative officials did not respond to The Times' request for information about complaints filed against lawmakers over the decade in question. One of the requests sought the number of legislators who had "multiple complaints filed against them." That, too, has failed to generate a response.
REQUEST: ABUSE COMPLAINTS FILED AGAINST LOBBYISTS OR OTHER NON-STAFF, 2006-2017
Response: No response
There are numerous opportunities at the state Capitol for legislative staff to interact with those who don't work inside the historic building. California had 1,871 registered lobbyists at the end of 2016, many of whom routinely negotiate with staff members in private meetings.
The Times asked for a count of "abuse complaints filed, for each calendar year since 2006, against lobbyists or other outside individuals." Legislative officials haven't offered a response.
REQUEST: MONEY PAID TO SETTLE ABUSE COMPLAINTS, 2006-2017
Response: Officials provide documents on settlements and cash payments
One of the requests officials did respond to was an accounting of money paid to settle abuse and sexual harassment complaints since 2006.
These payments, made with public funds, are listed in copies of each of the settlements provided by the Senate and Assembly. While the documents are often vague about the nature of the complaint being settled, a Times analysis concludes at least $250,000 was paid in sexual harassment cases. That's included in the roughly $1 million in settlement payments made since 2006, and it's possible that more of that amount could be counted toward what was paid to settle abuse allegations if additional information is provided about the other complaints.
REQUEST: PAYMENTS MADE FOR INVESTIGATION OF ABUSE COMPLAINTS, 2006-2017
Response: No response
Legislative officials have confirmed, as have a handful of documents that have ended up in public through the years, that outside law firms are frequently retained to conduct investigations of abuse or harassment complaints.
The Times asked for information on "the amounts spent on outside services hired to investigate abuse complaints" from each calendar year beginning in 2006.
None of the correspondence received from the Senate and Assembly addressed this request, making it impossible to know exactly how taxpayer dollars are spent on these incidents. The documents also show outside counsel was hired by the Senate and Assembly to represent the Legislature in some of the settlements. Those costs, too, aren't revealed in any of the documents that have been provided.
REQUEST: EMPLOYEES WITH MULTIPLE COMPLAINTS, 2006-2017
Response: No response
In many cases, journalists requesting government documents aren't sure what they're looking for and are simply working to sketch out a more complete view of an issue.
To find out if some employees were the subject of more than one complaint, The Times asked both the Senate and Assembly for broad, numerical data on "the number of individuals about which multiple (two or more) abuse complaints have been lodged, and how many complaints were lodged against each of those individuals."
Neither the Senate nor the Assembly has responded to this request.
Twitter: @johnmyers
---
Life is stressful. Our weekly mental wellness newsletter can help.
You may occasionally receive promotional content from the Los Angeles Times.