Asian Americans hold the key to victory in this Orange County district, and Democrat Gil Cisneros knows it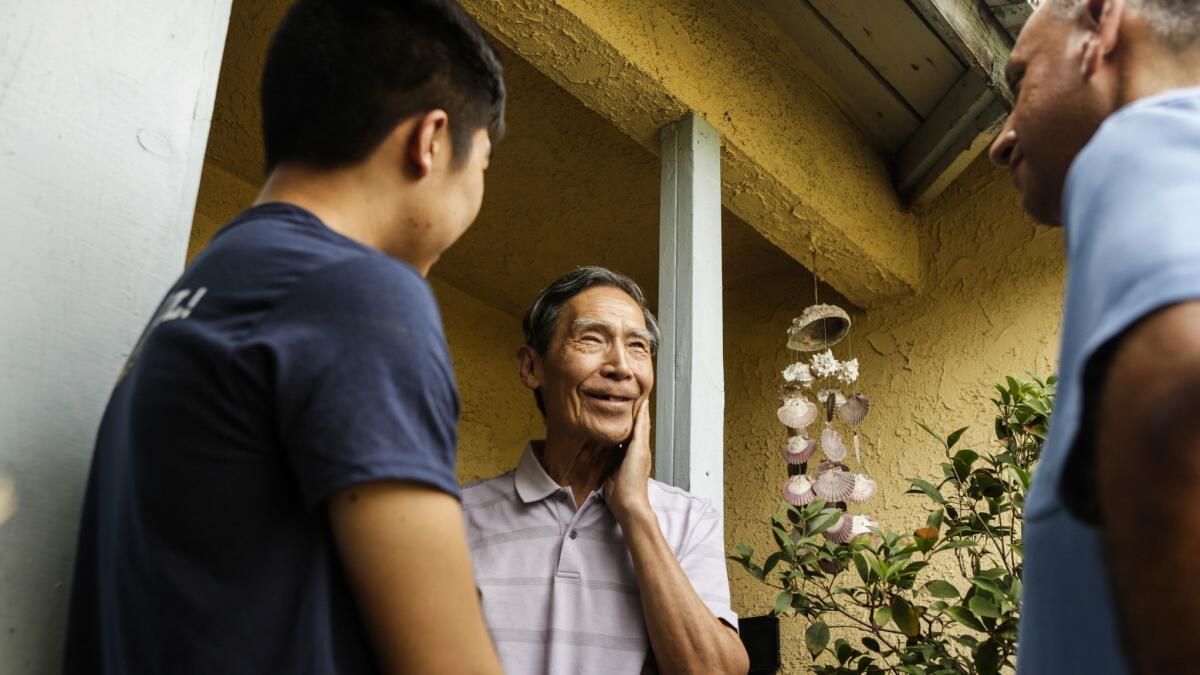 For decades, Asian Americans in this district, a tri-county slice of suburbia built on the immigrant American dream, have supported their Republican congressman, a loyalty born from years of attendance at Buddhist temple ribbon-cuttings and Lunar New Year celebrations.
Now Democrat Gil Cisneros is hoping to win a large share of their votes despite the fact that his opponent, Republican Young Kim, is a Korean American immigrant and former longtime liaison to the Asian community for the retiring Rep. Ed Royce.
"Just because I may be Latino and my opponent may be Asian, we're not going to cede certain demographics for that reason," said Cisneros, 47. "They want the same thing everybody else does — they want healthcare, they want immigration reform, they want to make sure their kids are safe when they're in school."
Cisneros has built a formidable operation in his bid for the Asian American votes that are up for grabs in the 39th Congressional District for the first time in years.
The seat is one of four in Orange County that Democrats hope to take from Republicans. They need to net 23 seats nationally to win control of the House.
Will California flip the House? The key races to watch »
Cisneros has assembled a team of bilingual Asian American staffers who reach out to voters on social media apps like WeChat for the Chinese and KakaoTalk for Koreans. His campaign manager, Nic Jordan, is the only Asian American at the helm of a high-profile Democratic congressional campaign. Cisneros relies on Mandarin-speaking staff to translate when he goes door-to-door in Rowland Heights, a neighborhood heavily populated by Chinese immigrants.
Asian Americans make up one-third of residents in this district. The other two-thirds of the 39th District, which straddles Orange, Los Angeles and San Bernardino counties and includes Chino Hills, Diamond Bar and Fullerton, are about equally split between Latinos and whites.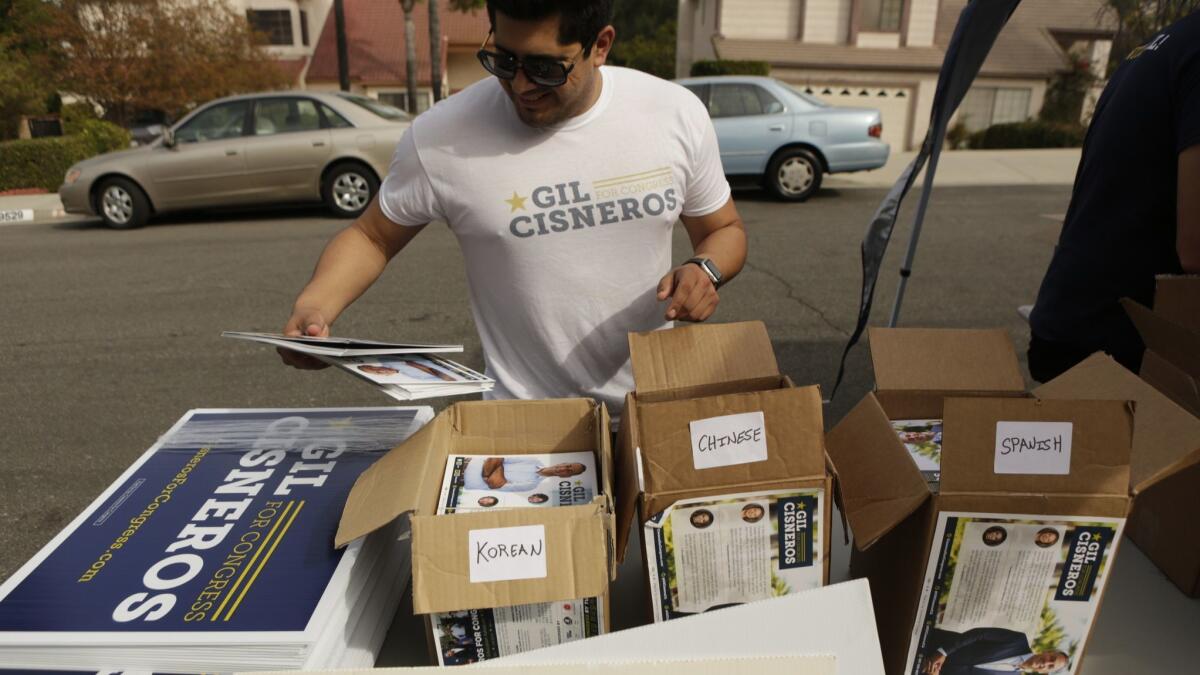 On a recent Saturday, Cisneros toured a string of businesses in a busy Hacienda Heights shopping center anchored by a 99 Ranch supermarket. He posed for photos with employees at a Taiwanese dessert shop, discussed business loans with a cosmetics shop owner and stopped in at an organic food store where he sampled preserved mango and dried mushrooms ("Good for the liver!" an employee insisted).
Helen Wan, 67, spotted the entourage of reporters and local leaders and went in to investigate. She recognized Cisneros from the smiling photos in his mailers, which have been filling her mailbox for weeks.
"My husband mentioned to me that this guy is good," said Wan, who added that she admired his "sense of service" despite his wealth. (Cisneros won a lottery jackpot worth $266 million in 2010.) A longtime independent, Wan said she has voted for candidates of both parties over the years but her frustration with President Trump means Cisneros has her vote.
Variations in cultures, languages and partisanship have made it harder for campaigns to target Asian Americans here. They come from varied backgrounds: long-established Taiwanese immigrants, more recent transplants from the mainland, South Koreans, Vietnamese refugees, Filipinos, South Asians and, increasingly, their children and grandchildren.
Many have never been contacted by political candidates or parties before, says Allen Chen, director of Asian American outreach for the Cisneros campaign. "They're very confused about how you got their phone number."
On the Issues: Young Kim and Gil Cisneros in the 39th District »
On the trail and in his stump speeches, Cisneros highlights parts of his profile he thinks would play well: his working-class roots, his service in the U.S. Navy, and most prominently, education as a tool for upward mobility. Glossy campaign fliers translated into Chinese, Korean, Vietnamese and Tagalog tout how he and his wife, Jacki, created scholarship funds after winning the lottery jackpot, "turning their good fortune into opportunities for others."
"We're taking great pains to make sure that we reach out to each community and that no community feels ignored," Chen says.
That's meant meeting in small settings to discuss issues important to each ethnic group, Chen said, and easing newly engaged volunteers into campaign work.
There are indications that Cisneros' efforts are paying off. A Monmouth University poll released in September suggested Asian American voters were evenly split between Cisneros and Kim. A more recent one by the New York Times seemed to show the Democrat winning them by a wide margin.
Asian Americans nationally have been trending liberal for years and now lean toward Democrats by a 2- to 1 margin.
But Orange County, birthplace of President Nixon and former crown jewel for California Republicans, has served as a bulwark against those currents.
In the 39th District, voter registration among nearly all Asian ethnic groups is pretty evenly split between the two parties. The region's Asian Americans are much more likely than Latinos or whites to identify as independents and a stunning 57% of Chinese American voters have no party preference.
"It's not as favorable for Democrats, but it's not an easy win on the Republican side, either," says Karthick Ramakrishnan, a UC Riverside political scientist who studies Asian voting patterns.
Coverage of California politics »
Some groups — evangelical Koreans, Catholic Filipinos and anti-communist Vietnamese Americans — naturally gravitate toward the conservatism that once defined the district. And others have worked within the Republican power structure to gain clout.
"The Republican Party built a pipeline of candidates that in turn apostolized the Republican Party," says Tammy Kim, no relation to the candidate, who sits on the board of the Korean American Democratic Committee.
Candidates of various ethnic groups mobilized their networks to vote and volunteer for Asian Republicans up and down the ballot.
It helped propel the likes of Young Kim, Ling Ling Chang and Janet Nguyen to the state Legislature in 2014, a moment the candidate Kim reminisced about at a rally this summer.
"Imagine this, three Asian women, Korean American, Taiwanese American and Vietnamese American marching to Sacramento," Kim told dozens of Chinese and Korean supporters gathered to phone bank for her in Rowland Heights. "That at the time was so exciting. We made history then."
That might feel like a distant memory for Orange County Republicans now, as they struggle to hang on in two other Asian-heavy districts that have traditionally been GOP strongholds.
In the coastal Orange County that takes in historically conservative Vietnamese American voters in Little Saigon, polling shows a tight race between Republican Rep. Dana Rohrabacher of Costa Mesa and Democrat Harley Rouda, with Asians split between them.
Further inland in Republican Rep. Mimi Walters' 45th District, the most recent New York Times Poll shows Democrat Katie Porter ahead by a slim margin but leading the incumbent by double digits among Asians.
No House candidate in Orange County appears to have built as robust an operation as Cisneros, leaning instead on occasional roundtables or endorsements from Asian American leaders.
Back in the 39th District, Kim's campaign manager says he's optimistic about their chances. With Cisneros outspending her 5 to 1, (he's pumped $8.8 million of his own money into his campaign) Kim has turned over most outreach efforts to teams of volunteers coordinated through the state GOP.
But she's built up years of name recognition as a state legislator and radio host. And research has shown Asian voters demonstrate higher support for candidates of the same race, particularly ones of the same ethnicity. In 2012, nearly two-thirds of Asian American voters in the 39th District backed Democrat Jay Chen, a Chinese American upstart who ultimately failed to unseat Royce.
Allen Chen, the Cisneros outreach director and son of Chinese immigrants, says he hopes no matter the outcome that their campaign can serve as a blueprint for how to better engage Asian voters.
"This is the first step of many to really mobilize this entire community."
Will California flip the House? The key races to watch »
For more on California politics, follow @cmaiduc.
---
UPDATES:
10:45 a.m.: This article was updated with additional details about the district's geography.
This article was originally published at 4 a.m.
Get our Essential Politics newsletter
The latest news, analysis and insights from our politics team.
You may occasionally receive promotional content from the Los Angeles Times.