Conservative Shannon Grove picked as California Senate Republican leader after GOP election losses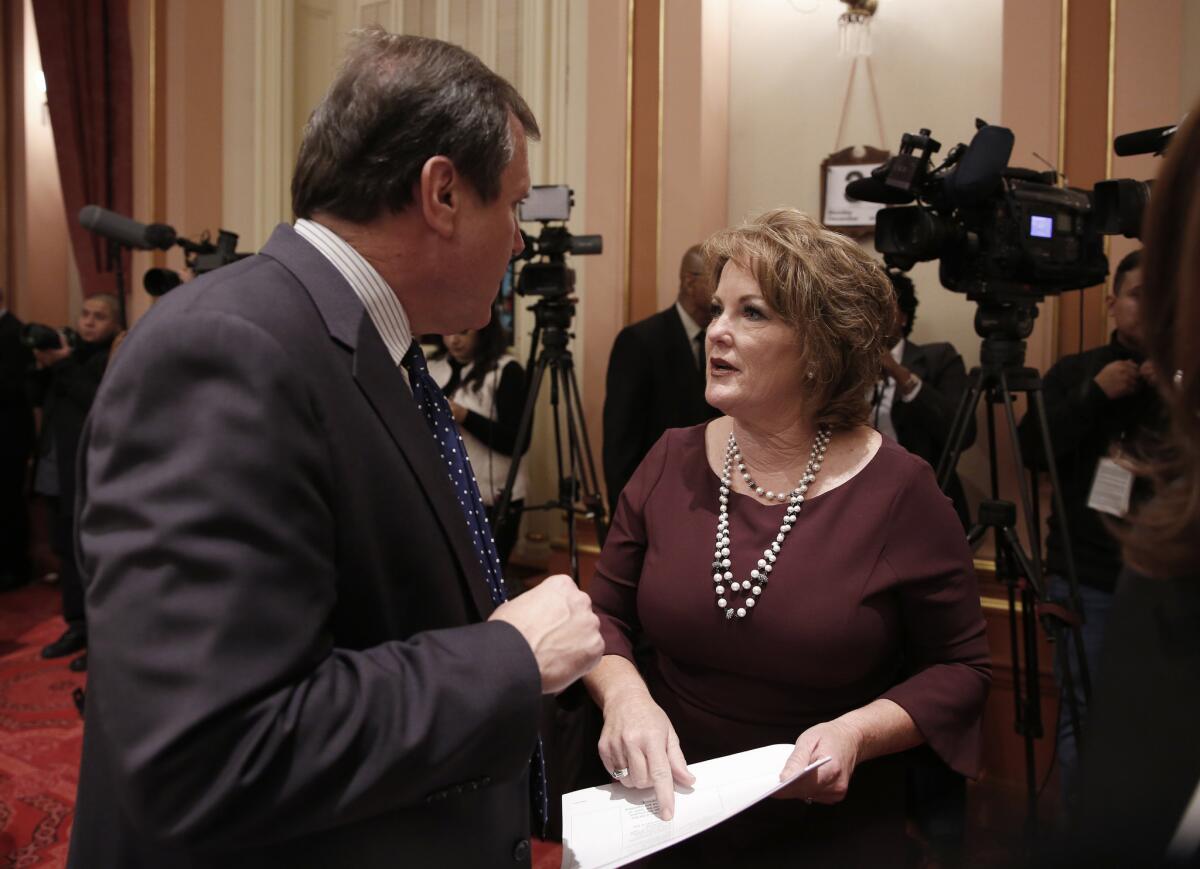 Reporting from Sacramento —
With the California GOP still smarting from its poor showing in the November election, state Senate Republicans have reshuffled their leadership, picking Sen. Shannon Grove, a Bakersfield conservative who faces the challenge of taking charge at a time when Democrats enjoy a legislative supermajority.
Grove, who once described herself as a "gun-carrying, tongue-talking, spirit-filled believer," was elevated to the leadership post by the depleted Senate Republican Caucus last week.
A vocal supporter of President Trump, Grove will lead the 10-member Senate caucus — two seats were lost to Democrats in the November election — as other Republicans are urging the party to move away from Trump and more to the center in hopes of winning back voters in California. The 53-year-old Army veteran takes over in March from Sen. Patricia Bates of Laguna Niguel..
"It's not a secret that I am a social and fiscal conservative. It's who I am," Grove said. "Some people in the caucus and in the building don't align with that same philosophy that I have. But that doesn't mean you can't work together and solve problems."
Grove, who was elected to the state Senate in November, said her priorities include economic development, job creation, ending frivolous lawsuits against businesses and solving the homelessness problem.
She faces a challenging year as newly elected Democratic Gov. Gavin Newsom has already announced a host of proposals opposed by the minority party in the past, including new taxes and expansion of healthcare coverage for immigrants in the country illegally.
"The biggest challenge will be distancing the caucus from Trump enough to be relevant while also offering enough policy solutions to be influential," said Mike Madrid, a Republican political strategist. That, he said, will be a "tough task."
Grove shows no signs of distancing herself from the president, signaling early that she will take a hard line on enforcing immigration laws.
She objects to Newsom's proposal to expand access to Medi-Cal healthcare coverage to those up to age 26 who are in the U.S. illegally — coverage currently goes to age 19 — at a cost of $260 million.
"As a United States military veteran, I'd like the governor to use some resources to make sure every veteran is taken care of in our state before we access medical care for undocumenteds," Grove said. "I think our veterans should be taken care of first."
Grove, who did administrative work in the Army and previously served in the state Assembly, has also opposed legislation requiring vaccination of all schoolchildren and said she supported allowing school employees to carry guns to protect campuses from mass shootings.
She has spoken out against the so-called sanctuary law that restricts cooperation by local law enforcement in California with federal immigration agents.
"Now with the sanctuary state law, these illegal, undocumented criminal individuals are being released back into our community," Grove said during a campaign forum hosted last year by her hometown paper, the Bakersfield Californian.
Grove, who frequently retweets President Trump's comments to her supporters, endorsed his proposal to build a wall on the U.S.-Mexico border as part of a package that would also provide protection against deportation for immigrants brought to the country illegally as children.
"It's detrimental to our country not to have border security," she said during the Bakersfield forum.
Grove was criticized by abortion rights advocates in 2015 after an online publication that covers reproductive health said she gave a speech in which she suggested God eased Texas' drought after the state passed an anti-abortion bill.
Afterward, she acknowledged that she told the audience it rained the night Gov. Rick Perry signed the bill, but added, "I did not say that God made it rain because of the bill."
In a Facebook post that year, Grove asked whether California's drought was caused by God.
"Nobody knows. But biblical history shows a consequence to man's actions; we do know for sure that California's water shortage crisis has been compounded by liberal politicians' poor decisions — not properly managing our water resources and refusing to build water storage for decades."
The reduced size of the Republican caucus in the Senate will make it more difficult to fight tax increases and other proposals by the Democratic supermajority, she said.
"Right now we're at a super-mega-minority," Grove said in an interview this past week. "You have to be able to block the two-thirds [vote] and they can lose 20% of their caucus in either house and still pass any tax increase they choose. What can we do? Probably not a lot."
Democrats saw their numbers swell after the November election from 26 seats to 28, a supermajority that allows them to raise taxes, put measures on the ballot and override vetoes without needing any Republican votes.
Grove, who represents Tulare and Kern counties, and portions of San Bernardino County, is counting on relationships with Democrats to allow the Republican caucus to influence legislation this year.
Her focus on making the state more friendly to business stems from her work running a temporary staffing agency that she founded after she left the Army, she said.
Boosting the economy will help those who are struggling, she argued.
"Our state is the fifth-largest economy in the world, yet it holds the title of having the highest poverty rate in the nation," Grove said, adding that she plans to work with "pragmatism and compassion" across party lines "for the sake of the millions of forgotten Californians."
Coverage of California politics »
Twitter: @mcgreevy99
Get our Essential Politics newsletter
The latest news, analysis and insights from our politics team.
You may occasionally receive promotional content from the Los Angeles Times.