Sen. Josh Newman, targeted by the GOP for his gas-tax vote, will face recall election on June 5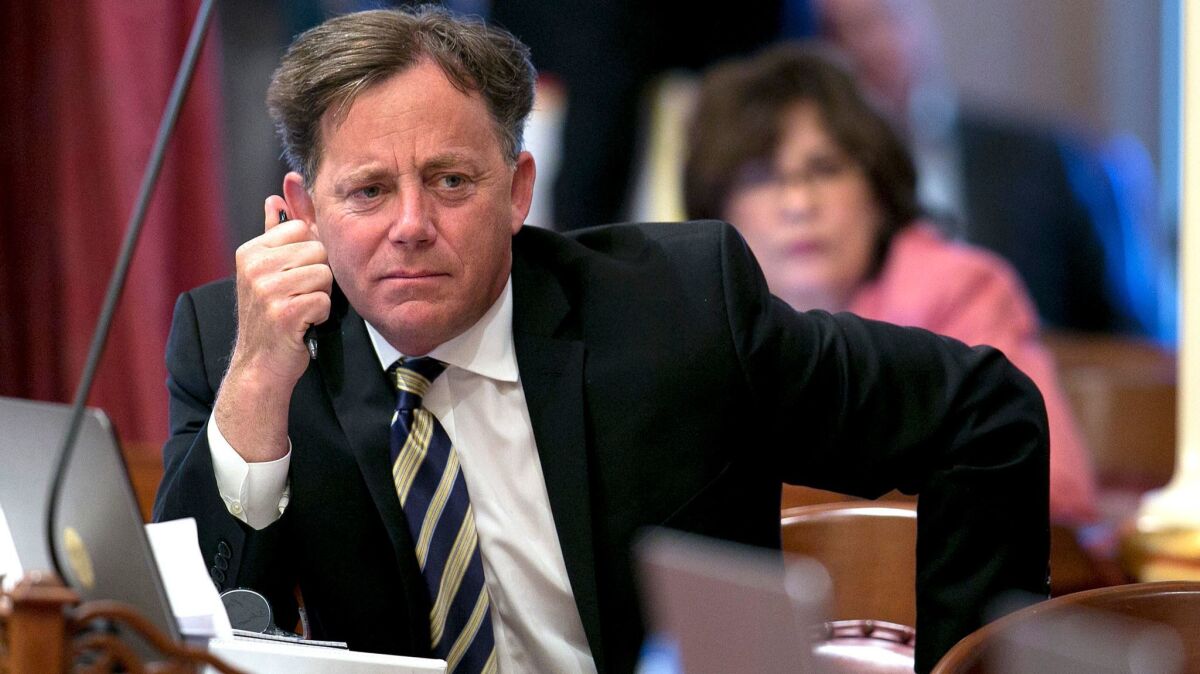 Reporting from Sacramento —
Gov. Jerry Brown on Monday set June 5 as the date for a recall election on state Sen. Josh Newman (D-Fullerton), who Republicans say should be unseated over his vote for an increase in the state's gas tax and vehicle fees last year.
Brown consolidated the special recall vote with the regular state primary election when voters also will be casting ballots for governor and other high-profile offices, meaning a higher turnout that could help his fellow Democrat.
Derek Humphrey, a campaign spokesman for Newman, called the recall "a waste of tax dollars" but said less money will be required by consolidating with the primary.
"This recall effort is another example of the same misguided politics-as-usual that people are tired of," Humphrey added. "It was sold as a repeal of the gas tax and it will do no such thing. We feel confident that the voters in California's 29th Senate District will see through this charade and vote No on the Recall."
Republican candidates including former Assemblywoman Ling Ling Chang and Fullerton City Councilman Bruce Whitaker already have lined up to get on the ballot for the recall election. Voters in the senate district will vote on the recall as well as picking a candidate to replace Newman if he is removed from office.
"I believe his voting record at this point is out of sync with the majority of voters in this district," Whitaker said. "He is not accurately representing the 29th District."
The recall was organized by Republican activists including former San Diego City Councilman Carl DeMaio, who saw Newman as vulnerable after having won election in 2016 over Chang by fewer than 2,500 votes.
Newman was singled out even though he voted with the Democratic majority last April to raise gas taxes and vehicle fees to bring in more than $5.2 billion annually for repairing the state's roads and bridges.
"We are confident that the voters will fire Senator Newman for his misconduct and replace him with a better representative," DeMaio said. "We hope that other Sacramento politicians take notice of what will happen to them the longer they misuse their offices and enact policies that hurt working families."
The state Republican Party spent $822,000 on the petition drive that qualified the recall election for the ballot, while Newman has raised $1.8 million to fight the effort to remove him from office, according to recent campaign finance reports.
Democrats have a narrow edge in voter registration in the district, with 36.4% of its voters registered with that party, 34.4% registered as Republicans and 25% having no party preference.
Senate District 29 includes portions of Los Angeles, Orange and San Bernardino counties. The district includes the cities of Anaheim, Brea, Buena Park, Chino Hills, City of Industry, Cypress, Diamond Bar, Fullerton, La Habra, La Palma, Placentia, Rowland Heights, Stanton, Walnut, West Covina and Yorba Linda.
Brown also acted Monday to set special election dates to fill Assembly vacancies left by the resignations of Matt Dababneh and Sebastian Ridley-Thomas. The primary for those contests will be April 3, with a June 5 run-off.
Follow California politics on our news feed »
Twitter: @mcgreevy99
---
Life is stressful. Our weekly mental wellness newsletter can help.
You may occasionally receive promotional content from the Los Angeles Times.