Newsom's fellow Democrats push him to do more on healthcare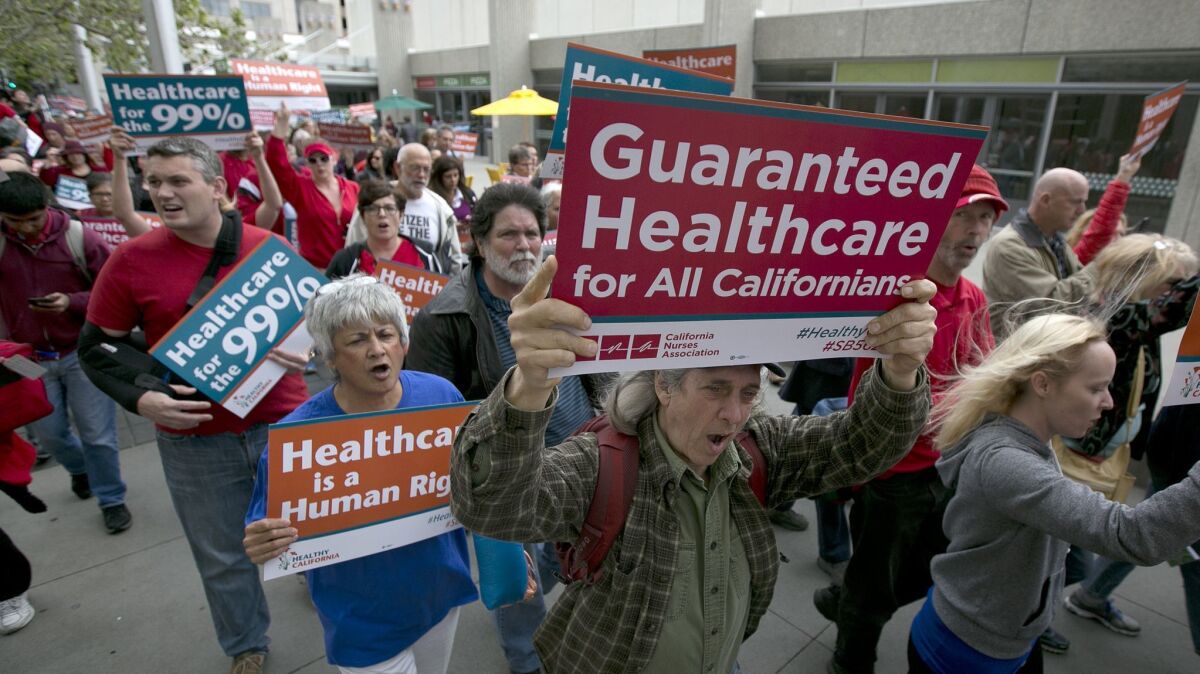 Reporting from Sacramento —
On his first day in office, Gov. Gavin Newsom unveiled an ambitious healthcare plan, including a dramatic Medi-Cal expansion that would cover young adults in the U.S. illegally and provide new subsidies to help middle-class families afford insurance.
Now Democrats in the Legislature say they want the governor to go further.
Lawmakers and a coalition of 70 consumer, labor and healthcare groups plan to rally outside the state Capitol on Thursday and urge Newsom to support 20 bills that could cost taxpayers upwards of $5 billion a year, including legislation to offer Medi-Cal coverage to all low-income adults, regardless of immigration status. The package of bills would move California within reach of universal healthcare, supporters said.
"This is a real tangible plan to come together and cut the uninsured rate in half," said Anthony Wright, executive director of the advocacy group Health Access.
Wright said California could use part of its multi-billion dollar surplus as a significant down payment toward reaching the long sought Democratic goal of universal healthcare coverage.
Micah Weinberg, president of the Bay Area Council Economic Institute, said he hopes the governor sticks with a more measured plan.
"It's critically important at this moment to put on the table real achievable proposals that will make a difference in people's lives," Weinberg said. "Unfortunately, the conversation on the Democratic side has leaned toward completely unrealistic and, in some cases, non-proposals. They don't even include financing plans."
Fending off the push may not be easy. Newsom, who campaigned on a universal healthcare platform, has been outspoken in his attempts to guard the federal Affordable Care Act from Republican attacks in Washington.
While visiting Fresno in December, Newsom told reporters that while he served as mayor of San Francisco, the city provided healthcare coverage to all immigrants who entered the country illegally. But he also cautioned about the steep price of implementing such a system statewide.
"I've got a record of support for the idea," Newsom said. "But there's a practical side of this, and that is we've got a budget to balance and you have competing interests and so we've got to address all those issues together and that's my challenge."
Setting the governor's healthcare agenda will be a key task in the months ahead for Mark Ghaly, who Newsom appointed on Wednesday as his secretary of health and human services. Ghaly, a pediatrician, previously served as director of health and social impact for Los Angeles County.
Among Newsom's proposals is creating a state-level "individual mandate" requiring consumers to have health insurance coverage in lieu of the federal requirement that was all but eliminated last year by Congress. The Newsom administration estimates that the mandate would generate $500 million for subsidies to middle-class families in order to make insurance more affordable.
But the healthcare coalition wants larger subsidies to more people, totaling $2 billion.
"If we want to require people to buy insurance, we need to make sure it's affordable," said state Sen. Richard Pan (D-Sacramento), a doctor by profession who is carrying a bill to create the individual mandate.
The group is also proposing dramatically expanding who is covered under Medi-Cal. Newsom's proposal would cover immigrants younger than 26 without legal status at an annual cost of $260 million. The coalition wants the state to offer Medi-Cal to all adults, regardless of immigration status, which comes with a $2 billion price tag.
California already covers undocumented children until they turn 19, with Newsom's plan mirroring the age cut-off for young adults to stay on their parents' health insurance.
Sen. Maria Elena Durazo (D-Los Angeles), who is behind one of two bills to extend Medi-Cal to all lower-income immigrants in the state illegally, said lawmakers have been talking for too long about reducing the number of uninsured people in the state without taking action. Now is not the time for an incremental step, such as one proposed by Newsom, she said.
Extending coverage to all lower-income adults, regardless of immigration status, would provide coverage to an additional 1.3 million people living in the country illegally.
"Of course there is a cost to it, but there is a higher cost to not providing that care and forcing them to go to the emergency room," Durazo said. "That's a much higher cost. This is a far more significant step than adding five or six years at a time. We've had this debate. Now is the time to do something in a significant way."
Times staff writer Phil Willon contributed to this report.
Coverage of California politics »
Follow @MelodyGutierrez on Twitter and sign up for our Essential Politics newsletter.
---
Life is stressful. Our weekly mental wellness newsletter can help.
You may occasionally receive promotional content from the Los Angeles Times.