On Politics: Here's why Republicans could help send Dianne Feinstein back to Washington — even if they can't stand her
Reporting from Pollock Pines, Calif. —
Larry Ward is no fan of Dianne Feinstein.
"Time to retire," he says of the Democratic senator from California. "Too old."
Coming from a Republican such as Ward, that's hardly surprising. He'd have gladly been rid of Feinstein a long time ago.
But it's voters like Ward — conservatives who feel voiceless and adrift, bobbing like red specks in a blue sea — who could help usher the 84-year-old Feinstein back to Washington with a new lease on her Senate seat.
Like most voters here in El Dorado County, Ward supported President Trump. He can't understand why Democrats and the media pile on and keep him from cutting taxes and fulfilling a campaign pledge to repeal Obamacare.
He certainly doesn't think Feinstein's been too kind to Trump — the argument made by her newly announced challenger, Kevin de León. The state senator from Los Angeles and others on the left were spitting fire a few weeks back when Feinstein allowed as how she hoped, given time and a radical transformation, Trump might end up being a good president.
So much for comity.
Ward thinks Feinstein, who is up for reelection next year, was simply being reasonable. "It used to be that way in the Senate and House of Representatives," said the 73-year-old retiree, a former broadcast reporter in Sacramento. "People would cooperate and get things done, and they wouldn't try to outright kill the president."
Republicans make up barely more than 1 in 4 registered California voters. Even counting those who lean right but call themselves independent, the GOP is a threadbare party. But that's not to say those voters don't matter.
Under California's election system, the two candidates winning the most votes in the June primary — regardless of party — will advance to a November runoff. At this point, there is no top-shelf Republican in the Senate race and no serious candidate on the horizon. That means the likeliest matchup a year from now will be Feinstein versus De León, though Democratic billionaire Tom Steyer, 60, has said he might also jump in the race.
That is where Feinstein is likely to enjoy a considerable advantage.
De León, 50, the president of the state Senate, is running a campaign aimed unabashedly at the left-most Californians. Its centerpiece includes support for a government-run universal healthcare system, his championship of immigrant rights — he authored the bill making California a "sanctuary state" — and a declaration of all-out, unceasing war on Trump and his administration.
Steyer, meantime, has jumped on the impeach-Trump bandwagon and tried to commandeer it with a $10-million national ad campaign clamoring for the president's ouster.
The far left, never terribly fond of Feinstein, is ecstatic.
But liberals simply don't have the numbers in California to elect a United States senator all by themselves. Winning statewide office requires an appeal to those closer to the middle, Feinstein's political sweet spot, and the more liberal her opponent, the more centrist she looks.
She would almost certainly be the preferred choice among Republicans faced with no option in a 2018 runoff but the least-objectionable Democrat. That could be the difference in a close race.
Indeed, in nearly two dozen random interviews across El Dorado County, among Republican voters and those leaning rightward, there were varying degrees of anger, disappointment and puzzlement over the unhappy prospect of an all-Democratic runoff.
But there was general agreement that Feinstein would be better than any candidate on her left, especially De León.
"I'm not racist. But he's Hispanic," said Robert Tatman, 57, pausing as he walked his rescue terrier, Winston, outside the grocery store in Pollock Pines, a halfway stop between Sacramento and South Lake Tahoe. "I'm afraid to give more power to Hispanics until we get our illegal immigration down."
"I'm not racist," Tatman repeated for emphasis.
Donna Carmichael was another who would readily vote Feinstein out of office, given a Republican alternative. "It's time for her to retire," said the former kindergarten teacher. "She's had her time."
But Carmichael couldn't possibly vote for De León, she said, given his legislation making California a sanctuary state for immigrants in the U.S. illegally. "They don't belong here," Carmichael, 73, said flatly, "and anyone who votes for sanctuary is silly."
So she'd have no choice but to back Feinstein, she said, though Carmichael suggested she might not bother voting in the Senate race.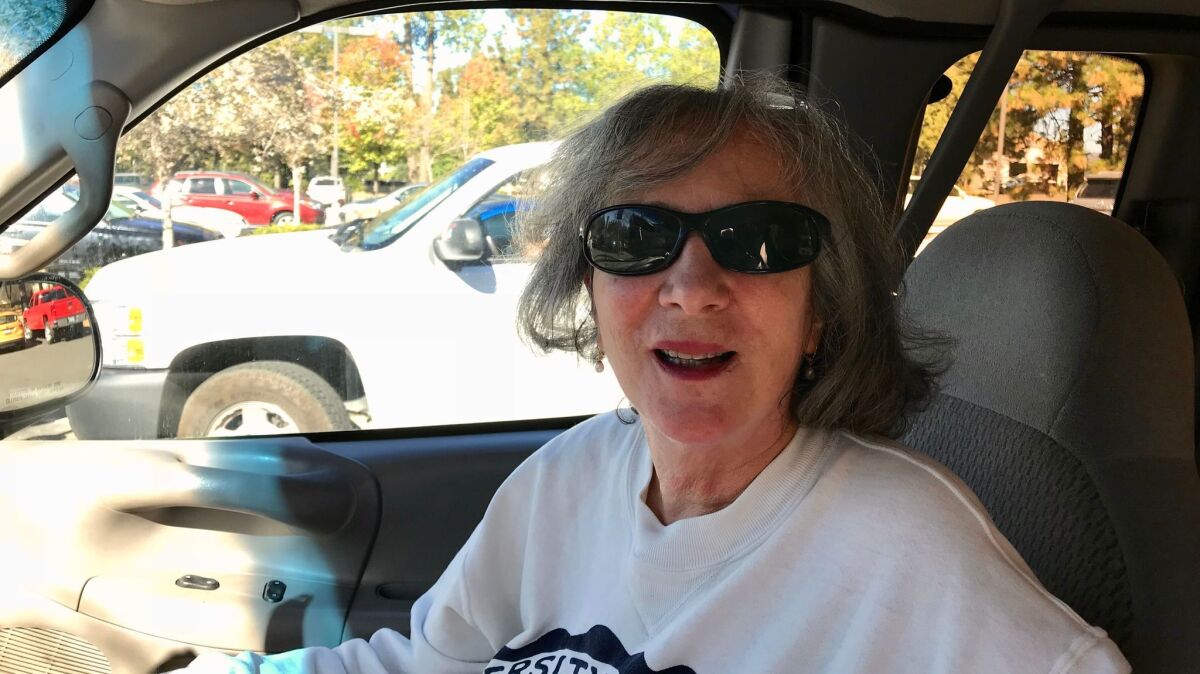 Exit polling found more than 1 in 3 Republicans opted out in the 2016 contest, when the two Senate finalists were Democrats Kamala Harris and Loretta Sanchez.
Skipping the 2018 race might be the ultimate choice for Ward's wife, Nancy, as well. She has never cared for Feinstein and can't imagine voting for De León. "I think I'd just have to walk away," said the 69-year-old retired accountant.
Her husband echoed the sentiment. "Yes," he said resignedly. "Walk away."
@markzbarabak on Twitter
ALSO
No one has ever gone from City Hall to the White House. Could L.A. Mayor Eric Garcetti end that streak?
Here's why California's early 2020 primary is destined to pick the next president. (Nah, not really)
Strange but true: Praise in lefty San Francisco for Pelosi and Trump — gasp — working together
Life is stressful. Our weekly mental wellness newsletter can help.
You may occasionally receive promotional content from the Los Angeles Times.