On Politics: Eric Swalwell wants to be president, and why the heck not?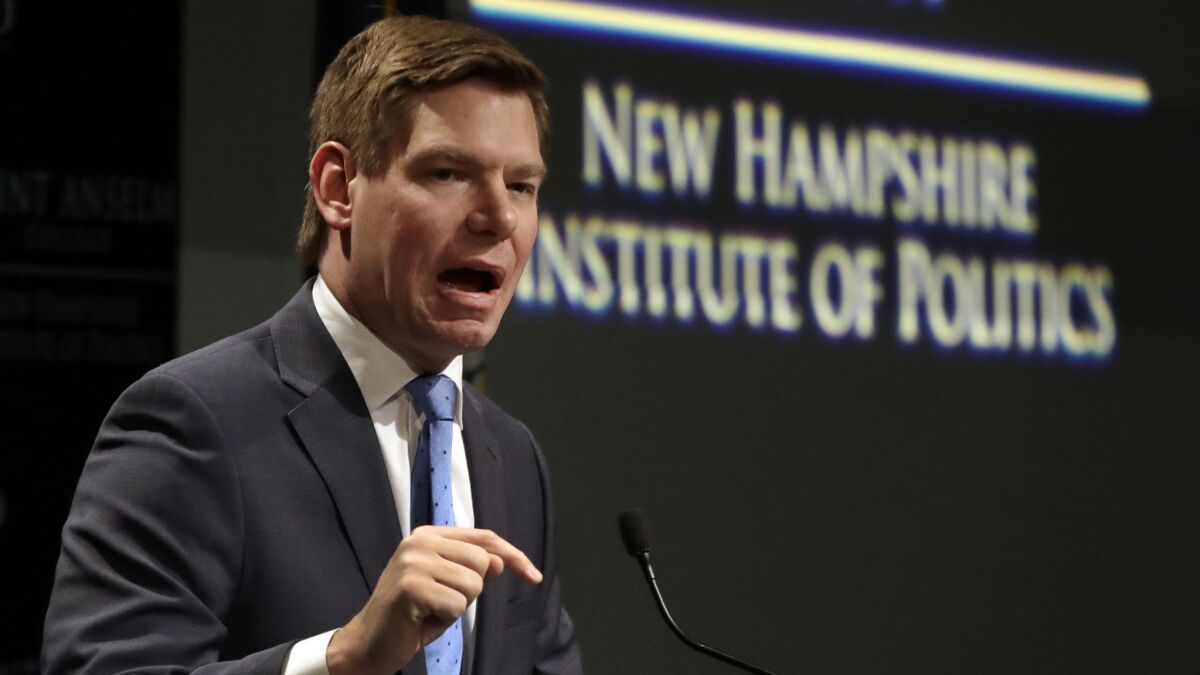 Reporting from Walnut Creek, Calif. —
In October 2016, shortly before the presidential election, Eric Swalwell was meeting with staffers to discuss his upcoming term in Congress when he suggested, half-joking, that if Donald Trump won he would run against him in 2020.
Now that Swalwell is an-all-but-declared candidate for president, the challenge is getting others to take him seriously.
The 38-year-old Democratic lawmaker from a nondescript slice of the East Bay hardly stands out in the abundant 2020 field. He is neither the first nor only millennial running, not the only Californian eyeing the White House and most certainly not the only member of Congress in search of a promotion.
He does, however, have more than 450,000 Twitter followers, an omnipresence on the political cable TV circuit — where he strafes President Trump on a regular basis — a paycheck-to-paycheck upbringing and nearly $100,000 in college debt. The latter two, Swalwell suggests, make him a lot like many Americans living with uncertainty and financial stress.
"I think I can look voters in most places in the eye and say, 'I see you, I hear you, I am you,' " he offered.
Say what you will about Trump, he's yielded a bounty of political ambition and a bushel of Democrats thinking, if that guy sits in the Oval Office….
Swalwell may very well top the list of audacious candidates, and not just because it requires a trip all the way back to 1880 to find the one and only sitting House member ever elected president. (The fact James Garfield was assassinated less than four months into his term should be treated as strictly coincidence.)
The motivation for a Swalwell run is entirely self-generated. There is no Beto O'Rourkian groundswell urging him into the contest, no residual Bernie- mania pushing him to try, no glass-ceiling-shattering impetus to summon him forth. Rather, there is Swalwell's professed impatience: With the status quo, with Democratic Party elders, with the political sump hole that is Washington today.
"I see a generation that wants to do big things, that sees incrementalism, nibbling around the edges, governing crisis to crisis, budgets that are six to eight weeks at a time, and just thinking that we're shrinking in bold leadership," he said at a Starbucks just outside his district, a brief stop on the way home from Iowa before heading back to New Hampshire.
As president, Swalwell suggested, he could serve as "a generational bridge" between his restless peers and their more seasoned political elders. "I look at this as a big, blank whiteboard," he said, "not wed to the solutions of the past, not counting on the same old people to solve the same old problems."
I look at this as a big, blank whiteboard, not wed to the solutions of the past, not counting on the same old people to solve the same old problems.
— Democratic presidential prospect Eric Swalwell
Like many Californians, Swalwell came from someplace else.
He was born in Iowa, where he has practically taken up residence ahead of the February 2020 caucuses, the first test of the Democratic nominating fight. (The New Hampshire primary comes second.)
He grew politically engaged as a student at the University of Maryland, where he helped lead protests against the Republican governor and his cuts to education funding. That is also when, Swalwell said, he broke with the rest of his family — mom, dad, three younger brothers — and became a Democrat.
More on that in a moment.
His political ascent marries young-man-in-a-hurry ambition with good fortune and California's mix-and-match primary system.
Swalwell, then working as an Alameda County prosecutor, was appointed in 2006 to the Heritage & Cultural Arts Commission in Dublin, the blue-collar suburb where he attended high school. Two years later he was elevated to the city Planning Commission and two years after that won election to the City Council.
Just a few months into his term, Swalwell — then 31 — launched an upstart bid to unseat 20-term Democratic Rep. Pete Stark, who was 80 at the time, increasingly crotchety and ripe for a political takedown. Swalwell finished second in the primary, but under the top-two system advanced to a November runoff, in which he beat Stark with 53% support.
He's been handily reelected since but will not run again, he said, if he seeks the White House.
Although Swalwell's congressional record is thin, he spreads it broadly — like a little peanut butter made to cover every inch of toast.
He boasts of serving on the Judiciary Committee, which oversees immigration policy; and the Intelligence Committee, which examined Russian interference in the 2016 campaign; and of visiting foreign hot spots as part of the congressional oversight process. "I know who our enemies are on the outside," he said. "I know what the threats to our country are on the inside."
His positions fit squarely within the mainstream of the Democratic Party: support for universal healthcare, higher taxes on the rich, stricter gun control and more aggressive federal efforts to fight climate change.
Perhaps his greatest distinction in the sprawling 2020 field is his Iowa pedigree. Swalwell lived until age 5 in Algona, a speck in the north-central part of the state, where his father served as police chief and the family muddled through.
He's been back campaigning in Iowa nearly 20 times thus far, giving rise to jokes about a possible arrest for loitering.
"Caucusgoers take their job pretty seriously," Swalwell said, without apology. "They want to meet you, vet you, know you're for real…. It's a big state to cover."
Although settled in the lefty Bay Area, his parents remain true to their rural conservatism. They keep a Trump-Pence magnet on their refrigerator and view the world through the portal of Fox News. Recently, Swalwell's mother fretted to him about the influence of Alexandria Ocasio-Cortez, the freshman New York congresswoman whom conservatives view as a kind of she-devil.
"She's really a nice person," he assured her. "You don't have to worry."
Which raises a question: If Swalwell should overcome enormous odds to become the Democratic nominee, can he count on his parents to support him over Trump? He thinks so. He expects so.
"But I won't take their word for it," he said. "I want a picture" of their marked ballots.
He was only half-joking.
---
Life is stressful. Our weekly mental wellness newsletter can help.
You may occasionally receive promotional content from the Los Angeles Times.