California is friendly territory, but a national defunding push worries Planned Parenthood
Reporting from Sacramento —
At a recent breakfast gathering, Sue Dunlap, the president and chief executive of Planned Parenthood Los Angeles, detailed the potential effects of a GOP-led effort to strip the group's affiliates across the country of federal funding.
It was a gloomy scenario for Planned Parenthood supporters, but attendees, according to Dunlap, were able to find some solace: The national outlook may be bleak, but surely in the Democratic bastion of California, the organization would be fine.
Dunlap corrected them: Not only was Planned Parenthood in California not immune, it may have more to lose than its nationwide counterparts.
"My message was, actually, while women all across the country will be affected by this defunding, California is going to be impacted differently, and perhaps more so," Dunlap said.
In California, Planned Parenthood finds itself in uncommon territory. Nationally, the healthcare provider has become a controversial symbol of the fraught debate over abortion. But in California, the organization has enjoyed dependable support for decades from the state's most powerful politicians.
The federal proposal to dry up money for Planned Parenthood could have major implications in the Golden State. The state organization estimates it could lose $260 million in federal funds. That poses a thorny question for state leaders: In a time when many Democratic priorities appear under threat, should they step in to save Planned Parenthood in California?
Planned Parenthood's footprint here is substantial. The organization serves nearly one million patients and three of the state's regional organizations are among the largest Planned Parenthood affiliates in the nation.
Nearly 90% of patients in the state are low-income and receive some form of care subsidized by federal Medicaid funds. House Speaker Paul Ryan confirmed last week that Republicans will seek to bar the organization from Medicaid as part of their effort to repeal the Affordable Care Act. (No federal dollars currently go to Planned Parenthood's abortion services.)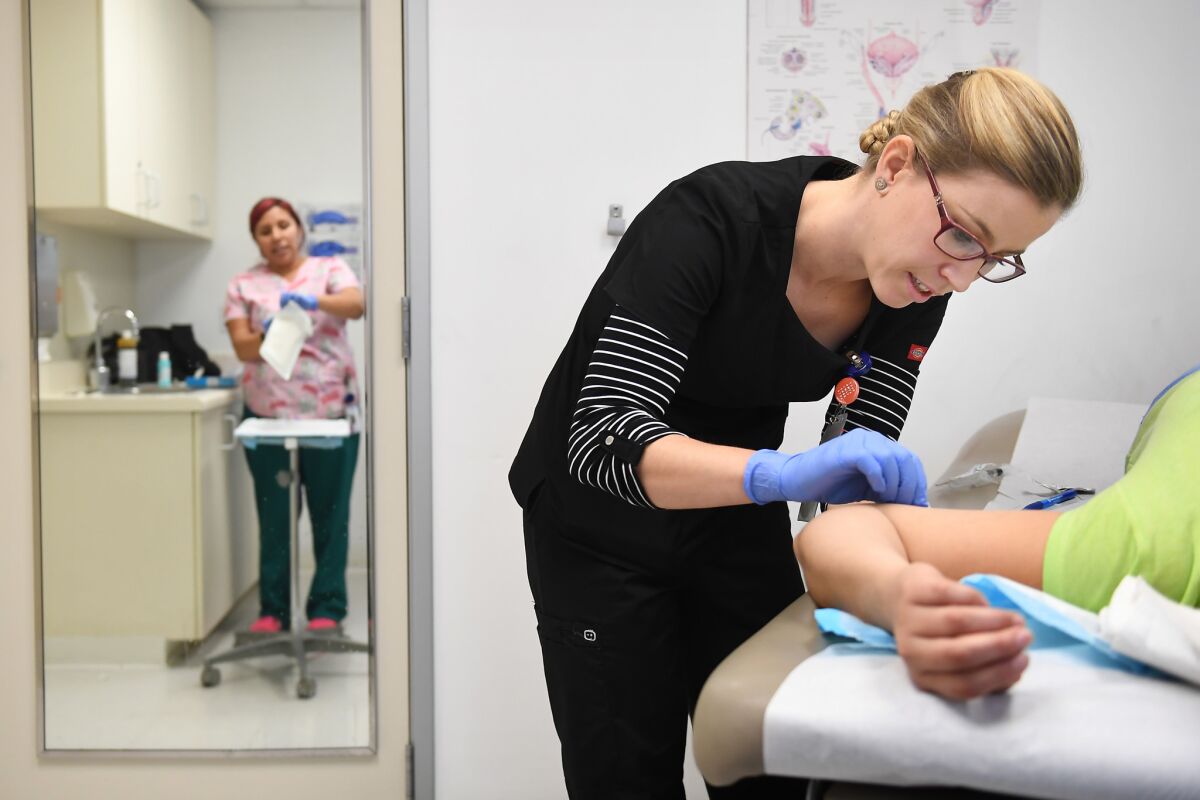 "If Planned Parenthood were to be stripped out of the Medicaid program, that would be huge," said Dinah Stephens, director of public affairs for Planned Parenthood Los Angeles. "That would essentially tell all of those 90% of patients that they can no longer use their insurance card with Planned Parenthood."
It's been decades since Planned Parenthood in California last found itself on such shaky ground, when Republican Gov. George Deukmejian made several cuts to the state's family planning programs.
His successor, GOP Gov. Pete Wilson, however, supported abortion rights and created a family planning program that, with the help of federal Medicaid dollars, subsidizes the care of nearly half of Planned Parenthood's low-income patients.
Planned Parenthood performs a variety of services, including contraception, testing for sexually transmitted infections and examinations to determine whether a woman is pregnant. It also offers abortions, and in its vociferous advocacy for access, it has become a proxy for the battle over abortion rights.
In California, that debate has been relatively muted, largely because residents tend to support abortion rights. A 2015 survey by the Public Policy Institute of California found nearly 70% of respondents believed the government should not restrict access to abortion.
That, coupled with Democratic dominance in Sacramento, has made Planned Parenthood a force in state politics. Many Democratic lawmakers turned to social media to lambast Ryan's defunding vow.
Politicians tout their high ratings on the group's legislative scorecard, which evaluates a member's support of the organization based on how they vote on certain bills, and are cautious not to run afoul of Planned Parenthood's legislative agenda. Last year, then-state Sen. Marty Block (D-San Diego) warned colleagues on the Senate floor about a pending bill to expand parental notification regarding sexual health education.
"Planned Parenthood is opposed to this bill, and has made it a score-card vote. So beware if you vote," he said. The bill was defeated.
A stroll through Planned Parenthood Los Angeles' downtown headquarters reveals its far-from-underdog status. A donor wall lists some of the luminaries in California philanthropy, including the Eli and Edythe L. Broad Foundation and Lyn and Norman Lear. Framed photographs of top-tier politicians, including House Minority Leader Nancy Pelosi and state Senate Leader Kevin de León, hang throughout the complex, a former garment factory converted into an administrative hub with an attached clinic.
Dunlap acknowledged her organization has enjoyed support from the state's ruling party, but she noted that backing "hasn't always come with a price tag. That's a different test of support for Planned Parenthood. And a different test of what it is to be pro-choice."
The potential price tag comes at a time when numerous interest groups — including immigrant rights supporters, healthcare advocates and environmentalists — are all feeling vulnerable in the incoming Trump era. Prioritizing which cause to champion is a more daunting task than usual for Gov. Jerry Brown and the Legislature, particularly as Brown calls for fiscal austerity as a budget deficit looms.
Planned Parenthood leaders are currently grappling with what kind of help they'll need from California — and when to ask for it. The organization is hesitant to press the state to backfill the $260 million in federal funds it anticipates losing, in part because its leaders don't want to give opponents the argument that federal money is unnecessary because states could step into the gap.
"The first strategy is to continue federal funding by defeating this in the [U.S.] Senate," said Kathy Kneer, president of Planned Parenthood California. "If that fails and [litigation to block the defunding] fails, then we need state of California to protect their investment in women's health by continuing to fund Planned Parenthood."
For now, Kneer, said, they want politicians "just to say they acknowledge how devastating this would be if we lost federal funds."
Lt. Gov. Gavin Newsom, a 2018 candidate for governor, said he believes cities and the state should be prepared to backfill lost funds, calling the issue "a litmus test" for Democrats.
Other state leaders have asserted support for the organization, but stopped short of vowing funds.
"They're an important part of our overall healthcare system. Anyone should be concerned if their funding is cut," Assembly Speaker Anthony Rendon (D-Paramount) said. "At this point, we're just taking in information."
De León called supporting Planned Parenthood "part of my core values," but cautioned "it's a little too early to react this soon."
Brown made no explicit reference to Planned Parenthood in his budget proposal released this week, which is in keeping with his overall position not to lay out contingency plans for potential actions by the federal government.
"Congress should do its job and continue funding basic healthcare for women," said Gareth Lacy, a spokesman for Brown.
Members of the Legislative Women's Caucus called on Californians to oppose the congressional efforts but have not yet introduced legislation proposing state support.
"We need to make sure we're not putting something forward that could harm the effort ultimately," said state Sen. Toni Atkins (D-San Diego), who once served on the board of Planned Parenthood San Diego.
In the meantime, Kneer said her goal was to rouse supporters from the sense that California would be immune to Planned Parenthood's national troubles.
"We live in an overwhelmingly blue, pro-choice state. People think we're protected here," she said. "Our challenge is to make sure [people know], no, everybody in California needs to be worried."
Follow @melmason on Twitter for the latest on California politics.
ALSO
California's budget deficit is back, Gov. Jerry Brown says
Assembly panel recommends Becerra for state attorney general after he promises to protect California against 'federal intrusion'
---
Life is stressful. Our weekly mental wellness newsletter can help.
You may occasionally receive promotional content from the Los Angeles Times.