Bid to open California's secret police misconduct files takes major step forward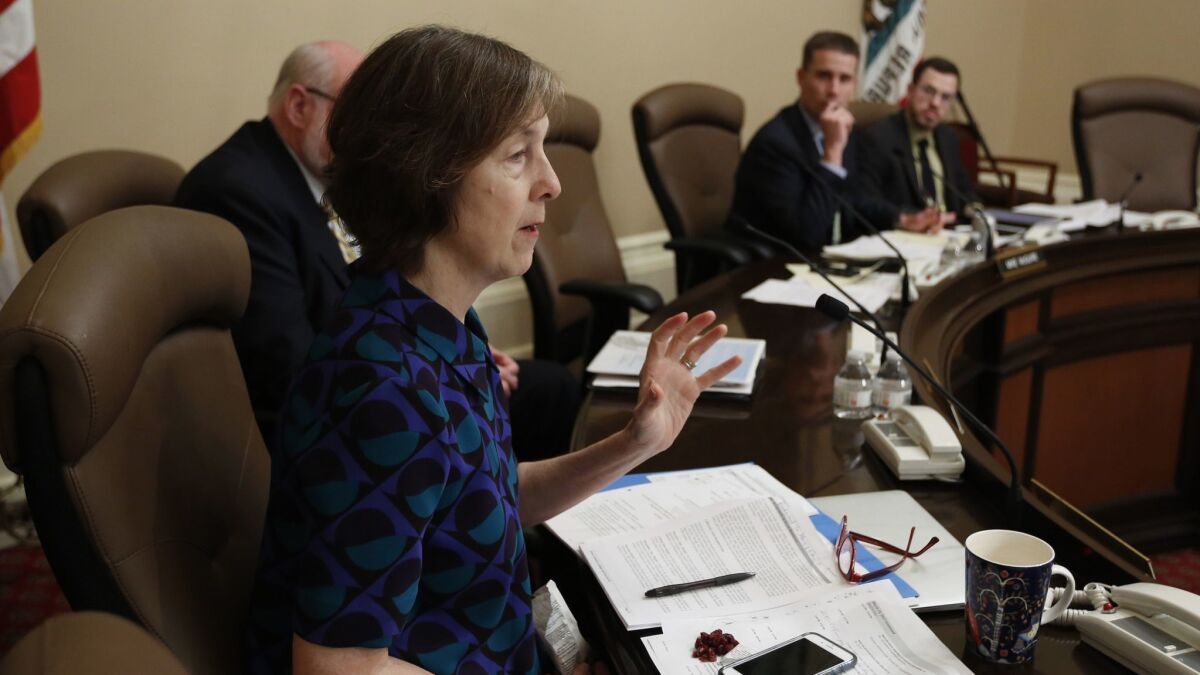 Reporting from Sacramento —
An effort to make some internal law enforcement investigations open to the public cleared a key hurdle in the Legislature on Thursday, marking the first time in four decades that lawmakers could vote to meaningfully increase transparency surrounding police misconduct.
Senate Bill 1421 would open records from investigations of officer shootings and other major force incidents along with confirmed cases of sexual assault and lying while on duty. The bill's author, Sen. Nancy Skinner (D-Berkeley), said Thursday's decision to send the measure through a legislative fiscal committee is a major step toward building trust between police and the communities they serve.
The committee, Skinner said, "did the right thing in moving to bring California in line with other states and give access to law enforcement records where the public truly has a right to know."
Here's how California became the most secretive state on police misconduct »
California has the strictest laws in the country protecting the confidentiality of police misconduct records. The rules not only prohibit the public from seeing them, but also deny prosecutors direct access.
A Times investigation found that past misconduct by law enforcement officers who testify in court is routinely kept hidden by California's police privacy laws, which were first passed in 1978.
Police unions have long argued that the rules protect officer safety and privacy and have successfully lobbied to crush past efforts to change the laws. Skinner's bill would mark the first significant unwinding of the confidentiality rules.
The bill was changed Thursday in the Assembly Appropriations Committee to allow police departments to withhold records if they determine disclosure would be against the public interest. In addition, disclosure of investigative reports on incidents in which officers used Tasers was dropped from the bill.
Robert Harris, a director for the union that represents the Los Angeles Police Department's rank-and-file officers, said law enforcement groups would continue their efforts to defeat the legislation.
"It's still incumbent upon us to educate lawmakers on what we feel are some of the harmful effects of the bill," Harris said.
Should Senate Bill 1421 become law, California's disclosure rules would still fall short of 21 other states that provide public access to records of all types of misconduct resulting in suspensions and other significant discipline.
Still, leaders of activist groups said they were encouraged by the bill's progress, noting that it had advanced further than earlier efforts to unwind the state's police confidentiality laws.
"It's a reflection of the demand and pressure from our communities that shows this bill is needed," said George Galvis, executive director of Communities United For Restorative Youth Justice, an Oakland group that's a principal backer of the legislation. "We need to hold law enforcement accountable."
Thursday marked a busy day for lawmakers debating major bills affecting police issues. In a setback for law enforcement groups, none of the three principal efforts they opposed were defeated.
High-profile legislation aiming to make it easier to prosecute police officers who kill civilians, however, was put on hold. That measure, Assembly Bill 931 by Assemblywoman Shirley Weber (D-San Diego), has been the subject of intense lobbying by civil rights organizations who believe it's necessary to hold officers accountable and law enforcement groups who argue the effort is an existential threat.
State senators did not advance Weber's bill, but instead voted to move it out of a fiscal committee, where it faced a deadline to pass by the end of the week. Now, lawmakers have more time to debate the issue, Weber said.
"This is good news," Weber said in a statement. "This is a critically important discussion that is long overdue in California."
Lawmakers also advanced legislation that would lead to the release of police body camera footage of major incidents statewide.
That bill, authored by Assemblyman Phil Ting (D-San Francisco), would require police departments to release footage of most shootings by officers and other serious uses of force within 45 days unless it would interfere with an ongoing investigation. Supporters of the bill said they modeled the measure after the LAPD's new policy to release such videos within a similar time frame.
Should Ting's bill pass, it would also go against historical precedent. In recent years, lawmakers have failed to advance major bills regulating the use of body cameras as their use has proliferated up and down the state. In the statewide vacuum, departments have developed their own policies on disclosing footage that include keeping them private and releasing excerpts of incidents.
Despite Thursday's decision to move forward the proposal to open some police personnel records, it still faces a difficult road to passage. The largest remaining hurdle is a vote by the full state Assembly, which has numerous members with strong ties to law enforcement among the ruling Democratic Party. Skinner said she expects strong push-back from police unions.
"Of course law enforcement, since they've had the ability to deny access to records, they're not going to want to give that up," she said. "That's a fundamental challenge here."
The bill faces a deadline of the end of the month to pass both houses of the Legislature. To become law, Gov. Jerry Brown would then have to sign it. Brown approved the law that first enshrined the strict confidentiality protections for police records in 1978 during his first term in office. The governor has not taken a position on Skinner's bill.
Coverage of California politics »
---
UPDATES:
4:10 p.m.: This article was updated with a comment from Harris.
3:10 p.m.: This article was updated with comments by Skinner.
2:55 p.m.: This article was updated to add that a body camera bill advanced, a comment from Galvis and additional background about the police transparency bill.
This article was originally published at 1:30 p.m.
Life is stressful. Our weekly mental wellness newsletter can help.
You may occasionally receive promotional content from the Los Angeles Times.