A fight simmers in the Bay Area over protecting the privacy of immigrants here illegally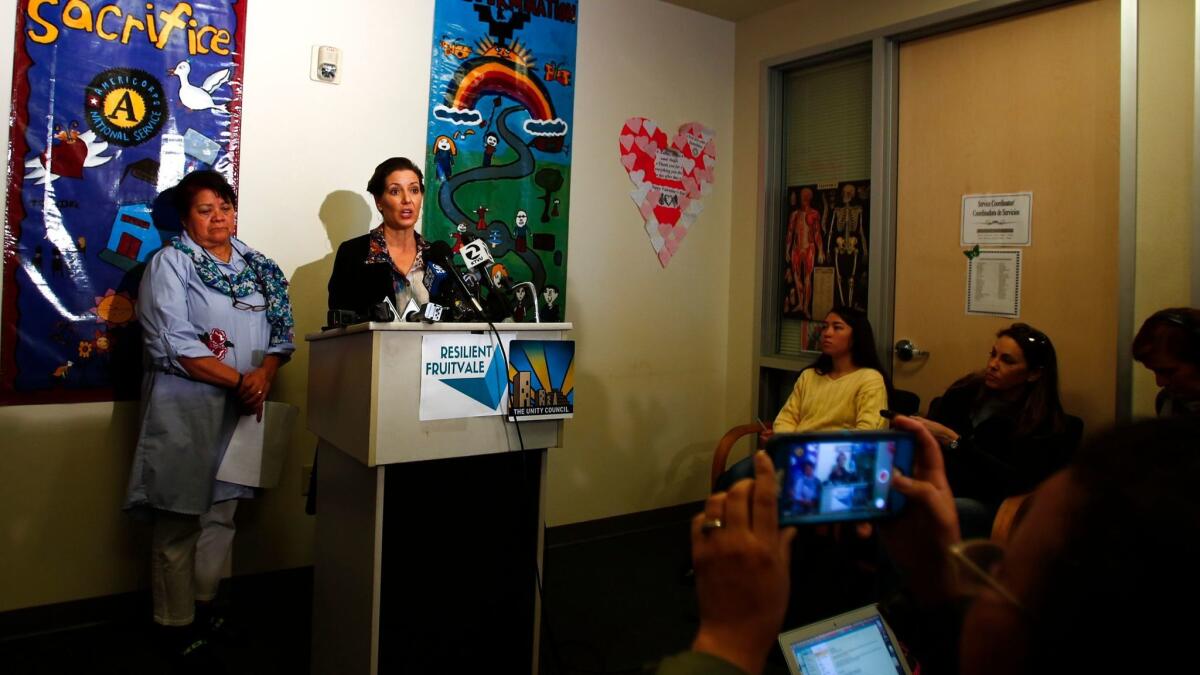 Reporting from Oakland —
Panicked callers to Alba Hernandez's hotline reported a possible immigration raid. She rushed to the West Oakland home to find officers had blocked off traffic in what they described as a human-trafficking investigation.
The police revealed no criminal charges from the August incident. Instead, two Guatemalan brothers were questioned on civil immigration violations, and one was detained for weeks, according to court records and interviews with residents.
This wasn't supposed to happen in Oakland, a city that has made national headlines for its mayor's defense of so-called "sanctuary" policies, Hernandez and other immigrant rights activists said. Oakland has greatly limited police cooperation with U.S. Immigration and Customs Enforcement, drawing the ire of Atty. Gen. Jeff Sessions.
"But how could we call ourselves a sanctuary city when police were clearing the pathway for ICE to take people out of their homes?" Hernandez said.
Few cities have done as much as Oakland to examine and push back against the ways law enforcement, through new technology and shared databases, collects personal information, images and communications of criminal suspects and innocent bystanders alike. Over the last year, as city leaders found themselves at odds with President Trump's immigration agenda, the Oakland Privacy Advisory Commission has worked to ensure those surveillance tools aren't used to target immigrant or Muslim communities.
As the West Oakland raid stirred local outrage, the questions came from both immigrant rights groups and the advisory commission.
Some worry that data collected by police technology, such as cell tower simulators and automatic license plate readers, could be used to locate immigrants without legal residency solely for the purpose of deportation. This year, ICE paid a contractor for access to license plate data. There also is concern about a Trump-proposed "Muslim registry."
"All administrations have used surveillance, but the Trump administration has been adamant about what is happening in mosques," said Sameena Usman of the San Francisco office of the Council on American-Islamic Relations. "We don't know what information can be filtered through the federal government and how it can be used to target vulnerable communities."
Live coverage: Sessions suing California for 'sanctuary state' policy »
The Privacy Advisory Commission was formed in January 2016 after privacy advocates fought to scale back the scope of a city surveillance center meant to safeguard the Port of Oakland against a terrorist attack. Since then, the commission has helped shape ordinances to limit assistance between police and federal immigration officials and the local police data that the city shares with federal law enforcement agencies.
California lawmakers have taken notice, and the commission has attracted attention from other cities in the state and across the country where officials hope to pass similar privacy policies. Meanwhile, Trump officials are targeting sanctuary cities for ICE raids, threatening to slash their funding and suggesting their leaders should be arrested.
But it remains to be seen whether such measures enacted in this San Francisco Bay Area city can be replicated elsewhere or are limited to a place with a fiery legacy of activism, privacy commission Chairman Brian Hofer said.
"We are trying to cut the data pipes to ICE," Hofer said. "We want people to know and apply what Oakland has already proven, and that is the simple phrase of 'community control.' We can have control over our personal data."
Hofer, an Oakland activist, was in between jobs in 2013 when the East Bay Express reported on plans for a citywide surveillance network dubbed the Domain Awareness Center. The network would be equipped with more than 700 cameras in schools and public housing, software allowing officers to identify faces and read license plate numbers, and storage for data compiled on residents.
The scope of the project was so alarming to Hofer that within the week he joined the Oakland Privacy Working Group. The organization brought together teachers, labor activists and civil rights lawyers to file public records requests and inundate city officials with their concerns. They complained that the technology allowed police to collect sensitive location information revealing details about people's everyday lives, from going to the doctor to marching in a political event, not to mention where they work and live. That information, they feared, would go to the federal government with no oversight.
By the following year, the Oakland City Council had limited the center's surveillance capabilities and created the working group that would become the Privacy Advisory Commission, with nine appointed members. The organization has passed a number of resolutions on the use of surveillance technology that have been enacted in city ordinances.
Among those were public policies that helped the city comply with a 2015 state law that required police to disclose their use of automatic license plate readers and "stingrays." Those devices, which simulate cell towers, can ensnare the communications of all people in a certain area and for years had been purchased by law enforcement agencies under nondisclosure agreements that kept their existence secret.
California passed a law boosting police transparency on cellphone surveillance. Here's why it's not working »
City and police officials said the discussions helped assure the community that surveillance wouldn't be used without a warrant and can produce crucial information for crime investigations and medical situations or natural disasters.
"It is this insight, this level of thought into the implications and consequences of new surveillance technology that I want to become the gold standard across the country," said privacy advisory commissioner Reem Suleiman.
The meetings generated national interest. Hofer said law professors from UCLA and Georgetown University would call and ask how they got police "talking so freely" about technology that departments have long battled in court to keep secret.
The answer, he told them, is "This is Oakland."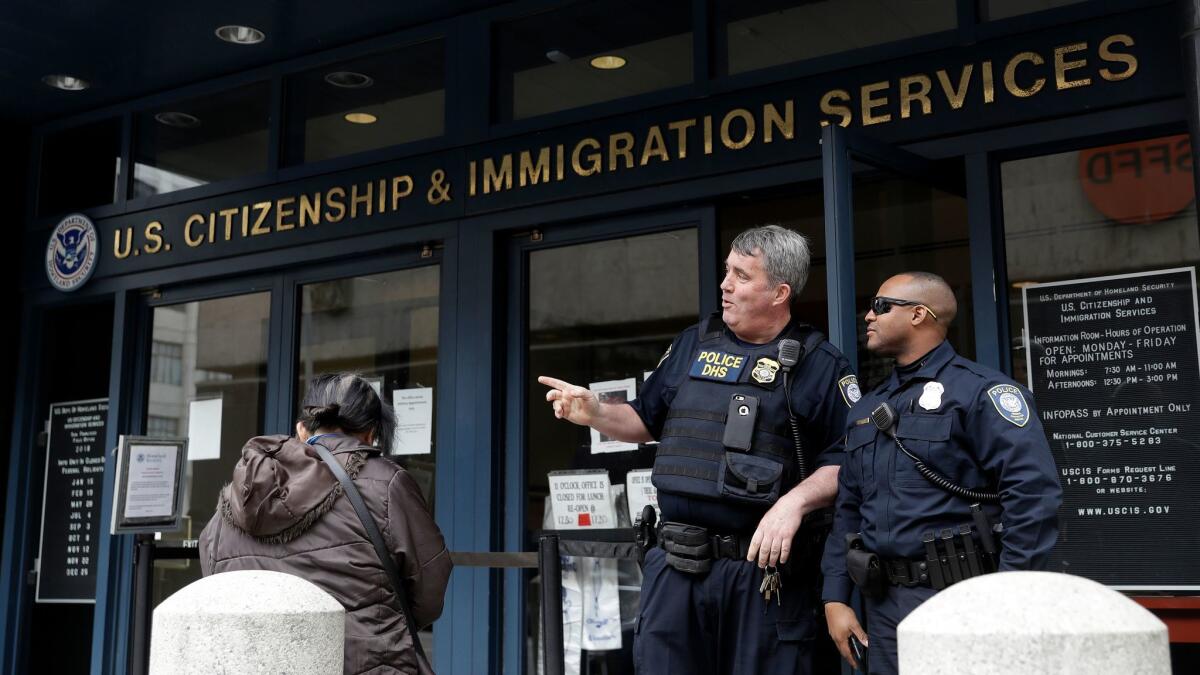 Sign up for the Essential Politics newsletter »
Oakland's privacy rules prompted other Bay Area cities to take up similar or more far-reaching policies of their own. In Alameda County, stingray policies now require sheriff's deputies to track and publicly disclose how and how often they use them. In Santa Clara, police must have public rules for the use of all new surveillance technology, not just stingrays and license plate readers.
State lawmakers concerned about immigrants' privacy last year barred state and local agencies from sharing religious affiliation information with the federal government, and passed a so-called sanctuary state law to vastly limit whom state and local law enforcement agencies can hold, question and share information on at the request of federal immigration authorities.
This year the Legislature is considering whether to require federal immigration agents to obtain court subpoenas to access the professional or driver's license information of people in the country illegally. A state lawmaker also has revived legislation that would require law enforcement agencies to disclose all of their surveillance equipment.
Privacy legislation has previously been scaled back at the state level amid debate over whether the state should communicate with ICE on immigrants with criminal records. And some Oakland privacy advocates question whether state proposals would have any teeth without the input of a robust network of community activists.
Hofer said cities often have more power than they believe: The city of Alameda unanimously rejected a $500,000 contract for a license plate reader from a company that sold ICE access to its nationwide database.
In Oakland, home to the Black Panthers, the concerns over surveillance of political protesters and minority communities has a long history. Oakland police sparked anger in 2016 for the little-noticed purchase of social media monitoring software that Black Lives Matter activists said was used to analyze their tweets.
As the city has been hit with ICE raids, the privacy commission has been reviewing data policies for all police technology, and attempting to prevent license-plate-reader data from going to federal agencies. It also pushed Police Chief Anne Kirkpatrick to present a report to the City Council on last August's West Oakland raid.
Kirkpatrick said police officers provided only traffic control as ICE executed a search warrant and did not break city or state laws that limit collaboration.
Justice Department officials have pledged to review the actions of Mayor Libby Schaaf, who warned immigrant communities of upcoming raids. The Department of Justice has since cut all forms of assistance between federal immigration agents and the city's law enforcement. Schaaf has said she is willing to go to jail in defense of her city's policies.
To read this article in Spanish click here
ALSO:
California passed a law boosting police transparency on cellphone surveillance. Here's why it's not working
California lawmakers passed the 'sanctuary state' bill. What happens if Gov. Jerry Brown signs it?
California law enforcement agencies will soon have new rules for classifying gang members, sharing gang databases
Get our Essential Politics newsletter
The latest news, analysis and insights from our politics team.
You may occasionally receive promotional content from the Los Angeles Times.