California voters reject repeal of state gas tax and vehicle fee increase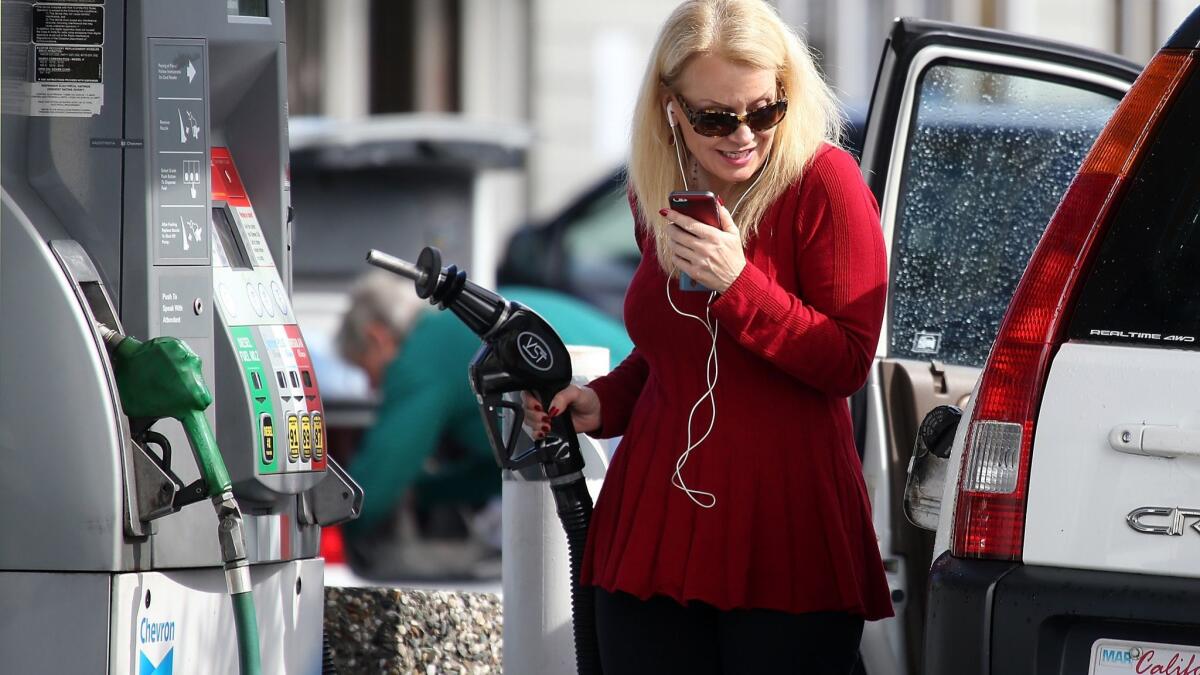 Reporting from Sacramento —
Proposition 6, which would have repealed an increase in California's gas tax, failed to win the majority vote needed for passage on Tuesday after Gov. Jerry Brown warned it would halt urgent repairs to the state's crumbling roads and bridges.
Brown, who leaves office in January, said after the first vote tallies were announced that it was important that the initiative be defeated for the future of the state.
"This is one of the most significant votes in America tonight, because where else have people voted to tax themselves to pay for what they need?" Brown said to cheers at a Sacramento election watch party thrown by the initiative's opponents.
"People know that you get what you pay for," he added. "The people knew that the flim-flam of the yes people were exposed. When this Trump recession comes we're going to have $5 billion going to transit and roads and bridges in California."
Top Republicans including House Majority Leader Kevin McCarthy of Bakersfield, House Speaker Paul D. Ryan and GOP gubernatorial candidate John Cox put the initiative on the ballot in hopes of boosting conservative voter turnout for the party's candidates for Congress and governor.
See full results from the midterm elections »
At one point it appeared the initiative could be a defining issue for the state's midterm election. The repeal effort gained momentum in June when backers succeeded in recalling state Sen. Josh Newman (D-Fullerton) over his vote for the higher taxes. Three weeks later, the repeal measure qualified for the ballot when those behind it turned in more than 585,000 signatures of registered voters.
But then the money from deep-pocketed Republicans dried up as GOP leaders shifted their attention to helping their party's candidates in close congressional and state legislative races.
The more than $5 million raised by those pushing the repeal was eclipsed by the $47 million brought in by initiative opponents from the construction industry, organized labor and Democrats.
Initiative backers also said their campaign was disadvantaged by the ballot title placed on the measure by the state.
"We've known that politicians have been stealing our gas taxes for years and will continue to do that," said Carl DeMaio, a Republican activist who headed the campaign. "Tonight we learned that they can also steal our votes by changing the ballot title on our initiative. We are not going to accept that. They think we are going to go away. No."
He complained that the official title by state officials said the measure "eliminates certain road repair and transportation funding" without making it clear that it repeals new gas taxes.
Gov. Brown helped raise funds to defeat Proposition 6, which would have repealed Senate Bill 1, legislation approved by state lawmakers and signed by Brown in April 2017.
The legislation raised the state gas tax by 12 cents a gallon and boosted the diesel fuel tax by 20 cents a gallon. The measure also created a new annual vehicle fee ranging from $25 for cars valued at less than $5,000 to $175 for cars worth $60,000 or more.
In addition to repealing SB 1, the initiative would have also required state officials to obtain voter approval of all future increases to state gas taxes.
The initiative initially was leading in polls, but Brown and Democratic leaders launched an overpowering media blitz, arguing the $52 billion that would be generated during the first 10 years was needed to address a large backlog of road and bridge repairs, and help improve the state's rail and bus systems.
Coverage of California politics »
With Brown about to leave office, many Capitol observers saw the massive transportation improvement program as a part of his legacy, one that was threatened by the repeal initiative.
"Killing Proposition 6 is the right thing to do," Brown said at a campaign rally days before the election. "It's a bad idea. It's dangerous, and it was cooked up by some shady politicians who used their campaign funds because they thought they could fool the people. Well, the people aren't fooled."
In another campaign appearance, the governor said the measure was being "pushed by Trump's Washington allies."
The television and mail ad blitz from the measure's opponents featured highway patrol officers, firefighters and engineers who said the loss of the road-repair money would jeopardize the safety of motorists.
DeMaio, a conservative radio show host and former San Diego City Council member, conceded defeat Tuesday night. He denounced what he called "deceptive ads saying that if you vote yes on Prop. 6 you are going to die in a car accident and the bridges are going to fall over."
Cox and other proponents of Proposition 6 argued the state's gas prices were among the highest in the country and said previously approved fuel taxes were sufficient to keep California roads in good repair. They also called for the state to cancel the multibillion-dollar high-speed rail project.
DeMaio warned that the new taxes would continue to be diverted from road projects, noting the revenues from SB 1 also go to bike and pedestrian paths, rail projects and to the state parks and agriculture departments.
He has vowed to launch a ballot measure in 2020 to kill the bullet train and recall campaigns to "punish" Democratic politicians supporting the higher gas tax, including state Atty. Gen. Xavier Becerra, whose office drafted the ballot title.
DeMaio also said he might seek legal action to put the gas tax issue back on a future ballot by "showing a judge that fraud has occurred."
He predicted that voter anger over the gas tax would continue to grow and would affect future state elections if Proposition 6 failed.
"How long before gas hits 4 ½, 5 dollars a gallon?" DeMaio asked at a news conference last week.
Times staff writer Liam Dillon contributed to this report.
Twitter: @mcgreevy99
---
UPDATES:
12:05 a.m.: This story was updated with a quote from Carl DeMaio.
11:05 p.m.: This story was updated to reflect the race has been called.
11:02 p.m.: This story was updated with additional information about the race's results.
This article was originally published at 10:35 p.m.
Get our Essential Politics newsletter
The latest news, analysis and insights from our politics team.
You may occasionally receive promotional content from the Los Angeles Times.