Californians appear poised to reject measure controlling how climate change funds are spent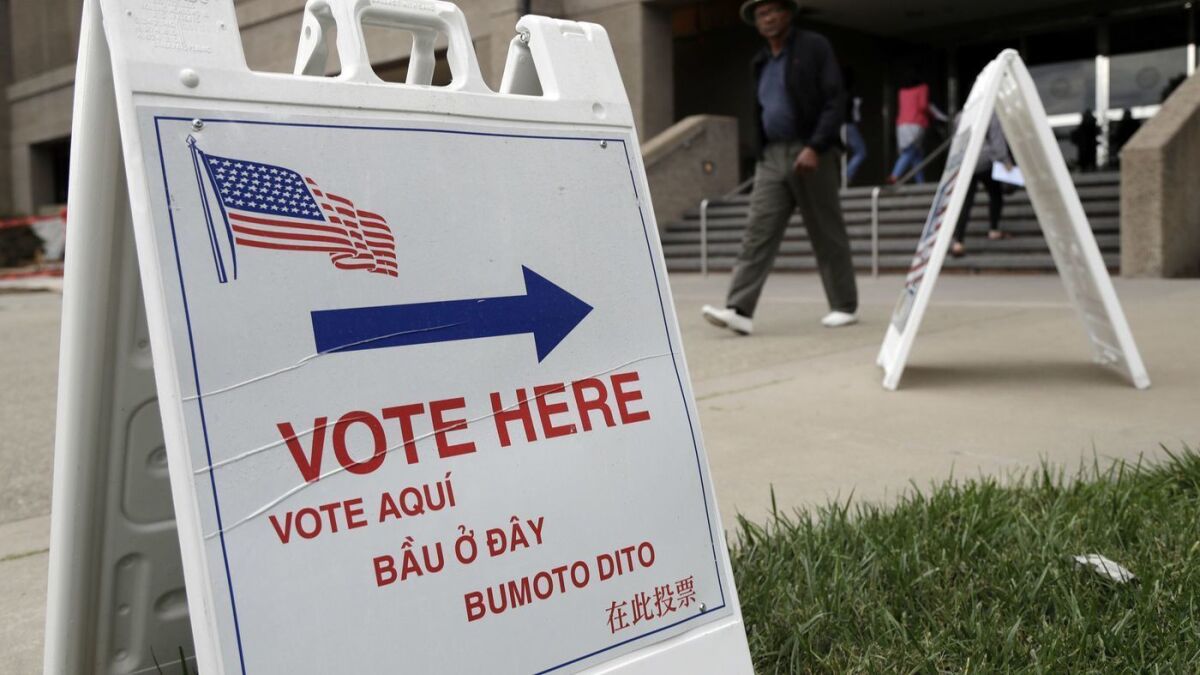 Four statewide ballot propositions were passing in California on Tuesday, while an effort to control spending of funds collected through the state's climate change program appeared headed toward a defeat.
Proposition 70 would have required both houses of the Legislature, six years from now, to approve spending of cash collected from the cap-and-trade program, in which industries pay for greenhouse gas emissions above the state-imposed cap.
With fewer than 15% of precincts reporting, 61% had voted against the measure and 39% had voted for it.
Assembly Republicans demanded the proposition during 2017 negotiations over a bipartisan deal to extend the climate law.
The spending plan would have to be approved by a supermajority of both houses. And it would presumably force a day of reckoning for one of the biggest line items in spending of cap-and-trade cash: California's high-speed rail program.
Assemblyman Chad Mayes (R-Yucca Valley) led Assembly Republicans in the push for Proposition 70.
"California Republicans are different than national Republicans," Mayes said last July. "Many of us believe that climate change is real, and that it's a responsibility we have to work to address."
Here is a rundown of the other measures on the ballot, all of which were showing clear majorities of support Tuesday night.
Proposition 68
Formally known as the California Drought, Water, Parks, Climate, Coastal Protection and Outdoor Access For All Act, this proposition would allow the state to borrow $4 billion in bonds for state and local parks and other environmental protection and restoration projects.
In the closest race any proposition faced on the ballot, voters were approving the measure as of late Tuesday, with 55% voting yes and 45% voting no.
The money would be used to restore parks in lower-income communities, protecting wildlife habitats and rivers or coastal areas, and improving flood protection and groundwater systems.
A legislative analysis suggests once the bonds are paid off, the total cost would be more than $6 billion.
State Sen. Kevin de León (D-Los Angeles) wrote the initiative. Seven different groups contributed a total of $6 million to support the proposition, according to campaign finance tracking website Cal-Access.
Proposition 69
The state Senate approved a measure in April that would prohibit lawmakers from borrowing transportation-related revenue for unrelated programs.
Voters approved the proposition, with 77% voting yes and 23% voting no. This proposition would ban the use of any of the new vehicle fees and diesel taxes, totaling around $2 billion a year, for nontransportation purposes.
Supporters of the measure include the California Alliance for Jobs - Rebuild California Committee, Members' Voice of the State Building and Construction Trades Council of California, and United Contractors.
Even if the proposition is approved, its potential impact is unclear. There is an effort underway to repeal the gas tax increases on the November ballot.
Your guide to the 5 propositions on California's primary ballot »
Proposition 71
According to the California Constitution, statewide ballot measures that are winning by the end of election day immediately become law — even if all votes haven't been counted.
This proposition would mandate that all ballots be counted before a measure becomes law.
"Allowing initiatives and referenda to go into effect immediately after an election may lead to some confusion," Assemblyman Kevin Mullin (D-South San Francisco) said during a legislative hearing. "In some instances, elections are too close to call for some time after the polls close." The proposition succeeded on the ballot, with 78% of voters approving the measure and 22% disapproving.
Proposition 72
If approved, Proposition 72 will allow homeowners to add rainwater-capture systems without having their properties reassessed or their property taxes raised. The proposition could be an incentive for homeowners to reduce consumption from public water supplies in case of drought.
Californians overwhelmingly approved the proposition, 84% to 16%, amounting to more than 1.7 million yes votes.
Sign up for the Essential Politics newsletter »
michael.livingston@latimes.com
---
UPDATES:
10:35 p.m.: This article was updated with later results.
9:20 p.m.: This article was updated with early results after polls closed.
This article was originally published at 6:15 p.m.
---
Life is stressful. Our weekly mental wellness newsletter can help.
You may occasionally receive promotional content from the Los Angeles Times.