Column: Political Road Map: Even before all the votes are counted, California ballot measures can become law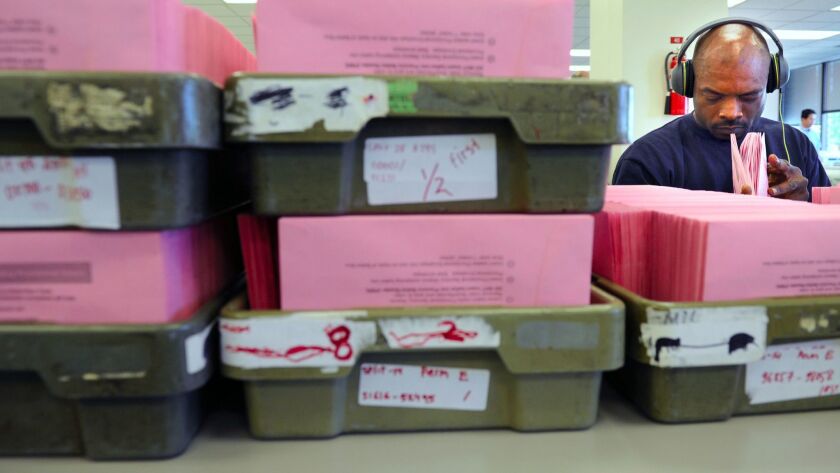 It's a phrase only five words in length, long enshrined in state law but increasingly seen as a civic catastrophe waiting to happen. It purports to answer the most simple of political questions.
When does a statewide ballot measure approved by voters become law? "The day after the election," according to the California Constitution.
But then think about the way elections work. Increasingly, we don't know the final outcome for days or weeks. What happens if the results flip when a close result is tallied under scrutiny?
"There's no good answer to that," said James Schwab, chief of legislative affairs for the secretary of state's office, during a Sacramento hearing last month.
Consider what could have happened last fall with Proposition 66 — the initiative promising to speed up executions in California. As the sun rose the day after the election, the ballot measure's margin of victory was less than 2% of all votes that had been counted. And yet, the California Constitution said Proposition 66 — which was subsequently challenged in court — had become law.
Death penalty appeals, in theory, could have been expedited and condemned inmates more quickly killed by lethal injection. But there were still more than 4 million ballots uncounted. What if those votes had changed the outcome? After all, an execution can't be undone.
Ralph Shaffer, a retired Cal Poly Pomona professor who has criticized the status quo in op-ed columns and pleas to elected representatives, said he first realized the issue in the wake of Proposition 8. The 2008 ban on same-sex marriage was enforced by county officials long before the final votes were tallied.
"No one even raised the question," Shaffer said.
So what else could happen? Tax increases could end up being money illegally collected. Referendum measures to overturn workplace rules or environmental restrictions imposed by the Legislature could result in — at best — mistakes by people simply trying to follow the law.
Political Road Map: California's election future depends on the absentee ballot »
"Allowing initiatives and referenda to go into effect immediately after an election may lead to some confusion," Assemblyman Kevin Mullin (D-South San Francisco) said at the May 10 legislative hearing on his bill that would change the rules. "In some instances, elections are too close to call for some time after the polls close."
His proposal, Assembly Constitutional Amendment 1, passed the lower house last week on a bipartisan vote of 75 to 0.
The story of how we got here is undoubtedly a tale of unintended consequences. In 1963, a commission convened to modernize and streamline the California Constitution. Over nine years, the changes were placed on the ballot for voters to approve. Some deleted items were classic relics of days gone by, like a provision dating back to 1849 that banned anyone who engaged in a duel from holding elected office.
Voters in 1970 approved Proposition 16, which, among other things, changed the date on which ballot measures go into effect. Before then, the Constitution read "five days after the official declaration of vote by the secretary of state."
ACA 1 uses the same five-day standard. Because election officials take several weeks to finish their counting, it would mean about a month before a statewide ballot measure carried the force of law.
The constitutional revisionists of the 1960s likely saw elections as one-day events. But now, a majority of votes are being cast by mail. And more are coming under a sweeping new law allowing neighborhood polling places to be closed. The state also allows ballots to be counted if they arrive up to three days after election day.
The pace of life may have sped up since the '60s, but elections have slowed down. Mullin's proposal, if approved by the Senate, would simply make sure no one declares victory before the final whistle is blown.
Follow @johnmyers on Twitter, sign up for our daily Essential Politics newsletter and listen to the weekly California Politics Podcast
ALSO:
Political Road Map: California Democrats are the kings of campaign cash
California needs statewide rules for provisional ballots, say election watchers
Updates on California politics and state government
---
Get our Essential Politics newsletter
The latest news, analysis and insights from our politics teams from Sacramento to D.C.
You may occasionally receive promotional content from the Los Angeles Times.