Your guide to the 5 propositions on California's primary ballot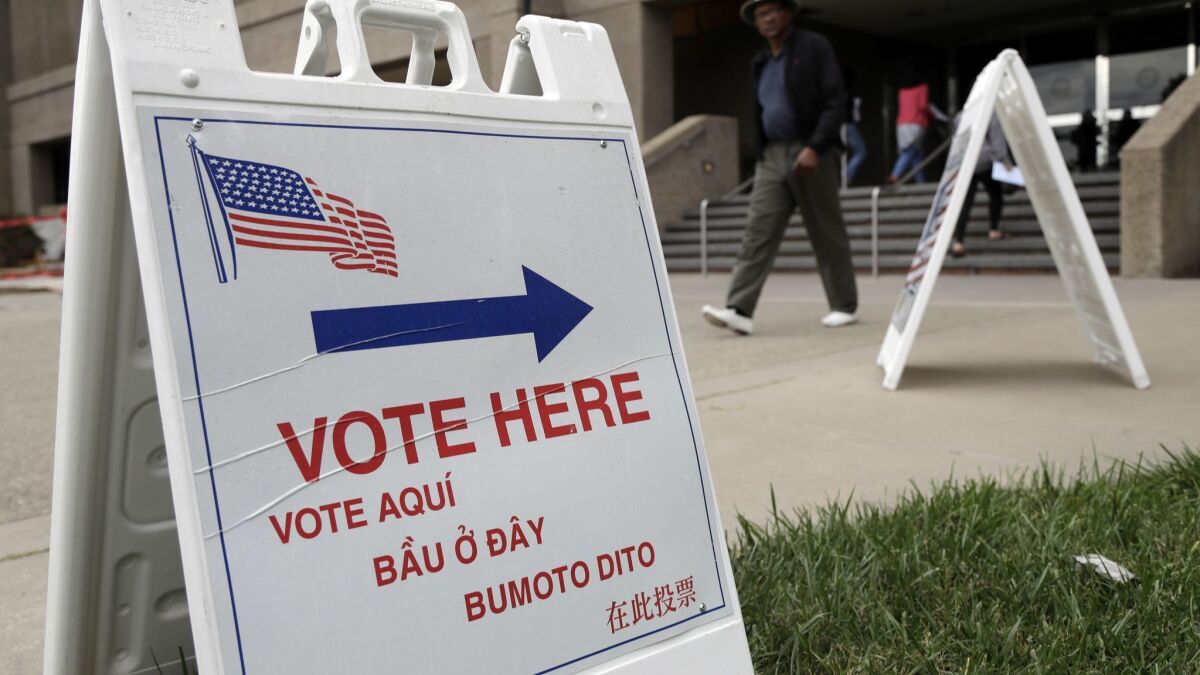 Sacramento Bureau Chief
California voters are being asked to weigh in on new borrowing, new government restrictions and a drought-friendly tax break on the statewide primary ballots that will be counted June 5.
There are five propositions in all, a small menu of proposed laws all written by the California Legislature. This is the fourth statewide primary held since Gov. Jerry Brown signed a law that moved voter-circulated ballot measures to November elections. More than a dozen are now vying for a spot on the state's fall ballot.
Here's a quick overview of what's on tap for June 5.
Proposition 68: Borrowing for parks and wildlife protection
Lawmakers crafted this $4.1-billion bond proposal last fall with an eye toward three kinds of projects: conservation efforts, new parks for struggling communities and water needs. Similar projects were last funded through state bonds approved in 2000 and 2002.
More than $1.5 billion would be earmarked for wildlife habitats and rivers or coastal areas, as well as efforts to prepare for climate change. Almost $1.3 billion would be directed toward parks and open space in low-income communities. Another $1.27 billion would go toward water needs, the largest share of that being for flood protection and groundwater needs.
These are the people running for California governor on June 5 »
The money will come from investors over time. Depending on the interest rate paid by the state, taxpayers will foot an annual bill of at least $232 million for 30 years, once all the bonds are sold.
Proposition 69: A lock box for California's new transportation cash
This proposition was written by lawmakers to stop them from doing what they say they can't be trusted to refrain from doing otherwise: raiding transportation funds when times are tough.
As part of the 2017 law that raised fuel taxes and vehicle fees for transportation projects, lawmakers also promised to make it impossible to borrow those dollars in the future.
If approved by voters, Proposition 69 would ban using the new vehicle fee and diesel taxes — about $2 billion a year — for anything other than transportation. (The rest of the new taxes are protected under existing law.) The rules would be enshrined in the California Constitution.
Proposition 70: A future showdown over climate change cash
Assembly Republicans demanded this proposition during 2017 negotiations over the bipartisan deal to extend California's cap-and-trade climate law. It's simple enough: The measure would require both houses of the Legislature, six years from now, to approve future spending of cash collected from that program, where industries pay for greenhouse gas emissions above the state-imposed cap.
The spending plan would have to be approved by a supermajority of both houses. And it would presumably force a day of reckoning for one of the biggest line items in spending of cap-and-trade cash: California's high-speed rail program.
Interestingly enough, one of the only Democrats left supporting Proposition 70 is the bullet train's chief cheerleader, Brown.
Proposition 71: Count the votes before a proposition becomes law
The need for this proposed constitutional amendment may come as a surprise to some Californians: Current law says ballot measures take effect the day after the election.
That means that even while the votes are still being tallied, a proposition that's winning in the early returns is ostensibly settled law.
Proposition 71 says the secretary of state must first certify a ballot measure's passage before it becomes law.
Proposition 72: No new taxes for your home's rainwater collection system
Homeowners know that making additions to their houses such as a new porch or outdoor deck can trigger a higher property tax bill.
This proposition excludes one kind of home upgrade from a tax reassessment: rainwater capture systems. The change would kick in Jan. 1, 2019. Few expect the proposal to cost local governments much in lost revenue. Proponents say that it could be a valuable incentive to homeowners to reduce their water consumption in the face of future droughts.
This ballot measure is a rarity in California politics: It's so uncontroversial that no one wrote an argument against it in the statewide voter guide.
Follow @johnmyers on Twitter, sign up for our daily Essential Politics newsletter and listen to the weekly California Politics Podcast
---
Life is stressful. Our weekly mental wellness newsletter can help.
You may occasionally receive promotional content from the Los Angeles Times.