California voters legalize pot and expand prison parole but appear to refuse death penalty repeal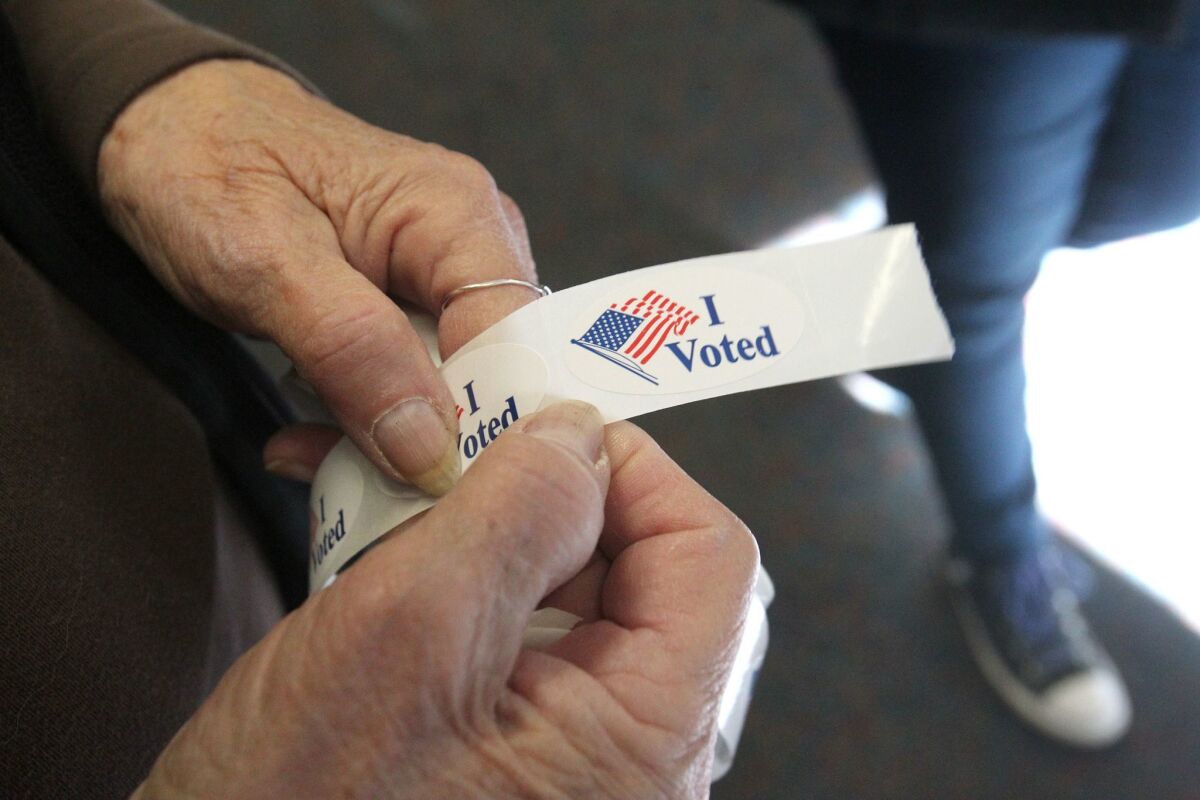 Reporting from Sacramento —
Faced with the longest statewide list of ballot measures in more than a decade, Californians made history on Tuesday by legalizing marijuana for adult use and passing a raft of measures including tax increases and a statewide ban on plastic bags.
But they appeared to refuse a repeal of the death penalty, the second such effort in four years, as well as a ballot measure over the cost of prescription drugs that sparked the most expensive campaign of the year.
The victory for Proposition 64, making marijuana legal for adults to use and taxing it on the state and local level, could change the national discussion given California's size and prominence. Election night returns showed the ballot measure winning with some 56% of the vote.
Just the opposite could be said of the societal debate over capital punishment, with voters likely rejecting Proposition 62 and its attempt to replace the death penalty with life in prison for the 750 men and women on California's death row. Meanwhile, voters appeared to approve an initiative to speed up the court appeals offered to condemned inmates, Proposition 66.
Kamala Harris is elected California's next U.S. senator »
In all, election night results showed all but four of the statewide propositions ahead or solidly winning. The campaigns in support or opposition of the measures was fierce, with campaign contributions surpassing previous records and totaling more than $473.5 million. A number of the propositions were never issues brought to the Legislature but taken directly to voters by well-funded interest groups.
Voters decided in two instances to rethink decisions they had made years before. Proposition 58, a ballot measure to formally cancel a controversial 1998 initiative that had banned most efforts at bilingual education, passed handily. At the same time, voters changed course on juvenile justice by making it harder for young defendants to be sent to adult courts.
The juvenile changes were contained in Proposition 57, the sweeping series of criminal justice proposals championed by Gov. Jerry Brown. Most notable in the ballot measure, which was strongly ahead in election night returns, is the loosening of parole rules for all but the most violent of state prisoners. Proposition 57, once enacted, will give the state Board of Prison Hearings new flexibility to offer parole to thousands of prisoners. Brown hailed it as a common sense reform, while district attorneys around the state worried about the violent backgrounds of some of those who could be released early.
Brown also may have scored a win with the apparent defeat of Proposition 53, a measure that would have required statewide voter approval of multibillion-dollar revenue bonds for public works projects.
The other politician who could proclaim victory in terms of ballot measures on Tuesday was Lt. Gov. Gavin Newsom, a declared candidate to replace Brown in 2018. Newsom championed not only the marijuana legalization measure, Proposition 64, but also the effort to impose new rules on firearm ammunition under Proposition 63. The gun violence proposal was a lopsided affair, with gun rights advocates failing to raise significant money or opposition to a ballot measure that mirrors some of what state lawmakers enacted earlier in the year.
The least controversial measures on the ballot were surprises, given the state's historic reluctance to support taxes. California voters imposed new taxes on tobacco, through Proposition 56, and extended temporary income tax surcharges on the most wealthy for an additional 12 years in Proposition 55.
Voters look to have narrowly approved a $9-billion school bond, Proposition 51. And they strengthened a source of healthcare funding for the poor, Proposition 52. They imposed new transparency rules on the Legislature, in Proposition 54, and they refused to overturn a statewide ban on single-use plastic bags by passing Proposition 67. They also appeared to turn back a related effort by the plastic bag industry in Proposition 65 to redirect fees imposed on paper bags to environmental projects instead of grocers.
One of the most unusual ballot measures seemed unappealing to voters, the effort in Proposition 60 to require the use of condoms during the filming of explicit sex scenes in movies. The ballot measure was losing in election returns posted late Tuesday night.
And in the general election's most expensive proposition fight, voters looked as though they would reject Proposition 61 and its effort to impose new price controls on prescription drugs paid for by state government dollars. The initiative was supported by liberal healthcare activists and the California Nurses Assn., along with a last-minute push by Vermont Sen. Bernie Sanders. But the pharmaceutical industry threw more than $109 million into an effort, apparently successful, to kill the measure that appeared largely to be a proxy war for a nationwide debate over the cost of prescription drugs.
Of the 17 propositions on the ballot, only one carried no force of law whatsoever: Proposition 59, an advisory measure asking the state's congressional delegation to seek a constitutional amendment limiting money in politics. Fittingly, the proposition saw the least amount of money spent on its passage — it appeared to pass with a slight majority of votes.
Follow @johnmyers on Twitter, sign up for our daily Essential Politics newsletter and listen to the weekly California Politics Podcast
ALSO:
Record spending on California ballot measures
---
Life is stressful. Our weekly mental wellness newsletter can help.
You may occasionally receive promotional content from the Los Angeles Times.