San Fernando Valley activists call on Assemblyman Raul Bocanegra to resign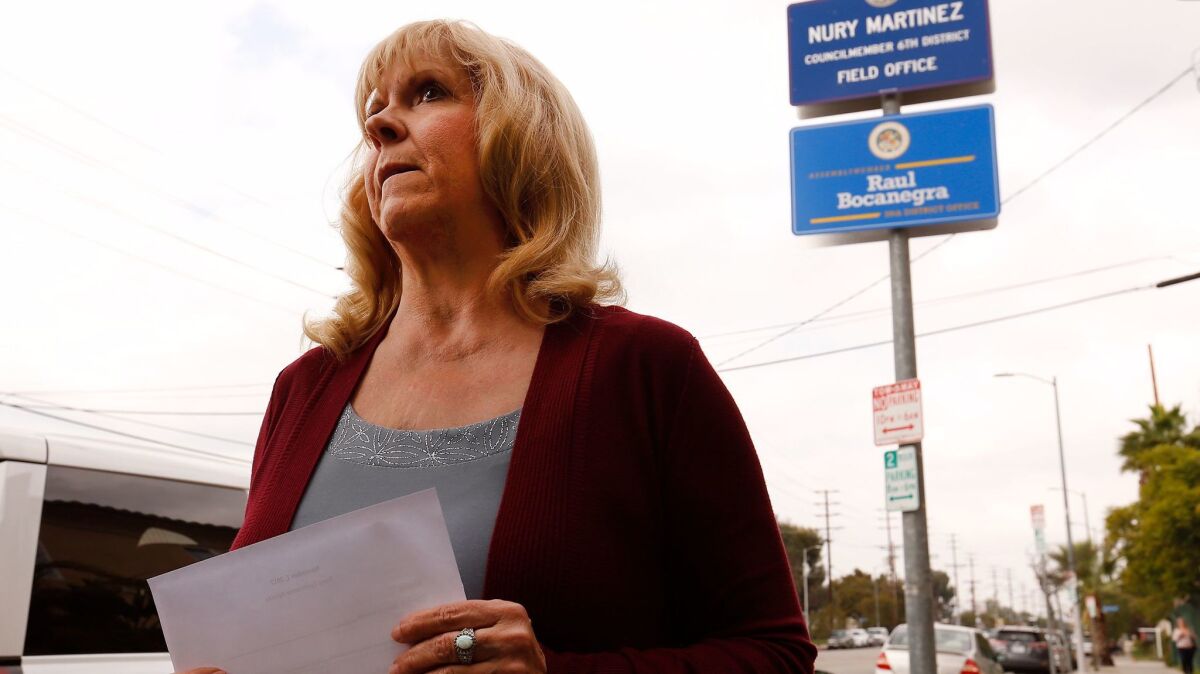 A group led by San Fernando Valley-area activists is calling for California Assemblyman Raul Bocanegra to resign following revelations that, as a top legislative aide eight years ago, he was disciplined after being accused of groping another staffer.
Pushing a stroller with her infant son, Tujunga resident Victoria Garcia marched into Bocanegra's Arleta office Wednesday with about a dozen other local residents and told the Democrat's staff their boss should resign.
"We're all disappointed, we're disgusted," Garcia told two Bocanegra staffers who met the group. "We don't feel that he's fit to represent us anymore."
The Times reported last week that Bocanegra was disciplined eight years ago after legislative staffer Elise Flynn Gyore accused him of reaching under her blouse at a Sacramento nightclub in 2009. At the time, Bocanegra was working as chief of staff to then-Assemblyman Felipe Fuentes.
An investigation by independent attorneys hired by the Legislature concluded that "it is more likely than not that Bocanegra engaged in behavior that night which does not meet the Assembly's expectations for professionalism," and Bocanegra was ordered to stay away from Gyore.
The assemblyman apologized last week when asked about the 2009 incident.
Speaking to reporters Wednesday, Kagel Canyon resident Bonnie Corwin called Bocanegra's punishment a "slap on the hand" and said he should step down.
The protest was organized by several local activists, including Corwin, who ran unsuccessfully for Los Angeles City Council this year, and David Hernandez, a longtime community leader.
Former Assemblywoman Patty Lopez also appeared at the event, which consisted of about half a dozen people standing on the sidewalk outside Bocanegra's office, taking turns speaking out against the assemblyman or the issue of harassment.
Lopez, who ousted Bocanegra in a surprise 2014 victory and then was defeated in a rematch last fall, didn't speak at the event because she said she didn't want her appearance outside his office to distract from the issue of harassment at the Capitol.
"It's not about me. I'm here to support the women," Lopez said. "People are still scared to speak out."
A Bocanegra spokesperson declined to comment on the protest.
The assemblyman wasn't in his district office when the group arrived. His staffers took down the names and phone numbers of the protesters, at the request of the protesters.
In Sacramento, the chairman of the California Democratic Party was addressing the potential political fallout.
Party leader Eric Bauman said Bocanegra must "come to terms" over whether he can continue serving. He stopped short of indicating the assemblyman should step down and suggested that Assembly Speaker Anthony Rendon (D-Paramount) should help Bocanegra decide "what his future is going to be."
"I think Assemblyman Bocanegra needs to look into his own heart and decide what he's going to do," Bauman said.
Both Bauman and California Republican Party Chairman Jim Brulte, who appeared together at a Sacramento Press Club luncheon Wednesday, said their parties have zero-tolerance policies on sexual harassment.
Brulte said he supports an independent review process, free of partisanship, to look into allegations of harassment in the Legislature.
"I think it's very, very difficult for organizations to police themselves when it reaches a certain point," Brulte said.
A Los Angeles Daily News editorial published this week cited The Times' story and called for the assemblyman to resign, stating that there was no public information about the alleged assault when Bocanegra was first elected in 2012.
"In light of this revelation, Bocanegra cannot be taken seriously as a representative of the people who elected him without this knowledge, and we ask that he step down immediately," the editorial said.
Dozens of women have spoken out in recent weeks about sexual harassment in the Capitol, describing an atmosphere where unwanted touching and remarks are commonplace.
Phil Willon in Sacramento contributed to this report.
Twitter: @dakotacdsmith
ALSO
Female lawmakers, staffers and lobbyists speak out on 'pervasive' harassment in California's Capitol
Graphic allegations about California legislator show there are few protections for female lobbyists in the Capitol
Sexual harassment becomes focus in Sacramento
Coverage of California politics
---
Life is stressful. Our weekly mental wellness newsletter can help.
You may occasionally receive promotional content from the Los Angeles Times.