California Assembly advances 100% clean energy bill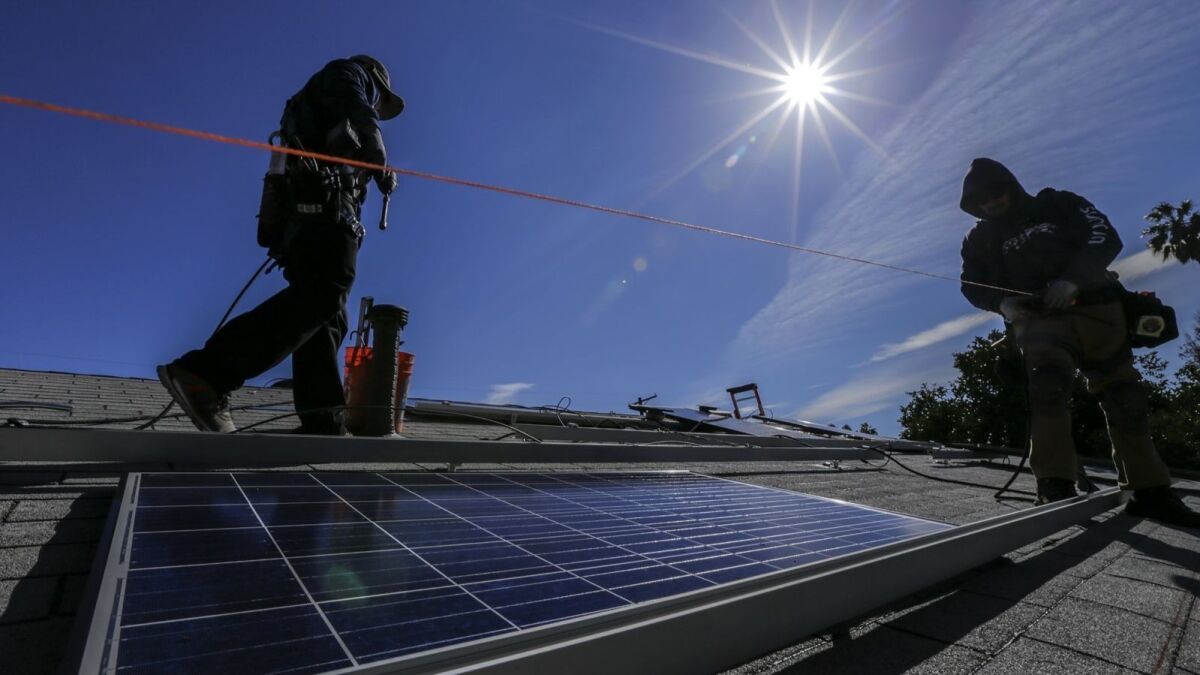 Reporting from Sacramento —
California would set some of the nation's strongest clean energy goals under legislation that cleared a key vote in the Assembly on Tuesday, bringing the state a step closer to ending its reliance on fossil fuels by phasing out their use to generate electricity.
The bill, which would require California to obtain 100% of its power from clean sources by 2045, has been debated by lawmakers for nearly two years as it faced cost and feasibility concerns. This week, high-profile state and national politicians gave the cause a push by arguing the plan would strengthen California's leadership on the environment.
Lawmakers supporting the bill said it was important that the state continue its pioneering efforts to curb greenhouse gas emissions. A new state report released this week warned that California will face higher temperatures, more wildfires and sea-level rise in the coming decades due to climate change.
"The damage will continue to be done as long as we refuse to act," Assemblyman Ash Kalra (D-San Jose) said. "There are no more tomorrows left."
In addition to the 2045 target, Senate Bill 100 would also require electric utilities and other service providers to generate 60% of their power from renewable sources by 2030, up from the current 50% goal set for that date.
The bill now heads to the Senate for a vote. If it is signed by the governor, California would become the second state in the U.S. to rely solely on clean energy by 2045. Hawaii was the first to implement such a plan.
"This is a huge victory for the state of California," said state Sen. Kevin de León (D-Los Angeles), the bill's author. "It's a victory for clean air. It's a victory to tackle climate change and the devastation that it's leaving in its wake."
California clean energy proposals face demise as opposition fails to yield »
The measure's opponents, chiefly Republican legislators, argued that phasing out fossil fuels by 2045 was not achievable, and could sharply increase energy prices while state regulators tried to design policies to reach the target.
"Why would this body come out now and further increase costs on struggling California families?" Assemblyman Steven Choi (R-Irvine) said.
Last year, lawmakers shelved SB 100 after they were unable to reach agreement on the plan alongside other climate-related legislation, including a proposal from Gov. Jerry Brown to integrate California's electricity grid with other states in the region.
This year, SB 100 has again been part of the larger debate about energy policy. Also included in the discussion are the electric grid bill, which remains in a legislative committee awaiting further action, and comprehensive legislation to address wildfires that have raged across California.
Brown has not taken a public position on SB 100, and De León said after the vote that he has not received a firm commitment from the governor that he'd sign the bill. The governor used the power of his office to push other climate change bills, including extending the state's cap-and-trade program last year. But on the clean energy bill, representatives for Brown have said the governor doesn't usually weigh in on pending legislation.
The clean energy proposal didn't originate with the governor, so his ability to shape the debate might be more limited because he's in his final year in office, said Kathryn Phillips, director of Sierra Club California, adding that Brown's former top deputy, Nancy McFadden, died earlier this year.
"If he wasn't a lame duck governor and if he hadn't lost his finest lieutenant to cancer, I think there would be a lot more activity coming from the governor's office," Phillips said.
Evan Westrup, a spokesman for Brown, sharply rejected Phillips' characterization, calling it "baseless." He declined a request to address the governor's involvement.
Although Brown hasn't made his opinion clear, others have.
Former Gov. Arnold Schwarzenegger sent a letter to lawmakers Monday backing the bill, and argued that Trump administration policies rolling back federal efforts to combat climate change made it all the more urgent.
"California must take a stand and tell the world we are, as always, undeterred by those who wish to stop our progress and move backwards," Schwarzenegger wrote. "We continue to move forward, and passing SB 100 is one of the boldest moves we can make to help save our climate and way of life."
Former Vice President Al Gore also cited White House policies in his endorsement of the bill, saying that California must respond by leading on climate change.
"I hope California will once again rise to the occasion and put the Golden State on a path to 100% clean energy by the middle of the century," Gore wrote in a letter to lawmakers Friday. "This action will be seen around the world as a major step forward on our path toward a sustainable future."
Tuesday's decision came on an afternoon that saw De León working to convince a handful of on-the-fence Democrats to vote yes. Thirteen Democrats initially held off voting on SB 100, and the first tally left the bill four votes short of passage.
Ultimately, the bill cleared its final hurdle after De León arrived on the Assembly floor and had a lengthy conversation with Assemblyman Ken Cooley (D-Rancho Cordova), one of the holdouts who voted yes.
Some Democrats cast their votes against the policy. Assemblyman Adam Gray of Merced opposed the proposal, saying that supporters were motivated to impress national progressives rather than poor residents in rural communities who would face higher electric bills as a result of the legislation.
"This is yet another in a laundry list of bills that are discriminatory to the people I represent," Gray said.
The politics over the bill go beyond energy policy. De León, former president pro tem of the state Senate, is running for U.S. Senate against fellow Democrat Dianne Feinstein, who is seeking a fifth full term.
A number of legislators, including Assembly Speaker Anthony Rendon (D-Paramount), have endorsed Feinstein over De León. On the Assembly floor, debate over the bill veered into the personal.
"You don't have to like the author. I don't care," said Assemblywoman Lorena Gonzalez Fletcher (D-San Diego), who presented the bill on De León's behalf.
Gonzalez Fletcher then paused for laughter throughout the chamber.
"I think he's a great guy," she continued. "But this is about whether or not we want to set goals that we can reach and be proud of ourselves to reduce the effects of climate change here in California."
Coverage of California politics »
---
UPDATES:
10 p.m.: This article was updated with a comment from a spokesperson for Gov. Jerry Brown.
7 p.m.: This article was updated with an additional comment from De León.
5:40 p.m. This article was updated with comments from state Sen. Kevin de León.
This article was originally published at 5:20 p.m.
Life is stressful. Our weekly mental wellness newsletter can help.
You may occasionally receive promotional content from the Los Angeles Times.