It's expensive to be a tenant in California. Will Proposition 10's rent control expansion help?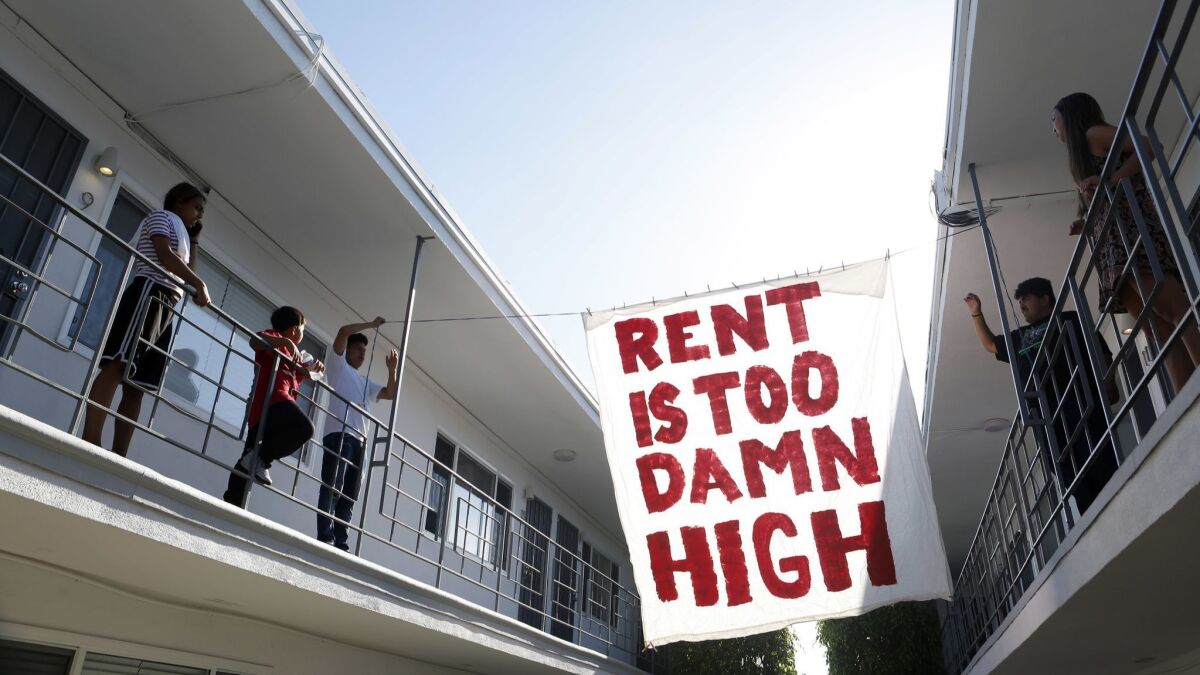 In less than five weeks, California voters will decide on Proposition 10, a ballot initiative that would allow cities and counties across the state to expand rent control.
For the record:
2:40 p.m. Oct. 3, 2018An earlier version of this article said that California has 9.5 million renters. California has 9.5 million renters who are burdened by high rents.
Supporters of the measure say it will offer relief for tenants during a time of unprecedented housing affordability problems in California. Opponents contend it will stymie housing construction — the levels are already low — and further increase costs.
Here's a rundown of some of the difficulties renters face and how Proposition 10 would affect them and broader affordability issues.
Just how dire is the situation for renters in California?
Very. Nine and a half million renters — more than half of California's tenant population — are burdened by high rents, spending at least 30% of their income on housing costs, according to a recent analysis of U.S. census data by UC Berkeley's Haas Institute for a Fair and Inclusive Society.
Rents have jumped since the end of the last recession as many areas of the state have seen strong job growth but little housing production. In Los Angeles, the median one-bedroom rental is $2,370, according to real estate website Zillow — an increase of 43% over the last eight years. Similar rent hikes have hit San Francisco and the state as a whole.
Rents in California have far outpaced rents in the rest of the country. Nationwide, the median one-bedroom rent is $1,299, according to the Zillow data, increasing 25% over the same eight-year period.
High housing costs have left millions of Californians poor. Nearly 1 in 5 California residents lives in poverty when housing and other costs of living are considered, helping give the state the distinction of having the nation's highest poverty rate.
As economic pressures on renters have increased, tenant activists have ramped up their promotion of rent control as a way to hold down costs.
Does rent control help with housing affordability?
Economists of different political stripes rarely agree on much. But there's consensus, even among liberal economists, that rent control doesn't help with housing affordability.
Economists generally believe that when government limits the price landlords can charge for housing, there will be fewer houses produced, which in turn drives up prices.
"When you have a price ceiling, it induces a shortage," said Christopher Palmer, an MIT economist and coauthor of a study on rent control in Cambridge, Mass. "The common wisdom is that rent control reduces the quantity and quality of available housing."
Instead of rent control, Palmer said, economic research contends the primary solution to housing affordability problems is to build lots more homes and have the new supply force prices down.
But what about California tenants who are struggling now?
By one estimate, developers in California need to build an average of about 320,000 new homes a year to address the state's shortage and make a major dent in affordability problems — a rate roughly triple the current pace of construction. The state's nonpartisan Legislative Analyst's Office said the state would need to increase subsidies by billions of dollars a year to finance enough low-income housing for those most in need.
But these goals will be very hard to achieve, and some researchers say rent control is necessary to protect tenants from the continued threat of rising prices. The UC Berkeley Haas Institute report contends that rent control is the only way cities and counties can keep costs down cheaply and immediately.
"This is really the one thing that can be implemented most quickly," said Nicole Montojo, a coauthor of the report. "The building is not going to happen fast enough. It's just not possible."
Cities and counties can also tailor rent control rules to limit negative consequences for new construction and other potential downsides, said Manuel Pastor, a sociology professor at USC and author of a forthcoming review of existing rent control research.
"For the life of me, I can't think why you would give up rent stabilization as a tool given the extent of the crisis," Pastor said.
How would Proposition 10 work? And what is Costa-Hawkins?
Fifteen California cities have some form of rent control now. But local governments are hamstrung when it comes to implementing most new rent control policies because of a 1995 state law, the Costa-Hawkins Rental Housing Act.
That law restricts city and county rent control efforts in three ways. Local governments are not allowed to:
Implement rent control on single-family homes.
Take away the right of landlords to charge what they want for apartments after a rent-controlled tenant moves out.
Control rents on buildings constructed after 1995. The law also locked into place rules in cities with rent control when Costa-Hawkins passed. For instance, Los Angeles ties rent hikes to inflation on apartments built on or before Oct. 1, 1978, and is prohibited from applying its provisions to more recently constructed properties.
The 1995 law chilled cities' and counties' passage of new rent restrictions. In 2016, Mountain View and Richmond in the Bay Area became the first communities to implement new rent control rules in more than three decades.
Proposition 10 does not change existing rent control policies — it simply repeals Costa-Hawkins. So passage of the initiative would not, in most cases, immediately lead to new rent control rules. Instead, it would allow cities and counties to craft policies without restrictions.
Proposition 10 also would be hard to undo in the future. The initiative includes a provision that says any effort to implement statewide restrictions on rent control would have to be approved by California voters. The authors of Proposition 10 say they wrote the measure that way to prevent state lawmakers from undermining it. But the provision has faced criticism from those who contend any negative consequences from the measure would be very hard to fix.
How has rent control affected San Francisco?
Researchers at Stanford recently published a detailed examination of rent control's effects in San Francisco, where the policy is restricted to apartments built on or before June 13, 1979.
Among the biggest beneficiaries: longtime tenants who would have been forced out of the city without renter protections. The study found rent control especially helped older and black and Latino tenants from being displaced.
Landlords who weren't able to charge higher prices lost out. The study also found that landlords responded to rent control in San Francisco by converting their rental properties to owner-occupied condominiums, which decreased available apartments in the city and increased prices overall. The research contends that the system added to gentrification in San Francisco by increasing the number of older rental properties being made into units that were typically sold to wealthier residents.
"It may seem like a solution in the short run, but in the long run it really hurts renters and the rental market," said Rebecca Diamond, an assistant professor of economics at Stanford and the study's lead author.
Rent control supporters believe the study unfairly blamed the system for fueling gentrification and said the city could have worked to lessen some of the negative effects.
"Even though the costs they found are substantial, those costs could have been contained by the city of San Francisco having tighter controls on condominium conversions," said Stephen Barton, a coauthor of the UC Berkeley Haas Institute study.
If Proposition 10 passes, what happens next?
Expect a lot of new local battles over rent control.
Los Angeles Mayor Eric Garcetti has said he wants to expand rent control in the city if Proposition 10 passes. And Berkeley voters will decide in November whether to bolster the city's own rent control policies — the new rules would take effect at the same time as Proposition 10.
Fights at the city and county levels are likely to be long and contentious. Mountain View, which in 2016 passed a limited version of rent control that's allowed under existing state law, has had a continuous struggle over rent control policies for the last three years with no end in sight.
Get our Essential Politics newsletter
The latest news, analysis and insights from our politics team.
You may occasionally receive promotional content from the Los Angeles Times.