He rallied support for California's climate change fight. Now Chad Mayes is out as Assembly Republican leader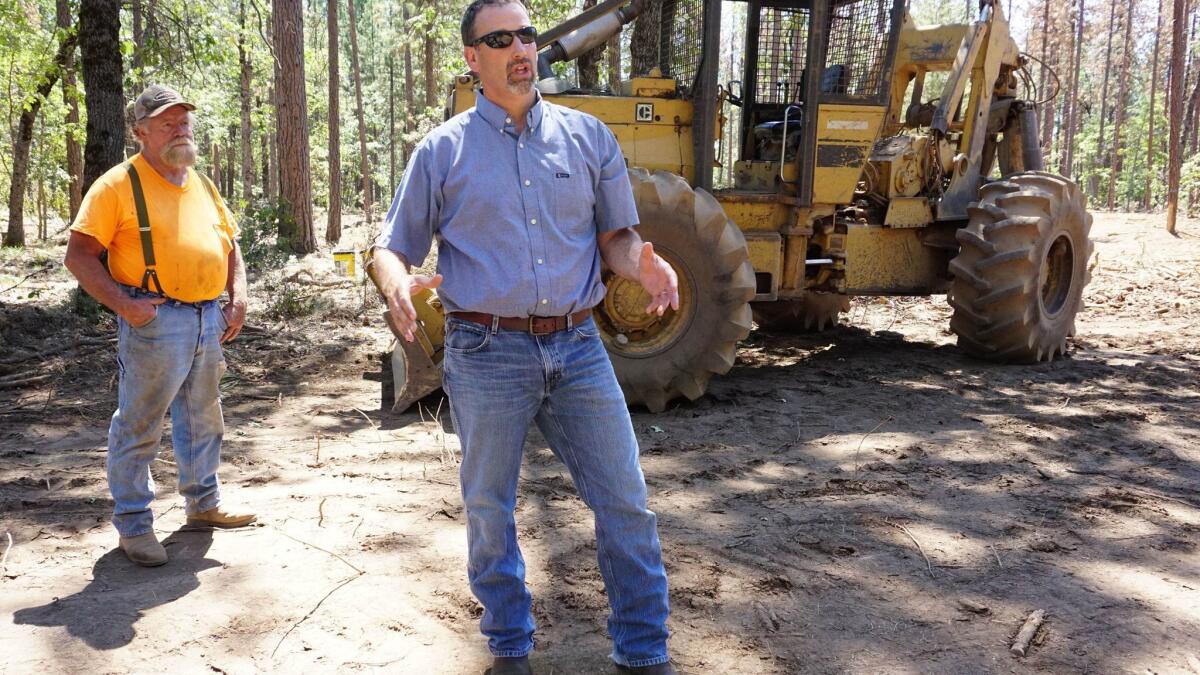 Reporting from Sacramento —
Six weeks after helping Democrats revamp California's landmark climate change policy and facing a torrent of anger from conservative critics, the Republican leader of the state Assembly agreed Thursday to step down and allow a rural Northern California lawmaker to lead the GOP's fractured caucus.
The shuffle, which saw Chad Mayes replaced by Assemblyman Brian Dahle (R-Bieber) as leader, comes as the California Republican Party's numbers continue to shrink among registered voters and in elected office. Republicans make up just over a quarter of the state's total voters, while Democrats in the last election won supermajorities in both houses of the Legislature.
The change at the top is also happening as members of the GOP are split on whether to embrace the state party's moderate image of the recent past, or move further to the right to stand with President Trump.
Rancor over Mayes' leadership began last month, when the Yucca Valley assemblyman aligned with Democratic state lawmakers and Gov. Jerry Brown to extend the cap-and-trade program, a move made as the Trump administration withdraws from the battle against global warming. Chummy photos of a beaming Mayes sitting with Democratic leaders after the vote spread over social media, infuriating Republican activists who saw his vote as a betrayal.
Mayes' decision to relinquish his role came after four other Republican lawmakers announced they would seek to replace him as leader of the party's 25-member caucus. Mayes, who will stay in the Assembly, announced during Thursday morning's floor session that Republicans voted unanimously to elect Dahle — pronounced to rhyme with "valley" — to the post.
California Legislature extends state's cap-and-trade program in rare bipartisan effort to address climate change>>
Dahle, 51, who voted against the bipartisan proposal to extend cap and trade, will take over when the Legislature adjourns for the year on Sept. 15 so there can be a smooth transition, Mayes said.
Other Republicans said Dahle has the leadership and bridge-building skills to heal the rift in the party, and a willingness to sit at the table with the majority party without surrendering on conservative principles.
"He's a gifted leader," said Shawn Steel, a Mayes critic and one of California's two representatives to the Republican National Committee. "He's an effective unifier of the caucus, and we really needed that. I'm so glad the drama is over. Chad was just not the right leader at the right time."
Mayes also praised his successor.
"I'm actually very excited about Brian taking over as Republican leader," Mayes said, standing next to Dahle in a state Capitol hallway. "He has proven himself to be a very strong leader, somebody who is of great character, who has a heart for California and a heart for the people of his district."
Dahle, a Lassen County resident, said he is "honored and humbled" to lead the caucus, of which 10 members voted in a private meeting Monday to remove Mayes. Thirteen votes are needed to replace the leader, but the 10-vote tally signaled dissatisfaction among a large share of the caucus over the direction Mayes was taking.
"I look forward to bringing us together and moving forward," said Dahle, who was elected to the Assembly in 2012 and is seen as more conservative than Mayes.
Mayes' ouster was the first political consequence since the vote July 17 to extend the cap-and-trade program. Republicans are worried that others in their caucus who voted for the extension may face backlash at the polls in the next election.
Six Republican Assembly members joined Mayes in voting to extend cap and trade. Mayes said criticism of the vote from within the party played a role in his decision to step down. He decided to call an early vote when Dahle told him Wednesday night that he had more than the 13 votes — a majority of the caucus — needed to be elected.
"In looking at where we are at, there were some members of our caucus who were taking tremendous amounts of pressure from folks back at home and it seemed important that we come up with a win-win situation," Mayes said.
Mayes had been under pressure to step down for some time. The California Republican Party's board voted Aug. 18 to urge Mayes to step down over fallout from the cap-and-trade extension.
Many Republicans said the cap-and-trade program, which requires polluters to buy carbon emission credits, will hurt businesses and add to the cost of goods and services for consumers.
"What it really is, is a massive tax grab to support Jerry Brown's bullet train and feel-good programs that are very expensive," Steel said.
Assemblywoman Melissa Melendez (R-Lake Elsinore) led the criticism of Mayes, saying his vote enabled the Democrats to pass a bill that will harm the state's economy and that would not have passed without Republican support. On Thursday, Melendez said she has "tremendous respect" for Dahle.
Assemblymen Jay Obernolte (R-Big Bear Lake) and Vince Fong (R-Bakersfield) had also announced they were challenging Mayes, but Fong said after the vote that he wants the party to end the division.
"Now is the time to unite our state and our Republican caucus in our collective fight for common-sense policies that improve the lives of everyday Californians," Fong said in a statement.
California Politics Podcast: The winners and losers in the new cap-and-trade agreement>>
Dahle, a farmer and seed business owner who served on the Lassen County Board of Supervisors, acknowledged differences with Mayes on cap and trade, but said legislators have to represent the feelings of their districts.
"There are 24 other members of this caucus and they all have different views," Dahle said. "There are people in our caucus who voted their conscience for their district, and I support those who did that. In my case it didn't work in my district, so I was opposed to that."
The leader-elect said he wants Republicans to be involved in talks with Democrats on big issues such as cap and trade.
That was part of Mayes' thinking when he negotiated with Democrats on extending California's signature program to address climate change. Senate President Pro Tem Kevin De León (D-Los Angeles) praised him Thursday for his "common-sense leadership." And Brown responded to news of Mayes stepping down with a tweet: "Sad day when the Grand Old Party punishes a leader whose only flaw was believing in science & cutting [regulations], costs & taxes for Californians."
Mayes, who has been leader since January 2016, said addressing climate change would show young voters in particular that the Republican Party was not obstructionist.
"I think for too long we've had a party that just wanted to be in opposition instead of wanting to be the proposition party," Mayes said Thursday.
Dahle hails from a strongly conservative district — President Trump beat Hillary Clinton by 20 points there in the election last year — and the assemblyman's voting record hews closely to the rightward lean of his constituents.
Harmeet K. Dhillon, a Republican party official who led the charge against Mayes, described her reaction to Thursday's leadership change in one word: relief.
But the reverberations after the cap-and-trade vote are likely to continue, she said.
"Now, given the fact that six of these [Republican lawmakers] did vote for a massive tax increase, Republicans are going to be very vigilant about these issues," Dhillon said.
Times staff writers Melanie Mason and Chris Megerian contributed to this report.
Follow @mcgreevy99 on Twitter and sign up for our daily Essential Politics newsletter
ALSO:
Assembly Republican leader Chad Mayes is still in charge after caucus meeting — but another vote is on the way
California Legislature extends state's cap-and-trade program in rare bipartisan effort to address climate change
Get our Essential Politics newsletter
The latest news, analysis and insights from our politics team.
You may occasionally receive promotional content from the Los Angeles Times.