Column: With new ideas to boost welfare grants, California lawmakers now must take on Gov. Jerry Brown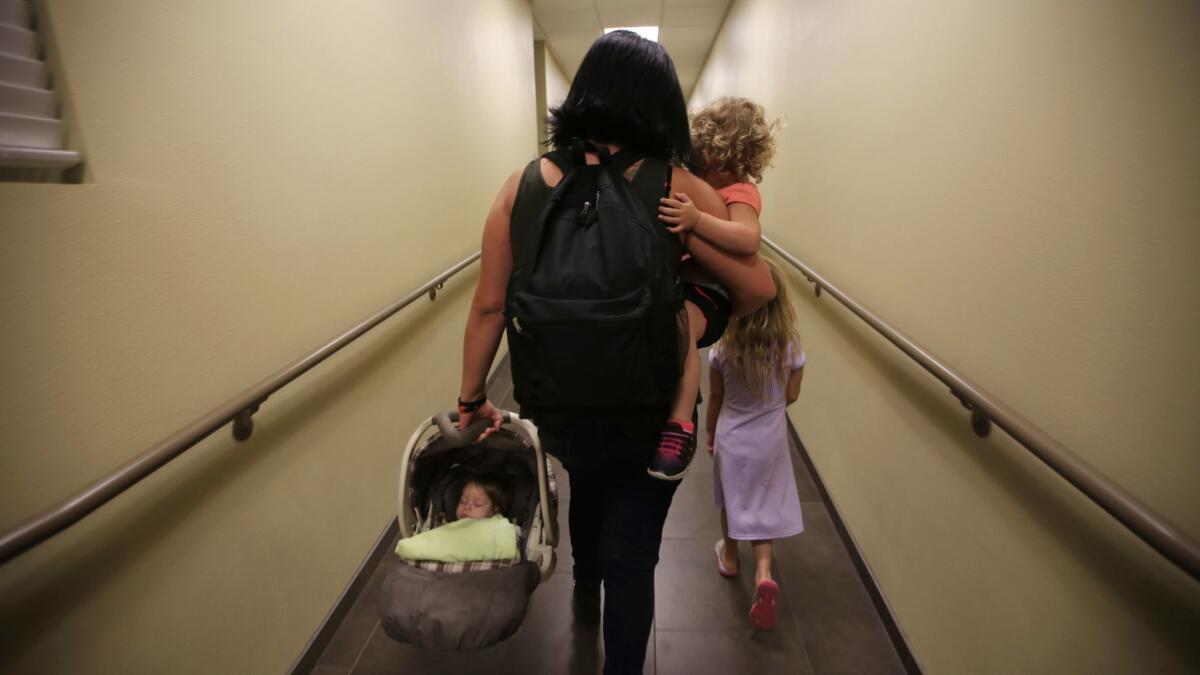 Reporting from Sacramento —
Plenty of people plead with lawmakers to help California's most needy. Few, though, have as much invested in the outcome as Rochella Mendoza.
"It shouldn't sound like a luxury to meet the basic needs, like clothes that fit and healthy food," she tearfully told an Assembly budget subcommittee this month. "But if you are in poverty, it's like we don't deserve it."
Every month, Mendoza receives $600 from CalWORKS, the state's version of welfare assistance. But when costs rise, she's on her own to make up the difference. The discrepancy grows worse by the year: What a family receives today would need a 37% boost just to have the same purchasing power as it did in 2007.
Here's some of what Gov. Jerry Brown would fund in his 2018 state budget »
The cash subsidies are so meager, concluded a recent report by the California Budget and Policy Center, that they amount to what the federal government defines as "deep poverty." And that's been the case for the last decade.
Families that can't make up the difference might find themselves on the streets. In Los Angeles County, 11.3% of CalWORKS families were homeless last December. When that happens, parents can find themselves no longer focused on honing skills needed to find a job. Their children can absorb what's been called "toxic stress."
"We have a dangerously high number of very poor children who are living in a state of near-destitution," Frank Mecca, executive director of the County Welfare Directors Assn. of California, said in the recent hearing. "Knowing that we can do something about it — and not doing anything about it — is just simply unacceptable."
Gov. Jerry Brown has agreed to a few CalWORKS changes in the past, most notably an end to penalizing families that have more children. But he has rejected the more basic suggestion of recalibrating the grants with the cost of living.
In the budget that lawmakers will send to Brown by June 15, Assembly Democrats are mulling a phased-in approach to increasing the grants for inflation, similar to the approach Brown embraced in 2016 to raise the state's minimum wage.
California voters are joining this party by mistake, but lawmakers aren't doing anything about it »
Democrats in the Senate may focus on how to prevent future cuts by creating a new CalWORKS reserve fund. Should fewer people use the program than expected, the unused cash would be set aside for when caseloads go back up. The idea could tackle the vexing problem that demand for social safety net programs peaks during gloomy economic times, just as state tax revenues begin to shrink.
Some advocates for the poor also wonder why California continues to divert welfare money provided by the federal government — $2.3 billion in Brown's January budget plan — to other programs, like Cal Grants for college students. The cash shuffle helped plug holes during the depths of the recession but has continued even in the face of multibillion-dollar tax revenue windfalls.
In short, the issue comes down to children. Mendoza, the 31-year-old Bay Area mother whose voice trembled at that early April hearing, was herself a child of poverty. She cried when describing her son wearing shoes with holes in them large enough to make his socks wet in the winter.
"The shame and humiliation that you feel as a child stays with you," she told lawmakers.
Brown has been credited, even sometimes when it wasn't all his doing, with taking a tightfisted approach to budgeting. This is his last year in office, and Democrats seeking to loosen the governor's grip will need to claim the moral high ground. Striking a blow against child poverty, an unsightly part of California's self-portrait, could be the right idea at the right time.
Follow @johnmyers on Twitter, sign up for our daily Essential Politics newsletter and listen to the weekly California Politics Podcast
ALSO:
Get our Essential Politics newsletter
The latest news, analysis and insights from our politics team.
You may occasionally receive promotional content from the Los Angeles Times.