Column: California's independent redistricting rules could offer some hope for Republicans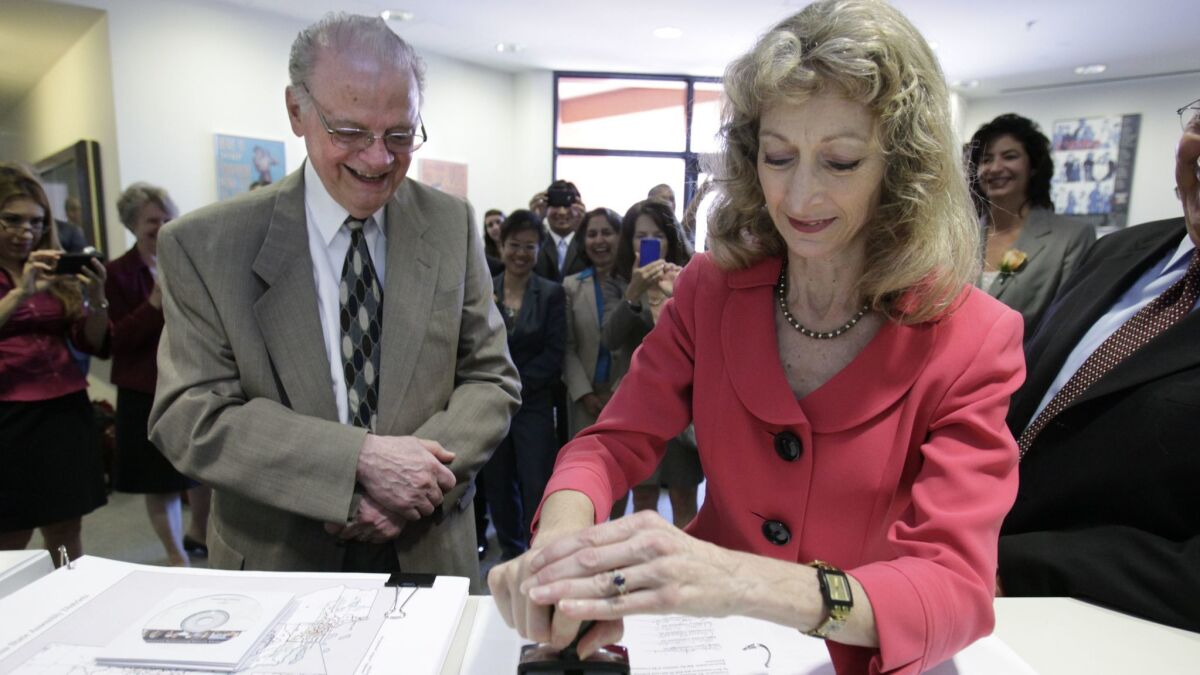 Sacramento Bureau Chief
California government auditors will begin accepting applications in June from citizens who would like to help redraw the state's congressional and legislative maps, a task with enormous political consequences.
The once-a-decade redistricting process will also offer a rare chance for the dwindling ranks of Republicans to get equal billing with Democrats. When complete, the maps will offer the GOP its best — perhaps only — chance at launching an electoral comeback.
Not that independent redistricting was designed to favor any political group. It is instead meant to ensure districts aren't divvied up by lawmakers in Sacramento in ways that make an election's outcome a foregone conclusion.
Voters created an independent citizens commission to handle the task through ballot measures in 2008 and 2010, and the first panel drew maps that have been in use since 2012. The maps withstood an early court challenge and California's process was praised as an innovation worth being copied by other states.
In California, legal gambling's bets don't produce big jackpots for state government »
The rules for selecting the commission's 14 members are quirky. The state Bureau of Audits does much of the work in whittling down hundreds of applications. Legislative leaders from both major parties are then given the power to reject a small number of hopefuls from the final pool, a small concession made by drafters of the 2008 ballot measure. From there, eight commissioners are picked at random and those men and women then choose six more colleagues to round out the panel.
And here's where Republicans get their big break: The rules evenly split 10 of the panel's 14 members between the two largest political parties in the state. That gives Democrats and Republicans an equal voice in the creation of the maps, even though there are almost 4 million more Democrats in California. (Independent or "no party preference" voters, who comprise the second largest part of the electorate, are eligible for up to four seats on the commission.)
Perhaps not surprisingly, a number of prominent Democrats opposed the 2008 ballot measure that created the redistricting commission. Even then, the party's control of state government would almost certainly have led to the drawing of more Democratic-leaning districts for the Legislature and Congress.
Imagine, though, what the traditional map-drawing maneuvers might have produced now — as Democrats control 89 of 120 legislative seats in Sacramento and 46 of the state's congressional seats in Washington.
The five Republicans who will be picked to help draw the new maps after the 2020 census won't be able to dramatically reverse those numbers. But they will be able to hold their own or use a variety of data to shine a light on any proposed districts that they find unfair. That could include projections of political party registration in the newly drawn districts — information that the 2011 commission refused to consider, choosing instead to use a broad interpretation of the law's ban on maps "favoring or discriminating against an incumbent, political candidate, or political party."
Republican commissioners will also have as much power as Democrats when it comes to approving the new district lines for the Legislature, Congress and the state Board of Equalization. Under the 2008 law enacted by voters, final adoption of the maps requires support from at least three of the panel's five Republicans.
And perhaps just as important will be the power of precedent. The 2011 redistricting commission's work could be the template for 2021— district lines some observers believe are so well thought out that they only need small adjustments.
Republicans could breathe a sigh of relief. That may not be a victory, of course, but it would certainly beat the alternative.
Follow @johnmyers on Twitter, sign up for our daily Essential Politics newsletter and listen to the weekly California Politics Podcast
---
Life is stressful. Our weekly mental wellness newsletter can help.
You may occasionally receive promotional content from the Los Angeles Times.