Column: Political Road Map: Here's why California counties can ignore a half-dozen election laws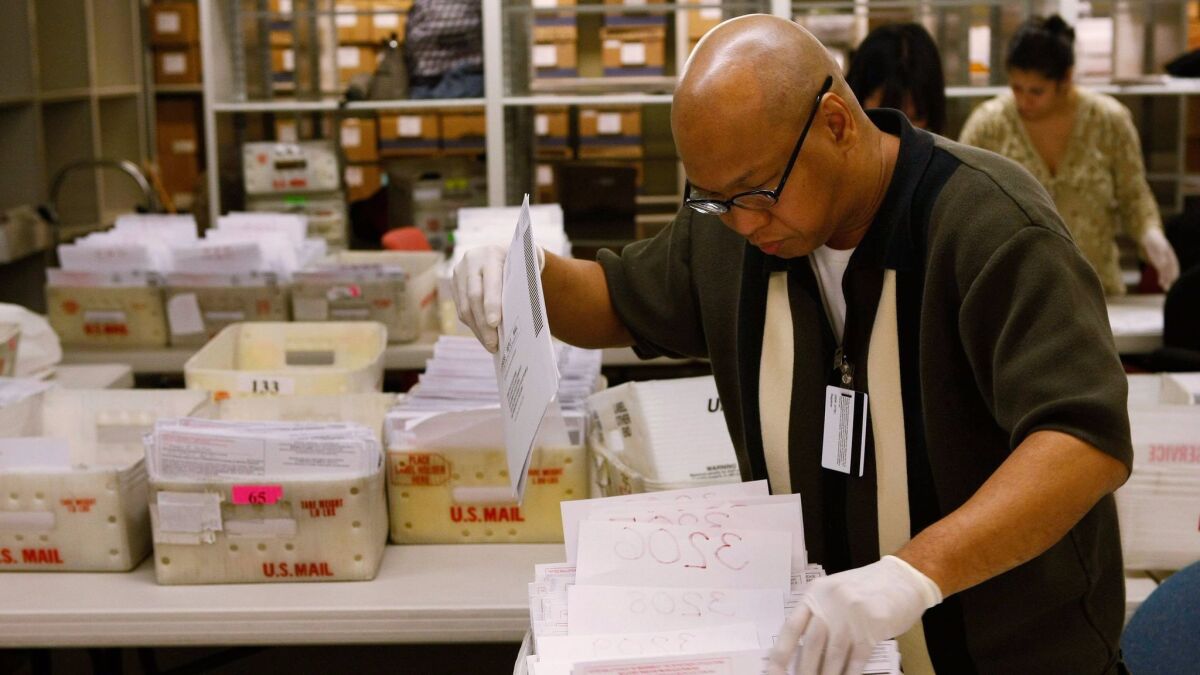 In the partnership between state and county governments that underwrites California's elections every two years, one of the partners has racked up a sizable IOU.
Yes, it's the state. And the running tab is almost $76 million.
Whether that tab gets paid off, or keeps growing, is an open question. In the meantime, the unpaid bill means local officials can legally refuse to follow a half-dozen election laws.
Small ones? Hardly. They could refuse to provide absentee ballots to anyone who wants one. Or perhaps even more provocative in the current election-integrity climate, they could refuse to use long-standing legal rules when asked to verify a voter's signature on a provisional ballot. No money, no mandated services.
"We will obviously need to deal with that funding issue — or not — soon," state Sen. Richard Roth (D-Riverside) said in a hearing last week in Sacramento.
Roth's hedge on the money is a reflection of the fact that budget negotiations have yet to begin. Tax revenues won't be divvied up until June.
Election rules are only a fraction of the mandates that state officials impose on local governments. Historically, the state had to pay the costs of carrying out those directives. But bleak California budget times sparked a 2004 ballot measure, proposed by lawmakers and approved by voters, allowing Sacramento to skip paying for a state mandate as long as the locals are allowed to opt out of enforcement.
Even so, access and accuracy for elections hardly seem optional. A recent survey by the state Department of Finance found that even after the money was cut off, almost all of the state's 58 counties kept honoring the election mandates and paying for them out of their own funds.
Political Road Map: Special elections are a special cost... to California taxpayers »
And it's not like they have surplus cash. In fact, most California counties are using older voting systems that will need to be replaced soon. A report last week by the independent Legislative Analyst's Office included the tale of an unnamed county whose 1990s voting system relies on computers that still use Microsoft Windows XP.
That aging technology raises "serious concerns about the security of the voting system as well as the possibility of a catastrophic failure of voting systems in counties," according to the report.
The analysts suggest a major overhaul of how the state pays its share for elections by creating flexible "block grants" of cash. Counties would be eligible for a share of the money as long as they offered the election services mandated by the Legislature. The size of the grants, the report said, could be linked to the county's number of registered voters — possibly an incentive in getting more Californians on the voter rolls.
Funding dilemmas aside, millions of Californians soon will see big changes in elections. A law signed by Gov. Jerry Brown last year allows counties to trade neighborhood polling places for mailing voters absentee ballots. Another new law will register eligible voters when they apply for a driver's license, unless they opt out.
Both scenarios are likely to cost more money.
Last year, worried that the unusually long list of November ballot measures and high voter turnout would send costs sky high, lawmakers approved $16.2 million in emergency election funding. And a legislative staff brief prepared for last week's Senate hearing concluded that even if the unpaid balance is settled, election mandates still should cost the state more than $32 million a year.
"The state derives significant benefits from county administration of elections," the analysts' report concluded . If that's true, the question is whether that benefit can survive without a more reliable partnership to pay for it.
Follow @johnmyers on Twitter, sign up for our daily Essential Politics newsletter and listen to the weekly California Politics Podcast
ALSO:
The future of California elections is rooted in the old-fashioned absentee ballot
Gov. Jerry Brown signs law allowing more absentee voting, fewer polling places
---
Life is stressful. Our weekly mental wellness newsletter can help.
You may occasionally receive promotional content from the Los Angeles Times.