Column: Political Road Map: California's electoral future is rooted in the old-fashioned absentee ballot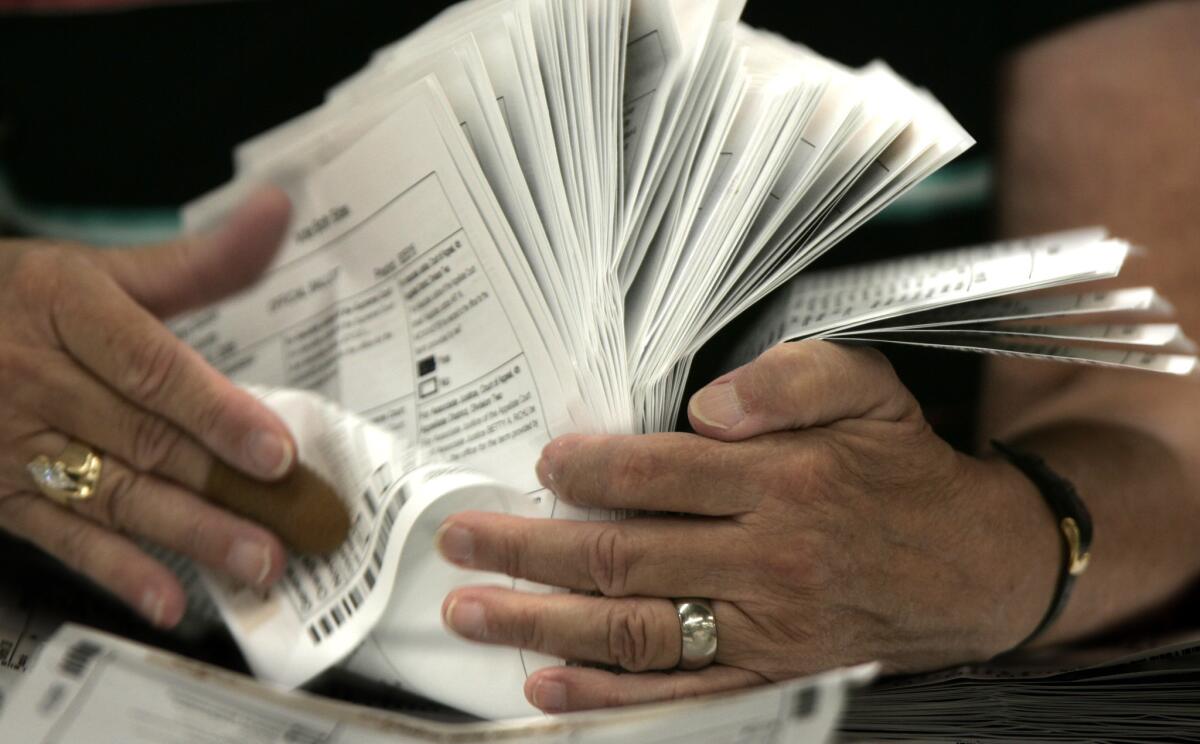 For all of the intriguing ideas about improving California elections, there was one undeniable truth at a gathering last week of county officials and activists: The state's 21st century voting will lean heavily on its greatest electoral innovation of 1864.
That would be the absentee ballot.
Call it reliable or anachronistic, but the do-it-yourself ballot is the foundation of voting reform in a state now on the cusp of 20 million registered voters. That revamping of elections begins next year in a handful of California counties, closing polling places in garages and schools while asking voters, like soldiers during the Civil War, to vote somewhere else.
"Voters are looking for a choice," said Neal Kelly, Orange County's registrar at the event sponsored by the Future of California Elections, a nonprofit organization. "And they are looking for voting on their own terms."
The 2016 law will allow counties to mail everyone a ballot, while closing neighborhood polling places in favor of a more limited number of multi-service "vote centers." Elections officials say it's a logical evolution for a state where almost six in 10 ballots were cast absentee last November.
"You can't ignore that data," Kelly said.
He is a passionate believer in voting centers, in part, after experimenting with a few in Orange County last fall. Kelly argues the change may finally stop the meteoric rise in the casting of provisional ballots in California, because vote centers will have electronic poll books connected to the state's voter registration database and will be able to quickly clear up questions about a voter's status.
Voters are looking for a choice. And they are looking for voting on their own terms.
— Neal Kelly, registrar of voters for Orange County, on moving away from polling place elections
Vote centers will also be open ahead of election day. And, in many cases, they will be set up to print a ballot for any voter who left the mailed version at home. The new law also mandates drop boxes for ballots in high visibility locations.
Political Road Map: Here's why it takes so long to count California's ballots »
But with change come serious obstacles, too. Neighborhood polling places, researchers say, are popular with many Latino voters — a fast-growing part of the California electoral mosaic. Language barriers that used to be resolved by dispatching bilingual workers to particular neighborhood polling places could reappear if the more limited vote centers end up being too far from those communities.
"Early preparation will be really critical," said Rosalind Gold, a voting rights expert with the National Assn. of Latino Elected and Appointed Officials.
Disability rights groups worry about voters who can't fill in ovals on paper ballots without assistance. They would require help under a do-it-yourself system, thus denying them the right to a secret vote. Others fear confusion. The optional law means adjoining counties could have very different rules, while voters who routinely cross county lines might receive the wrong election instructions.
The greatest challenge may be in Los Angeles County, home to 5 million voters. While other counties that sign on to the new voting system will have to immediately mail a ballot to every registered voter, the sheer size of the task necessitated an exception to that must-mail rule for 2018 in the county. The practical result is that some voters will not only lose their familiar polling place, they won't get a ballot in the mail. And to explain that will require the county to mount an aggressive education campaign.
And educating voters is the biggest challenge of all. It's worth noting that even with the huge popularity of absentee voting, some 6.1 million Californians still used a polling place last November. That's more than the entire number of votes cast in Oregon, Arizona and Nevada combined. By the time of the next presidential election, it's a choice many of them may no longer have.
Follow @johnmyers on Twitter, sign up for our daily Essential Politics newsletter and listen to the weekly California Politics Podcast
ALSO:
Gov. Jerry Brown signs law allowing more absentee voting, fewer polling places
Political Road Map: The only thing 'special' about special elections is the cost to California taxpayers
Get our Essential Politics newsletter
The latest news, analysis and insights from our politics team.
You may occasionally receive promotional content from the Los Angeles Times.