Column: Political Road Map: Gov. Jerry Brown's wall of debt has crumbled, but there are more walls behind it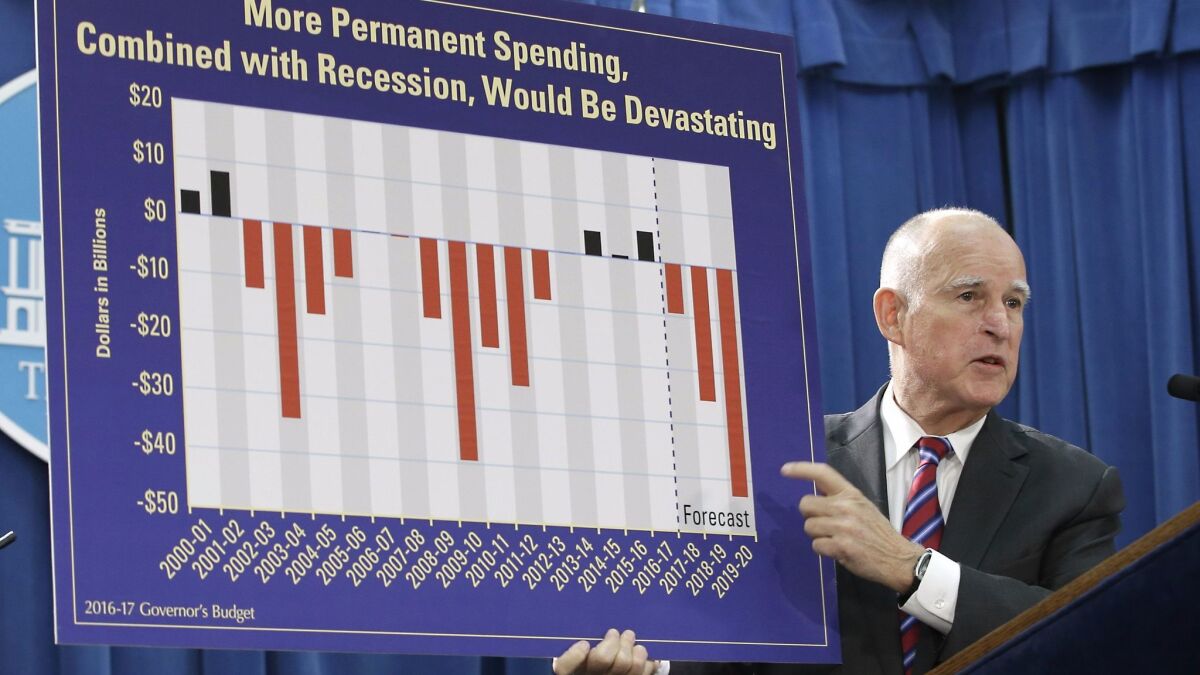 Gov. Jerry Brown isn't usually prone to bouts of rhetorical flourish, but the state budget catchphrase that he rolled out six years ago stuck — a reminder of something big that was standing between California and fiscal stability.
He called that "a wall of debt," one built by bad budget choices and economic downturns.
"This is not the time to delay or evade," Brown said during a Sacramento news conference in May 2011. "This is the time to put our finances in order."
Six years later, the state is no longer projecting massive deficits and the governor's metaphorical wall is now more like a short fence. Tax increases approved by voters in 2012 and in 2016 have played a major role in making that happen.
There's broad agreement that a smaller "wall of debt" is good news. The problem, though, is that Brown's original definition left out billions of dollars in obligations that someone will have to pay. And it's unclear who that will be or when it will happen.
Let's back up, though, and examine the individual bricks in the governor's wall. When he took office, Brown's budget team identified 10 short-term government debts as a threat to California's chances of recovery — debts that totaled $34.7 billion. More than a third of that was money owed to public schools, the result of cuts made during recession years. The bleak times also created debts owed to local governments and to transportation projects. Then there was a $7-billion debt from deficit bonds that former Gov. Arnold Schwarzenegger convinced voters to approve in 2004.
(Those deficit bonds, paid off in 2015, ended up costing the state $1 million a day — every day — for 11 straight years.)
Political Road Map: Most of California's $55-billion in tax breaks are here to stay »
By the close of the fiscal year that ended on Friday night, the state had paid off some $32 billion of the "wall of debt" identified by Brown in 2011. Doing so took help from Democrats in the Legislature, though it was made easier by the governor's penchant for conservative tax revenue forecasts — the kind of predictions that meant any unexpected money (of which there's been a lot through the years) isn't automatically earmarked, by law, for ongoing spending.
But the first debt wall was the easy part.
Looming larger than anything now are the retirement promises made to state employees — totaling at least $242 billion, according to the governor's finance team. Some insist that projection is too low, that taxpayers will have to hand over much more to fully pay off obligations to the California Public Employees' Retirement System (CalPERS) and the California State Teachers Retirement System (CalSTRS).
Add those pension debts to other chronic obligations — transportation loans and borrowing from special budget funds during lean years — and the state Department of Finance puts the total size of existing budget debt at more than $283.3 billion. While it's believed much of that can be paid off over time with money set aside under the state's rainy-day cash reserve, no honest political players will tell you they have a plan at this point.
Some suggest the solution to long-term state government debt is just that — something that can be figured out over time, not now. Conservative lawmakers, however, point out that state spending is at an all-time high and no one is talking enough about how to set up a payment plan for the remaining debt.
There's a not-so honorable tradition in Sacramento of governors leaving their successors some kind of fiscal headache. Often, it's a short-term problem. The good news for the person who takes office in 2019 is that there is no immediate crisis. The bad news is that the problem is bigger.
Follow @johnmyers on Twitter, sign up for our daily Essential Politics newsletter and listen to the weekly California Politics Podcast
ALSO:
Democrats see California's new budget as an antidote, and answer, to President Trump's policies
Political Road Map: California's big change in voting rules is off to a rocky start for 2018
Get our Essential Politics newsletter
The latest news, analysis and insights from our politics team.
You may occasionally receive promotional content from the Los Angeles Times.