Column: California's new Legislature will look a lot like the old one — and that's just what voters ordered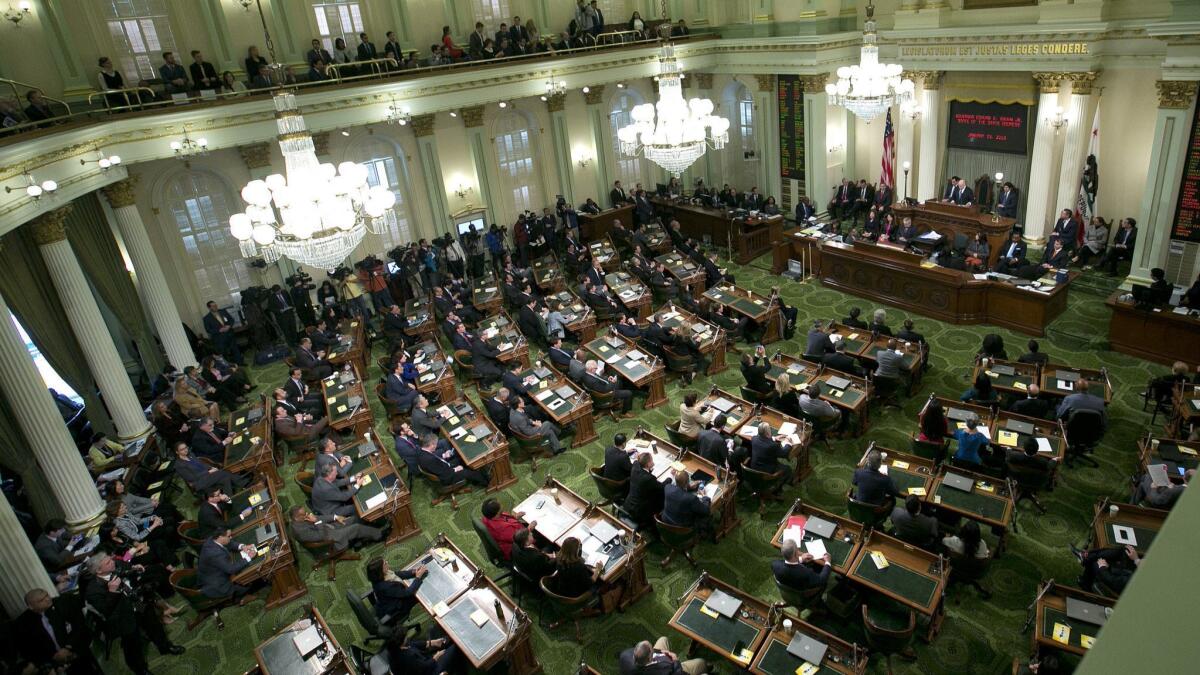 Sacramento Bureau Chief
A political transformation of the California Legislature takes an important leap forward this week, one that feels a little like a blast from the past: The era of long-tenured lawmakers is back.
When 120 legislators take the oath of office on Monday for a new two-year session, there will be fewer incoming members among their ranks than after any election since 1988. The change is most obvious in the Assembly, where only eight new lawmakers will be sworn in — compared with 26 newcomers in 2016. And it's just what voters ordered when they loosened legislative term limits six years ago.
The original term limits were enacted in 1990 as backers of Proposition 140 accused "career politicians" in their statewide ballot argument of having "cozy relationships with special interests." What voters created that November was, at the time, one of the nation's strictest policies on legislative service. A lawmaker could serve no more than six years in the Assembly or eight in the Senate — 14 years of total time in elected office if choosing to switch from one chamber to the other.
The election is hardly over and yet California's next campaign season is less than a year away »
In the two decades that followed, Californians didn't exactly see impressive results. Approval ratings for the Legislature ranged from mediocre to poor, plummeting to single digits during years in which lawmakers squabbled over large state budget deficits. That gave critics of the 1990 law an opportunity.
Their 2012 campaign insisted the new rules would bring stability and actually tighten term limits — technically true but hardly the whole story. Legislators can now serve up to 12 years, two less than those who used to jump from one house to the other. But because it's now possible to stay in one job, there are more incumbents on the ballot. Incumbents are generally better at raising money and thus more likely to win reelection.
There's no simple way to measure the effect that experienced legislators have on public policy. Several members of the class of 2012, one of the largest in recent history and eligible to serve until 2024, have shown an interest in tackling big issues — housing and criminal justice, for example. Change doesn't come quickly in those public policy areas, and the previous era's legislators were routinely criticized for focusing on simpler things that they could brag about when moving to another political post.
Nor will the returning — and newly arriving — members of the Legislature find themselves on the short end of the experience stick when it comes to negotiating with the governor, as their predecessors did. Most won't term out of office until after Gov.-elect Gavin Newsom faces reelection in 2022 and even more can serve long after he would face his own term limits.
The change has been most profound in the Assembly, where two-year terms produced the most turnover under the prior term limits and drove the more experienced public servants to seats in the Senate.
"The growth in Assembly expertise helps bring the two chambers closer to equality in the policymaking process," wrote Eric McGhee, a researcher at the nonpartisan Public Policy Institute of California in a report last month. "But this expertise necessarily comes at the price of lower turnover in some elections."
That kind of trade-off was hardly visible when the first legislative term limits were enacted 28 years ago. In promoting one of two efforts that year, then-state Atty. Gen. John Van de Kamp told reporters it was "time to drain the swamp" in Sacramento — long before President Trump rode the very same promise into office. In California, though, recent experience suggests the solution to the political muck may be something other than giving lawmakers a strict shelf life.
Follow @johnmyers on Twitter, sign up for our daily Essential Politics newsletter and listen to the weekly California Politics Podcast
Get our Essential Politics newsletter
The latest news, analysis and insights from our politics team.
You may occasionally receive promotional content from the Los Angeles Times.