Column: Political Road Map: It's hard for Republicans to win statewide in California if they don't have candidates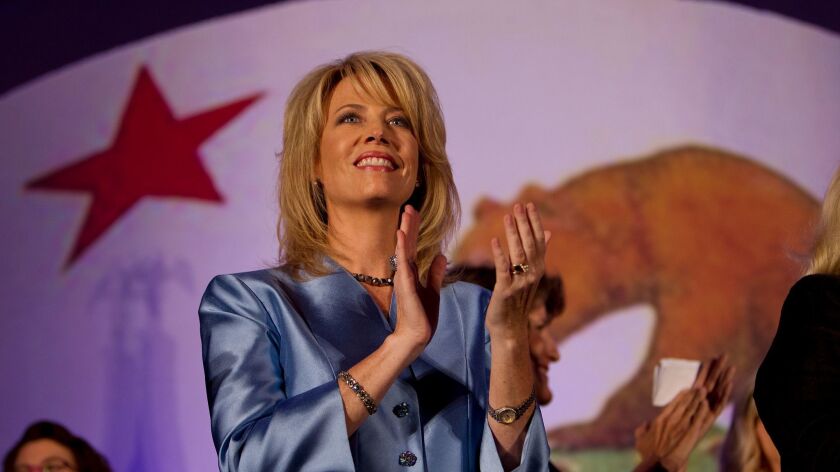 When the votes were tallied in California's 2014 primary, the political world buzzed that a Republican was the top vote-getter in the race for state controller. That kind of support hadn't been seen in a statewide race since 2006.
Fast forward to four years later. There's not even a GOP candidate in that race.
As Republicans wrap up their weekend convention in Anaheim, a lingering question is whether the party — whose share of the registered electorate has shrunk by almost 10 percentage points since 2007 — will continue to atrophy if it can't produce viable candidates for a variety of California's statewide offices.
The candidate who won those 2014 primary election votes for state controller, former Fresno Mayor Ashley Swearengin, was later defeated by Democrat Betty Yee.
Swearengin's political strategist later criticized GOP leaders for not helping to raise enough money to allow the Central Valley candidate to be competitive in the fall.
The party's woes are well-documented. It trails Democrats by almost 4 million registered voters, holds fewer than a third of the seats in the Legislature and only about one-quarter of those in California's congressional delegation. Democrats remain the undisputed campaign cash champions, and Republicans have spent decades sparring over the party's direction — including this year when a handful of GOP legislators voted to extend the life of the state's cap-and-trade climate program.
Political Road Map: California Democrats dominate the dollars spent on state campaigns »Slowly, Republican candidates have emerged for "down ticket" statewide races, those below the race for governor. The latest is Mark Meuser, a Bay Area Republican who last week launched a challenge to Secretary of State Alex Padilla, criticizing the Democratic incumbent for inaccurate voter registration records — an accusation based on a conservative think tank's still-unproven summertime analysis.
But as with Swearengin, who spent almost all of her cash before the June 2014 primary, money is likely a problem. In 2014, the seven Democrats running for the statewide offices below governor collectively spent five times as much as their Republican challengers. And donors like to back candidates who they think can actually win. Only two Republicans have won a statewide race since 1998 and both of those victories — former Gov. Arnold Schwarzenegger and former state Insurance Commissioner Steve Poizner — were in 2006.
Even in the governor's race, the Republican hopefuls are far from household names. Thirteen party members have opened exploratory committees of one variety or another, with Rancho Santa Fe businessman John Cox and Huntington Beach Assemblyman Travis Allen leading the pack. Some wonder whether a weak GOP field, plus California's top-two primary rules, could result in multiple statewide races on November 2018's general election ballot to be between two Democrats — as was the case in the June 2016 primary for the U.S. Senate.
The state GOP chairman, Jim Brulte, has focused more on legislative races and shoring up the party's finances than expensive high-profile campaigns. Before last winter's state convention, he told The Times that Republicans "believe there is" a path for victory in statewide races come 2018. First, though, the party needs credible candidates. Or in the case of the California controller's race, any candidate at all.
Follow @johnmyers on Twitter, sign up for our daily Essential Politics newsletter and listen to the weekly California Politics Podcast
ALSO:
Political Road Map: Democrats and Republicans would like to kill California's top-two primary in 2018
Political Road Map: A sloppy signature could keep your 2018 ballot from being counted
---
Get our Essential Politics newsletter
The latest news, analysis and insights from our politics teams from Sacramento to D.C.
You may occasionally receive promotional content from the Los Angeles Times.