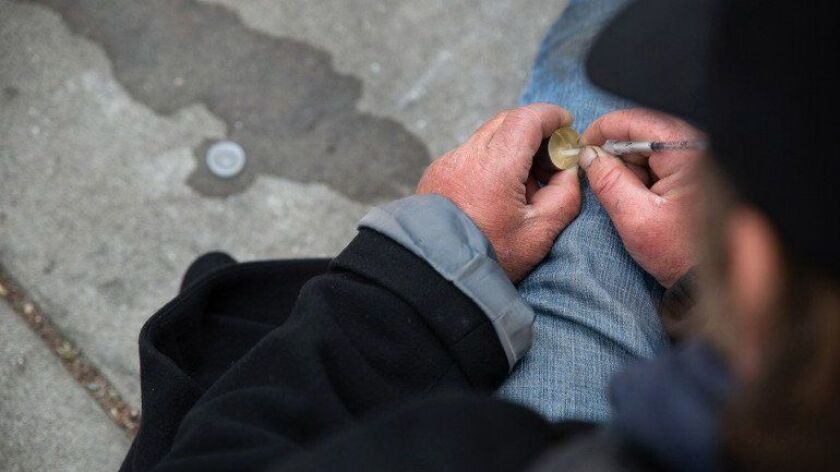 Reporting from Sacramento —
Legislation that would allow San Francisco drug users to inject themselves at supervised facilities without legal consequences will not move forward this year, the bill's authors announced Tuesday.
Assembly Bill 362, by Assemblywoman Susan Eggman (D-Stockton) and Sen. Scott Wiener (D-San Francisco), would have created a six-year safe injection site pilot program in San Francisco amid a national push for innovative methods to counter an overdose epidemic.
The bill passed the state Assembly, but was moving slowly through the Senate. Leadership in the Senate referred the bill to three policy committees, an unusually high number that set AB 362 up for a difficult path to the governor's desk.
Eggman and Wiener said they will instead take the bill up again next year.
"Given the bill's triple referral to three Senate policy committees and the ongoing discussions with cities that may want to be added to the pilot program, we believe it best to allow more time in the process so we can include communities that want to be included and so that we make this the strongest possible pilot," the two lawmakers said in a joint statement.
So-called safe injection sites, which are operated in Canada, Switzerland and eight other countries, allow drug users to inject themselves under supervision while offering treatment and connecting users with social services such as housing.
A nearly identical bill by Eggman last year made it to Gov. Jerry Brown's desk, but the former governor rejected it over his concerns that local officials and healthcare professionals could face federal criminal charges by opening safe injection facilities. The Trump administration warned of such consequences last year, and the U.S. Department of Justice is suing to stop a safe injection site in Philadelphia, which, if opened, would be the first in the United States.
While on the campaign trail, Gov. Gavin Newsom said he was "open" to the idea of safe injection sites but did not endorse Eggman's proposal.
Opponents of the bill include the California Narcotic Officers' Assn., which argues that the drug injection facilities create a liability for state and local governments while not requiring users to receive treatment for their addictions.
Follow @MelodyGutierrez on Twitter and sign up for our Essential Politics newsletter.
---