No, California's 'sanctuary state' law does not allow the release of dangerous criminals to the streets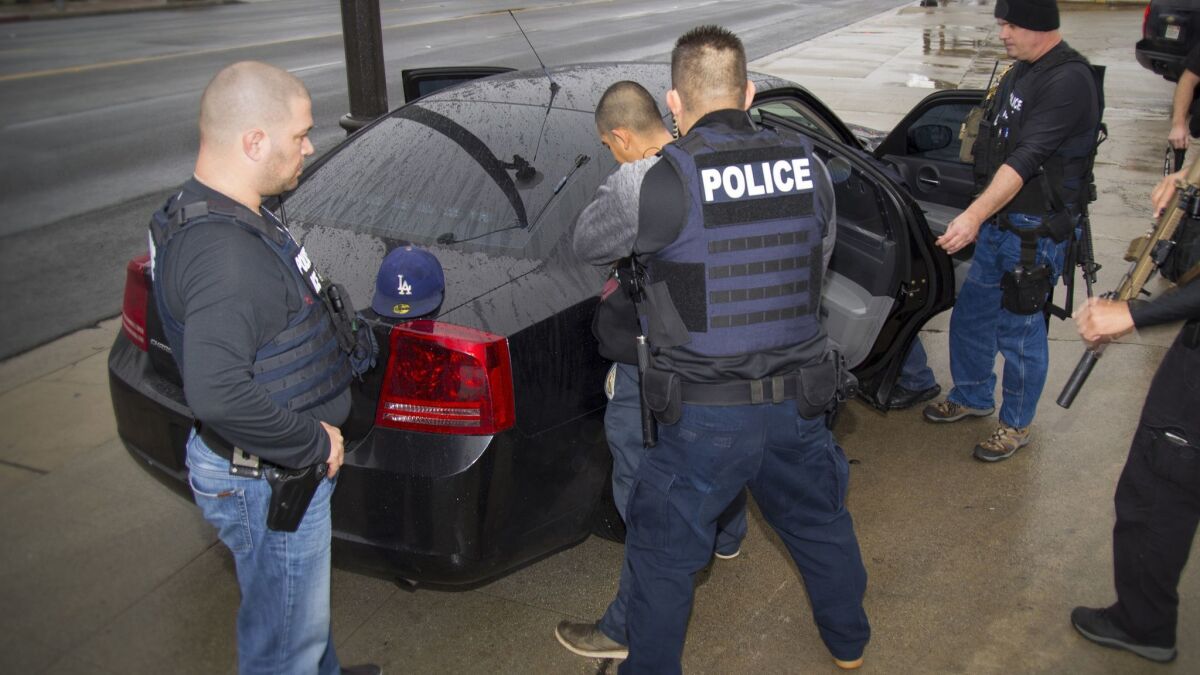 As the fight over California's immigration policies intensifies, so have the attacks from opponents who argue its landmark "sanctuary state" law is allowing the release of violent criminals into the streets.
The California Values Act, which was signed into law last year, prevents law enforcement officers in many cases from holding and questioning people at the request of federal immigration agents, and limits them from sharing the release dates of some county jail inmates who are in the country illegally.
The law has set off a tense showdown over public safety. But some officials who oppose it have distorted its scope.
Here is a look at some of those statements.
---
Thousands of dangerous & violent criminal aliens are released as a result of sanctuary policies, set free to prey on innocent Americans.

— President Donald Trump in a March 13 tweet
The argument: The Trump administration has challenged California's so-called sanctuary state law in federal court, alleging it is unconstitutional. State officials argue they can prove it is not, but the case is likely a long ways from being decided.
The president's tweet also misrepresents the state law in claiming it allows the release of violent criminals. The law was the result of months of tough negotiations between Gov. Jerry Brown, state Sen. Kevin de León (D-Los Angeles) and law enforcement officials over how to prevent dangerous and violent criminals being set free.
What the law does: It prohibits alerting federal immigration agents of an inmate's release from a county jail — unless the information is already available to the public, or if the person has been convicted of any of the 800 offenses outlined in a 2013 state law, the Trust Act.
That list includes serious or violent felonies, arson, registered sex offenses and domestic violence. Many other crimes are on the list, including nonviolent drug charges and "wobblers," criminal offenses that can be charged under California law as a felony or misdemeanor. In those cases, cooperation with federal immigration officials is allowed.
The sanctuary law also permits state prison officials to continue working with federal immigration agents on deportations — a key concession Brown demanded — and immigration agents are still allowed to enter county jails to question immigrants.
Trump's immigration war with California has reached a fever pitch »
There is little data available on county jail inmates who are in the country illegally and have been released, and the new law does not require the collection of such data, so there's no clear evidence to back up Trump's assertion.
Orange County Sheriff's Department officials, for example, said the agency released 172 inmates from Jan. 1 to March 19 because the new state law prohibited them from notifying ICE. Some had been charged — but not convicted — with domestic violence, burglary and criminal threats, while others had been convicted of lower-level, nonviolent crimes such as driving under the influence. Officials said it was unclear if they committed other crimes after being released.
---
California won't let law enforcement officers… transfer prisoners to ICE custody or even communicate with ICE that you're about to release them.

— U.S. Atty. Gen. Jeff Sessions, in a March 7 speech to law enforcement officers in Sacramento
The argument: U.S. Atty. Gen. Jeff Sessions overstates the limits on law enforcement officers regarding who they can communicate about or transfer to U.S. Immigration and Customs Enforcement. A federal court ruling four years ago also influenced many cities and counties to stop or lessen their cooperation with ICE in holding and moving inmates to federal immigration detention.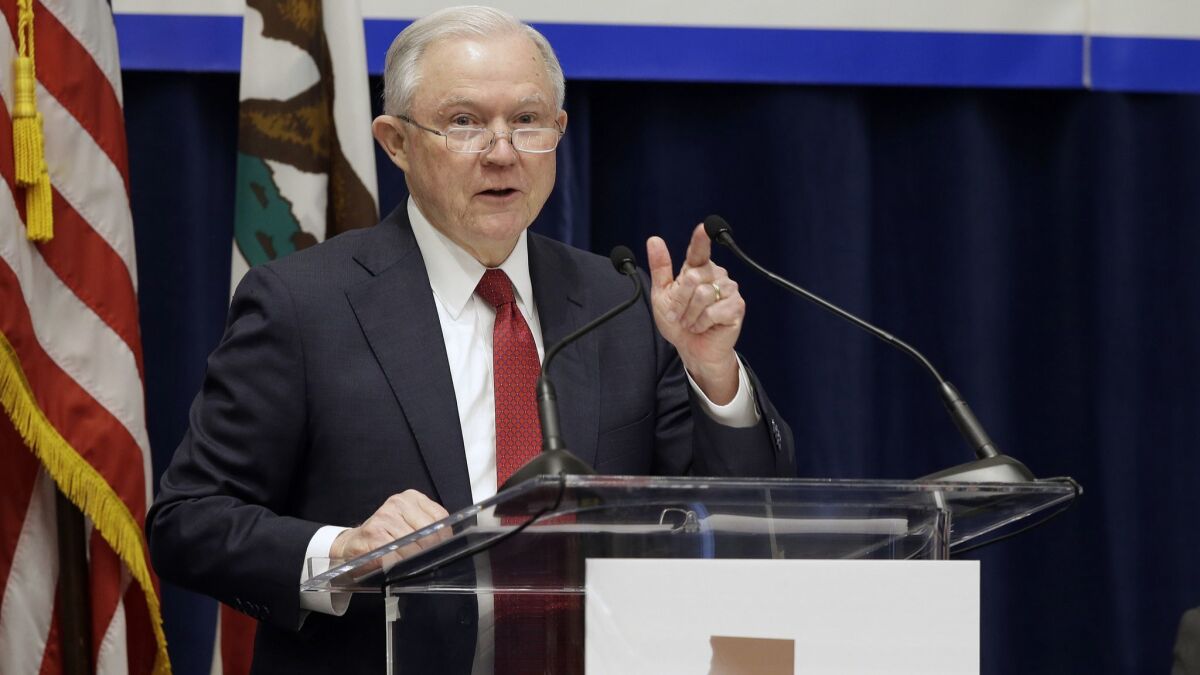 What the law does: Law enforcement officers can respond to requests for information, share release dates for and transfer to ICE inmates convicted of any offenses listed in the Trust Act. Officers also can transfer people to ICE if a judge finds probable cause or issues a warrant.
California's new sanctuary law is based on the the state's response to a 2008 Obama administration policy that allowed ICE to ask local law enforcement to hold immigrants for eventual federal detention.
In September 2014, a federal court held an Oregon county liable for damages after officials detained an inmate past her release date to turn her over to ICE. That prompted hundreds of cities and counties around the country to stop complying with immigration hold requests, and Obama ended the program that year. President Trump reinstated it in 2017.
---
Despite the severe challenges that SB 54 creates for ICE, we continue to seek cooperation with... [law enforcement so] criminal aliens aren't released.

— U.S. Immigration and Customs Enforcement director Thomas Homan, in a March 27 statement
The argument: U.S. Immigration and Customs Enforcement Director Thomas Homan exaggerates the challenges California law enforcement agencies face in working with the federal immigration agency. As long as they don't violate existing city or county laws, California officers can continue working with ICE in various ways.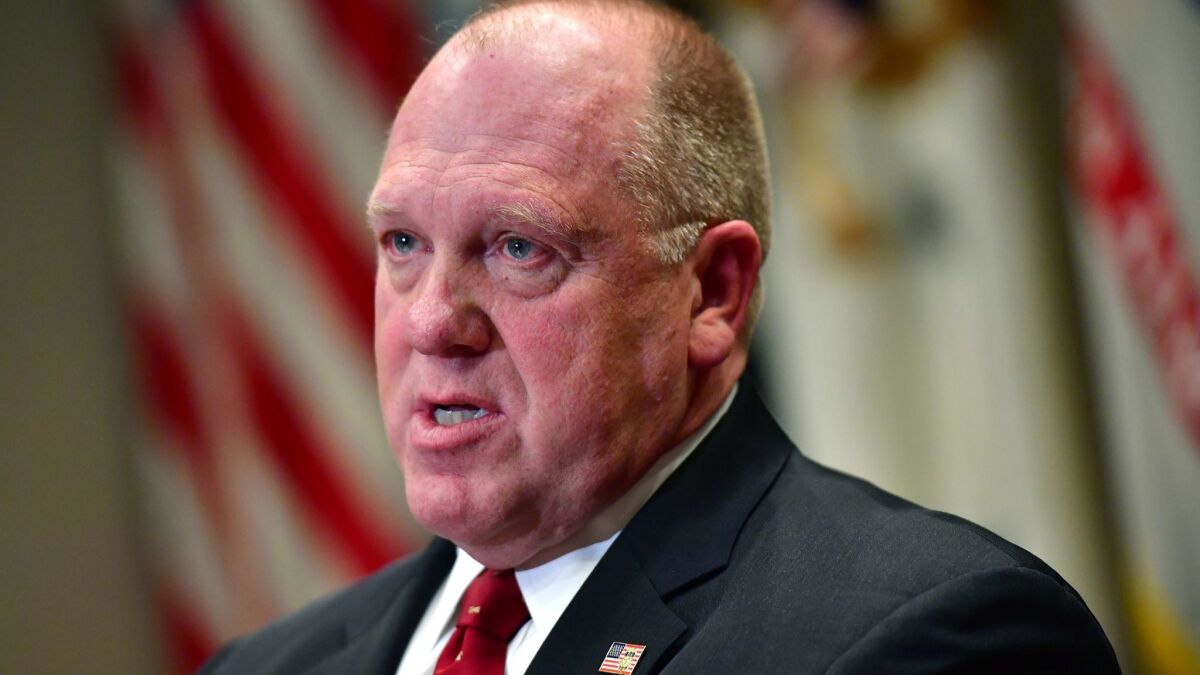 What the law does: It allows local officers to arrest or charge people for illegal reentry to the U.S. if a person has previously been deported and been convicted of an aggravated felony.
Officers also can provide ICE with information about a person's criminal record. They can ask questions to determine whether that person is eligible for temporary legal status given to victims of human trafficking or violent crime. And they can interview people to determine if they have violated federal laws on the sale of firearms to immigrants without U.S. citizenship.
Law enforcement officials also are able to participate in multi-agency joint task forces responsible for broad investigations, which sometimes include ICE criminal investigators. But their primary goal cannot be to enforce immigration laws, and they have to submit annual reports to the state attorney general on their activities, including on the type and frequency of arrests.
---
Our inability to relinquish these individuals to the custody of ICE causes them to be returned to the communities which they prey upon.

— Orange County Undersheriff Don Barnes, addressing reporters on March 26
The argument: Orange County Undersheriff Don Barnes mischaracterizes the population that officers are prohibited from transferring to ICE, mostly people charged with nonviolent crimes, and has no clear data to support they prey on their communities.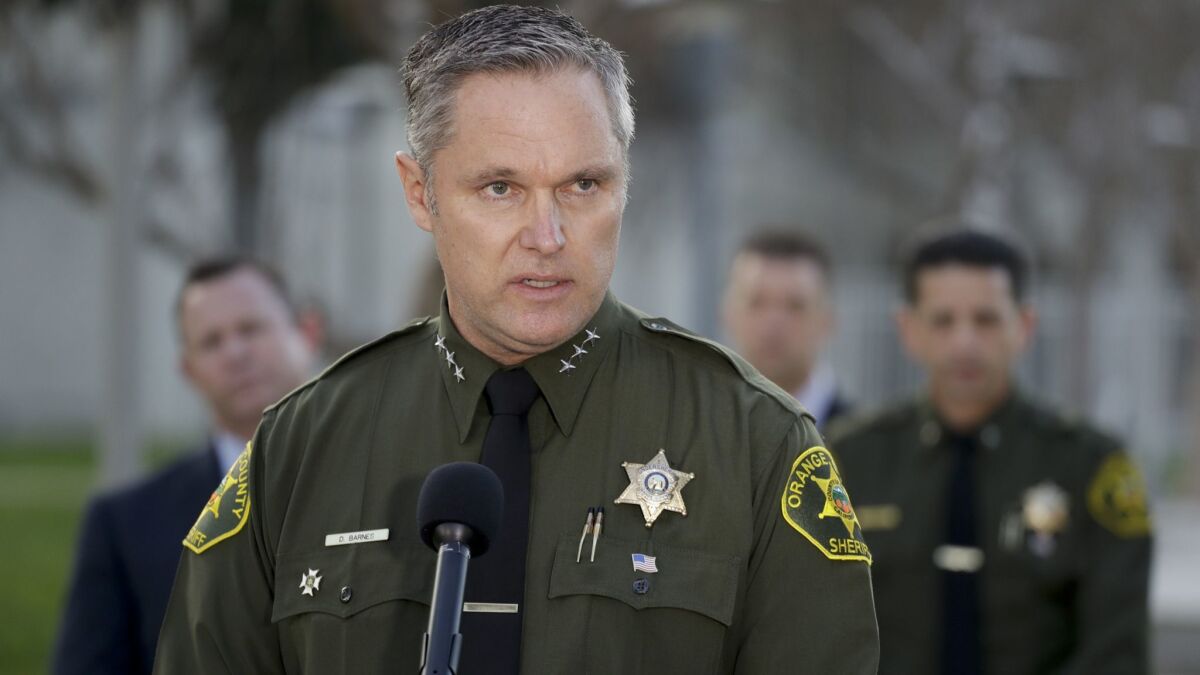 California's 58 county sheriffs, most of whom opposed the sanctuary state law, now find themselves on the front lines of implementing it. Some are finding ways to work around it: Last month, the Orange County Sheriff's Department made the release dates of all jail inmates — including those in the country illegally — available online.
Some sheriff officials have argued such moves are necessary to protect residents, and have argued the release of immigrants without legal residency could have an impact on local crime rates.
But national studies do not support the claim, and law enforcement has long been divided over what the sanctuary state law's ultimate effect will be on public safety. Some university police chiefs, for example, supported it from the beginning, saying fear of deportation can keep witnesses and victims of crimes from coming forward.
What statistics show: A 2013 study by the University of Illinois found 44% of Latinos in Los Angeles County, Cook County in Illinois, Harris County in Texas and Maricopa County in Arizona were less likely to contact police if they have been a victim of a crime because they fear police officers will ask about their immigration status.
Meanwhile, immigrants have been found much less likely to commit crime than people born in the United States, according to a 2015 report by the independent National Academy of Sciences. A 2017 study by the Cato Institute, a libertarian research group, found immigrants in the country illegally were 44% less likely to be incarcerated than people born in the U.S.
In a study released late last month, the Marshall Project found crime in the U.S. dropped more often than it rose even as immigrant populations grew. In Oakland, where city leaders have fought Trump's call for deportations, and in Orange County, where county leaders support it, immigration increased while crime fell, the research showed.
Most California sheriffs fiercely opposed the 'sanctuary state' law. Soon they'll have to implement it »
Get our Essential Politics newsletter
The latest news, analysis and insights from our politics team.
You may occasionally receive promotional content from the Los Angeles Times.