California housing bill could have 'far-reaching effects' in Los Angeles, report says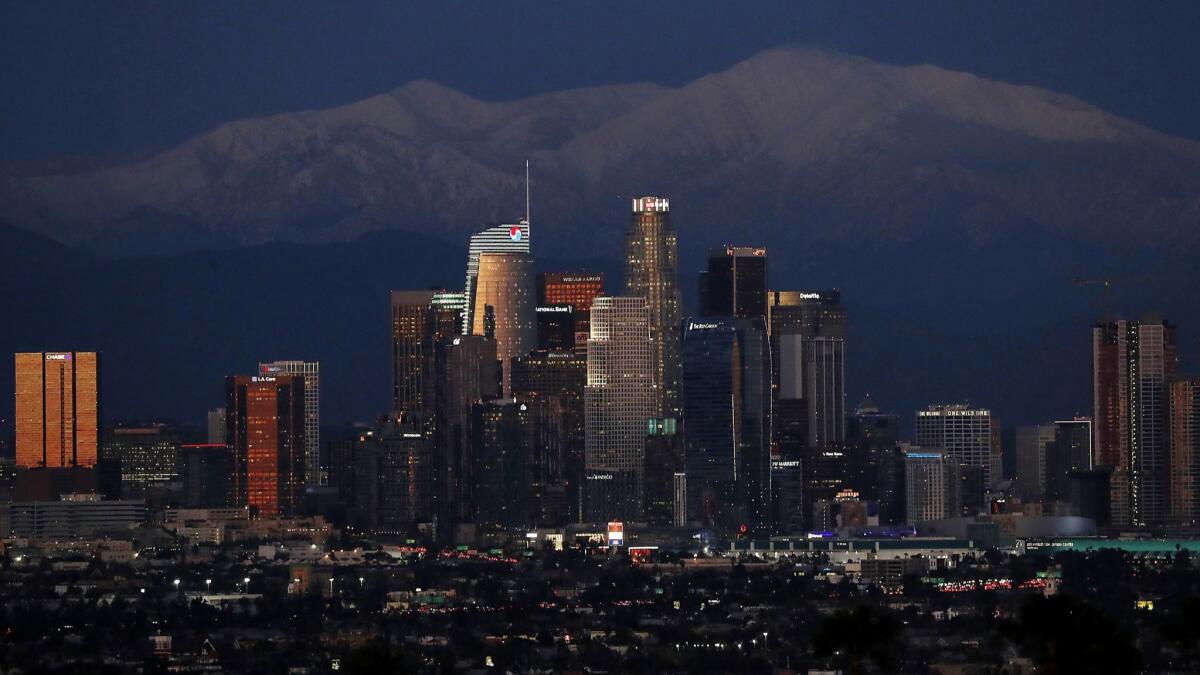 Reporting from Sacramento —
More than 40% of the developable land in Los Angeles could be eligible for homebuilding at a greater density under high-profile legislation working its way through the Capitol, according to a new city analysis.
Senate Bill 50, which faces a key legislative committee hearing Wednesday morning, would require cities to allow four- to-five story apartment complexes near transit, and smaller apartments and town homes in wealthier neighborhoods close to job centers.
The bill would have "potentially far-reaching effects" in Los Angeles, where its goals of increasing housing affordability, environmental sustainability and equity should be balanced against the loss of local planning and zoning standards, a report released Tuesday by the Los Angeles Department of City Planning said.
"SB 50 takes a generalized view that may compromise the ability to maintain unique community scale and form, as well as neighborhood features such as yards, trees, adequate off-street parking, sunlight and privacy," the report said.
California housing bill targeting wealthy cities could rezone nearly all of Palo Alto »
In Los Angeles, the bill would likely have the biggest impact in neighborhoods with only single-family homes and other lower-density areas within a half-mile of Los Angeles Metro Stations, the report said, including about 6% of the single-family zoned parcels citywide. Significant increases in allowable height and density under the bill could create greater incentive to build in those locations.
The bill's author, state Sen. Scott Wiener (D-San Francisco), has said his legislation wouldn't affect L.A.'s recently enacted program to increase density and subsidized units around transit, rules that apply only to lots now zoned for five or more homes.
The bill could also push development into wealthier communities far from rail stops under a provision that would require some communities to allow small apartment construction in areas close to high-paying jobs.
The city neighborhoods most affected by the bill would be middle- and high-income communities of Bel Air, Northridge, Sherman Oaks and Westwood, where nearly two-thirds or more of the developable area could be eligible for increased density, the report said.
Last week, the Los Angeles City Council voted 12 to 0 to oppose SB 50, with council members saying they feared the legislation would exacerbate gentrification and the displacement of longtime residents, which have already accelerated alongside higher housing costs.
Developers can't take advantage of the bill's increased density provisions on properties where tenants have lived for at least seven years, and the legislation requires projects larger than 10 units to set aside a portion for low-income residents. It also allows communities at risk of gentrification to delay implementation of the bill for five years so that they can create alternative plans to increase density.
Wiener has said he plans to propose changes to the legislation Wednesday that could increase the number of communities eligible for the delay.
Still, the planning department report raises concerns about the bill's potential effects on South Los Angeles. The city recently revamped blueprints for growth in neighborhoods there that SB 50 could ultimately override, the report said.
"While SB 50 allows for future local planning efforts to occur before the incentives would be required in [lower-income] areas, these recent planning efforts in all of south Los Angeles would not appear to be recognized," the report said.
Get our Essential Politics newsletter
The latest news, analysis and insights from our politics team.
You may occasionally receive promotional content from the Los Angeles Times.