Sen. Dianne Feinstein will face Kevin de León in November election
Sen. Dianne Feinstein on Tuesday easily won California's primary, and her fellow Democrat, state Sen. Kevin de León, secured the second spot on the November ballot.
It will be the second time in a row Republicans have been shut out of a California U.S. Senate race because of the state's unusual primary system in which the top two vote-getters advance to the general election regardless of party.
Feinstein and De León will square off in a contest that will pit her decades of political strength as a moderate against his potential appeal to progressives, unaffiliated voters and Latinos.
Much of the race will probably focus on Feinstein's resistance, or perceived lack thereof, to the Trump administration. Liberal activists criticized Feinstein last fall for indicating she could work with the administration, though her tone has hardened in the last year as she has more vocally opposed the president's policies.
De León, meanwhile, has embraced the role of anti-Trump opposition leader, vigorously defending his signature "sanctuary state" legislation, which limits how much local law enforcement agencies can cooperate with federal immigration agents.
De León will be the underdog trying to take down Feinstein. She is California's longest consecutively serving politician and has had decades to build support in the state even as she faces withering criticism from the left over her moderate reputation.
"Once you get to the top two, then I think it changes the dynamic completely, and then you have a real race," De León said at a campaign stop Saturday.
Feinstein raised nearly $13 million ahead of the primary, including $5 million she lent her campaign. Even after running television ads across California in the final weeks of the campaign, she has a $7-million war chest heading into the general election, almost 10 times De León's nearly $700,000. He's raised just over $1.1 million since he began campaigning.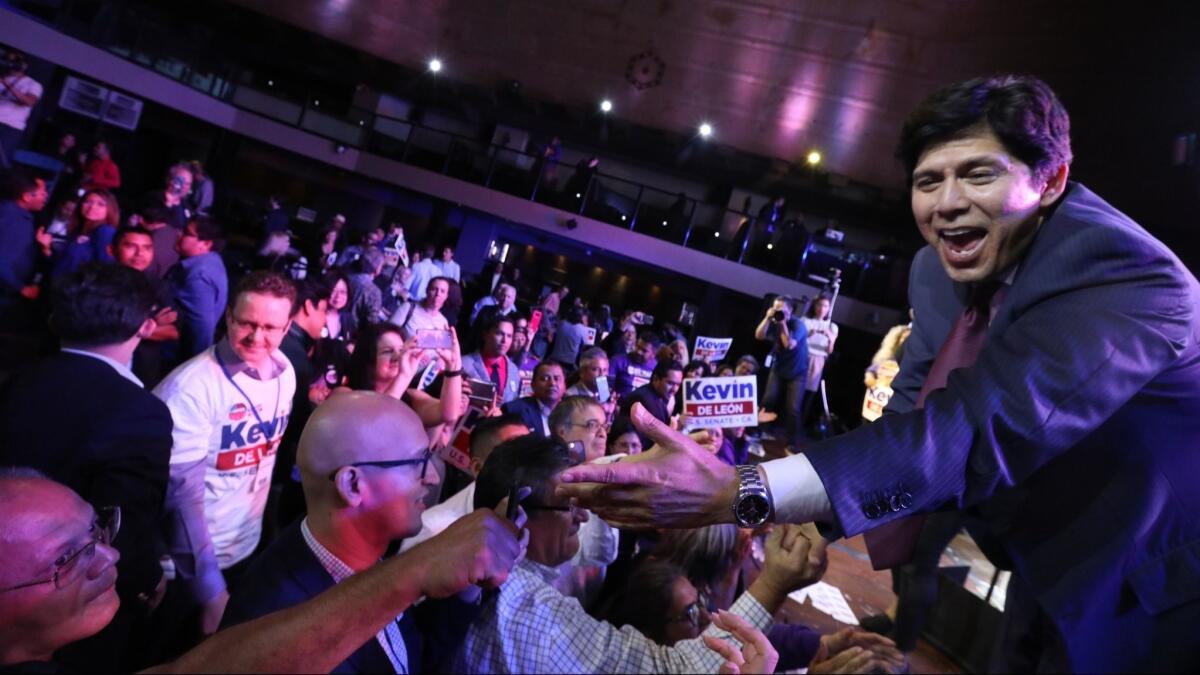 De León, a former state Senate leader who will be termed out after this year, has also struggled to counter Feinstein's name recognition. So did the other eight Democrats, 11 Republicans and 11 third-party or unaffiliated candidates on the primary ballot.
"It's a really crowded race, [and] she has a track record. I'm not always in agreement with her, but no one else emerged as a leader to sway me from her," Karin Lash, 45, of Long Beach said after voting for Feinstein on Saturday.
Polls showed that 25% to 40% of California voters remained undecided in the weeks before the primary. Those undecided voters will be heavily courted in the coming months.
First elected to a partial term in 1992, Feinstein is the highest-ranking Democrat on the Senate Judiciary Committee and sponsored the nationwide assault weapons ban that expired in 2004. At 84, Feinstein is the oldest member of the Senate.
"She put her dues in. I don't think she had anything to do with who we got as [the] administration right now, and she's been against [President Trump] the whole time," Lenwood Patterson, 55, of Long Beach said after voting over the weekend.
Still, Feinstein didn't get the state party endorsement this year, and she has faced a rash of criticism from activists on the left who were frustrated with her initial willingness to work with Trump. Her opponents say that after a quarter of century, it is time for new blood in the Senate.
"I think it's time for some fresh faces in Washington to see more change happening," said Larry Ambriz, 47, of Long Beach. He voted for De León, explaining, "He understands California."
De León spent four years as state Senate leader and was instrumental in passing the state's landmark climate change law, as well as a controversial piece of legislation to enact a single-payer healthcare system in California.
Progressive activists and candidates such as De León nudged Feinstein leftward throughout the primary campaign, causing her to change long-held positions on marijuana and the death penalty. During a campaign stop last week, she brushed off her new positions, casting them as the normal evolution of a long-serving politician.
"You hope to grow and mature and expand your vision in the electoral process, and in the process of serving you also see a lot," Feinstein said. "I don't want to not grow. I don't want to not learn. The world changes, and views change and we change."
Live coverage of California's primary »
More stories from Sarah D. Wire »
Follow @sarahdwire on Twitter
Read more about the 55 members of California's delegation
---
UPDATES:
June 6, 8:45 a.m.: This article was updated with the news that De León secured the second spot on the November ballot.
June 6, 12:50 a.m.: This article was updated to indicate De León appeared positioned to finish in second place.
June 5, 9:30 p.m.: This article was updated with the latest election results.
June 5, 9:05 p.m.: This article was updated with Feinstein's first-place finish based on early returns.
This article was originally published at 3 a.m. on June 5.
Get our Essential Politics newsletter
The latest news, analysis and insights from our politics team.
You may occasionally receive promotional content from the Los Angeles Times.