Along with Kamala Harris, Loretta Sanchez is struggling to beat 'none of the above'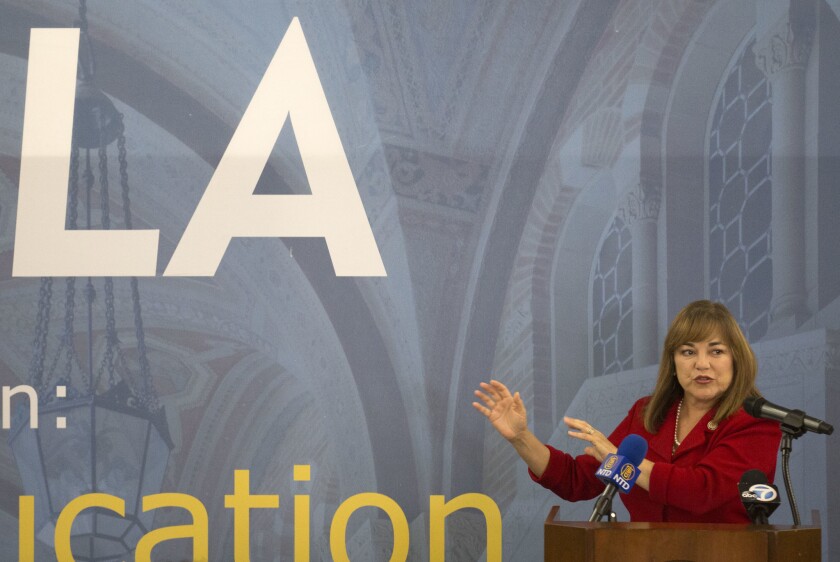 Reporting from Sacramento —
As many California voters prefer "none of the above" as plan to vote for Loretta Sanchez.
Support for the Orange County congresswoman in the state's U.S. Senate race not only lags far behind that of her rival, Atty. Gen. Kamala Harris, but is matched by the pool of Californians who say they don't plan to vote for either candidate, according to a new USC Dornsife/Los Angeles Times poll.
The survey found 16% of registered voters, mostly self-described Republicans and independents, have decided to skip the first open U.S. Senate race that California has seen in 24 years — the same percentage of voters who favor Sanchez. Support for Harris came in at almost double that level at 30%.
And more than a third of California voters indicated they still "don't know" which Senate candidate they'll pick on Nov. 8, according to the poll, conducted for USC and The Times by SurveyMonkey.
This is the first open U.S. Senate seat in a quarter of a century in California and no one seems to care.
Dan Schnur, director of the Jesse M. Unruh Institute of Politics at USC
"This is the first open U.S. Senate seat in a quarter of a century in California and no one seems to care," said Dan Schnur, director of the Jesse M. Unruh Institute of Politics at USC.
California's race to replace retiring Democratic Sen. Barbara Boxer has been lost in the shadow of the combustible presidential face-off between Donald Trump and Hillary Clinton, which has saturated news coverage and seems to have more than satiated the limited appetite many voters have for politics.
Although the Democrat-versus-Democrat Senate race sets the stage for the highest-profile contest between two members of the same party since California adopted a top-two primary election system in 2012, it also has sapped interest among California Republicans who don't see one of their own on the ballot, Schnur said.
Three-quarters of self-described Republicans said they were either undecided or would not vote. The same goes for close to two-thirds of voters who described themselves as independents, and 29% of Democrats.
Among them was Republican voter Jordan Wethe of Glendale.
"They're two losing candidates to me. I'm pretty conservative," said Wethe, an actor and "big Trump supporter."
Wethe said he's still not sure whether he'll even cast a ballot, but said that if he does, he'll probably pick Sanchez.
"I really don't like Kamala Harris. I think she's a fraud, in my opinion," he said. "Sanchez seems to be more hawkish on defense issues, so if I'm going to vote at all it'll be for her.''
Sanchez in recent weeks has been courting the vast pool of undecided Republicans and moderates, and has tried to paint Harris as a far-left liberal favored by the San Francisco Democratic establishment.
Wethe is in the minority. According to the poll, Harris has more support than Sanchez in every major region of the state, among both men and women. Close to half of Democrats supported Harris, compared with the 21% who backed Sanchez. Harris also leads among white, black and Asian voters, while Sanchez was favored by Latino voters, the poll showed.
"Sanchez, she's not a bad person. I just think Kamala Harris is just a little more devoted to how I think," said hospice nurse Mandy Catron, a Democrat from San Bernardino who took part in the survey. "I've read up on Harris, and I just like her views."
Democratic political consultant Doug Herman said picking up ground on Harris before the November election would be extremely difficult for Sanchez, especially since the attorney general leads by wide margins in California's two most voter-rich areas: Los Angeles County and the Bay Area.
Along with strong support from Latinos, Sanchez had a slight edge among voters whose top level of schooling was high school and below, while Harris led among college graduates. Sanchez also was favored by conservatives who plan to vote in the Senate election.
Election 2016 | California politics news feed | Sign up for the newsletter
In August, Sanchez appeared on a conservative talk radio station in San Diego, and last week she landed the support of Rep. Darrell Issa (R-Vista), one of the most vociferous critics of President Obama's administration. Her campaign also has boasted about endorsements from former Los Angeles Mayor Richard Riordan and former Rep. Howard "Buck" McKeon of Santa Clarita — both Republicans.
Among those voters who supported Sanchez in the poll, 73% approved of how Obama has handled the job as president. Among Harris' supporters, 89% gave Obama high marks.
"For Sanchez to win, she has to be the first candidate in modern political history to put together a Republican, Hispanic coalition," Schnur said. "It's not impossible, but it's a very fine line to walk."
Schnur said he doubts Republican endorsements will help much. Unlike Democrats such as Obama and Gov. Jerry Brown, Republican politicians in California are not prominent enough to sway votes with their endorsement.
Among those surveyed, 18% said the endorsement that would matter most to them would come from Obama — by far the most coveted among a list of those who issued endorsements in the Senate race.
Obama endorsed Harris in July. Sanchez responded with a scathing critique of the president, accusing him of being part of a political establishment that has failed to work for Californians. Days later, during a Spanish-language television interview, Sanchez implied that Obama may have endorsed Harris for Senate because they are both black.
The poll was conducted online Sept. 1-8 by SurveyMonkey. The survey was done in English and Spanish among a sample of 4,212 adults who said they are registered to vote in California. The margin of sampling error was 2 percentage points.
Twitter: @philwillon
ALSO
Meet the men plotting strategy for California's U.S. Senate candidates
Hurting for support in her own party, Rep. Loretta Sanchez tilts her Senate campaign to the right
---
Get our Essential Politics newsletter
The latest news, analysis and insights from our politics teams from Sacramento to D.C.
You may occasionally receive promotional content from the Los Angeles Times.