Meet the men plotting strategy for California's U.S. Senate candidates
Donald Trump's comments about Mexicans and immigrants, and his rise to be the Republican party's presidential nominee, might have thrown a wrench in Bill Carrick's plan to get an underdog elected to the U.S. Senate.
California hasn't had an open Senate seat in two-and-a-half decades, and for the first time in state history, voters will choose between two Democrats for a statewide office.
The dynamic means new territory for the two scions of California's political consulting world involved in the race. What does such a campaign look like? How do they appeal to Republicans and moderates? How will Democrats pick sides? And how do the candidates stick out when they both have a "D" after their name on the ballot?
Rep. Loretta Sanchez turned to Carrick, Sen. Dianne Feinstein's longtime advisor, for those answers. To charter her path, Atty. Gen. Kamala Harris went with Sean Clegg and the team at SCN Strategies, a group that has worked with Sen. Barbara Boxer.
The men have been on opposite sides of a campaign before, but no race has looked like this one.
Track the latest in California politics »
Sanchez has struggled to build excitement for her candidacy, making few public appearances over the summer and repeatedly having to backtrack on statements after public outcry, such as when she appeared to question in July if President Obama endorsed Harris because they are both black.
A Field poll in early July found that just 24% of likely voters supported Sanchez, compared to 39% for Harris.
In recent weeks Sanchez has made several appeals to conservative voters, including reiterating on a conservative radio show an assertion from last December that 5% to 20% of Muslims support a caliphate, or a strict Islamic state.
Like anyone with a lengthy career in politics, Carrick's has had his share of wins and losses, but fellow consultants say he has a knack for seemingly pulling a win out of thin air, which might just be what Sanchez needs.
Harris entered the race as the front-runner soon after Boxer announced plans to retire, and had a fundraising and endorsement advantage that kept many prominent Democrats from even attempting a run. She has the state Democratic Party's endorsement and SCN has positioned her as the progressive successor to Boxer.
That's allowed Harris to run a much more traditional Democratic campaign, while Sanchez was left to try to cobble together a majority of voters. She's lagged in the polls and in fundraising since entering the race.
Consultant Richie Ross said Carrick was the one to plot out Sanchez's best chance: If Sanchez could get past the primary, it would leave her with time to woo Republican and independent voters over the summer and fall.
"I don't think that Loretta Sanchez could have done better [picking a consultant] because Bill is one of the few who I think actually saw a strategy. It's a very difficult path, right? But he saw a path," Ross said.
Several pundits and consultants said Trump's comments about Latinos being criminals and insistence he will build a wall along the Mexican border may have thrown into turmoil Sanchez's plan to get support from the two groups.
Still, Carrick has experience with Democratic candidates who are able to appeal to moderates, something that Sanchez needs to do to win, said Rose Kapolczynski, who consulted on several of Boxer's campaigns, but is not involved in this race.
"Carrick is well positioned to take a candidate like Sanchez all the way. Does she have the resources and discipline to get there? That is another question," she said.
Still, Clegg and the other founders of SCN Strategies, Ace Smith and Dan Newman, have the advantage because they can package Harris' background as an attorney and support from moderate Democrats in a way that will appeal to independents and some Republicans, Ross said.
"I think Ace Smith is playing with more cards in his hands than Bill has, but I've been working around these guys for a long time and I wouldn't discount either," he said.
Kapolczynski said the SCN founders' background in opposition research will be a factor.
"When you start your work in politics as an opposition researcher that really defines your approach to a race. If this race becomes competitive I think we could see Harris very aggressively defending her lead," she said.
Though a few other consultants have come and gone, Carrick has been Sanchez's top consultant for most of the race, and Carrick Consulting has already been paid $1.7 million for media buys and advertising.
Harris has had a string of consultants, though SCN Strategies has been with her since her first run for Attorney General. She spent more than $600,000 employing 19 of the top consultants in California and across the country in the first nine months of 2015 before scaling back to just a handful.
SCN Strategies has been paid $310,564 so far for advertising and research consulting, according to campaign finance reports.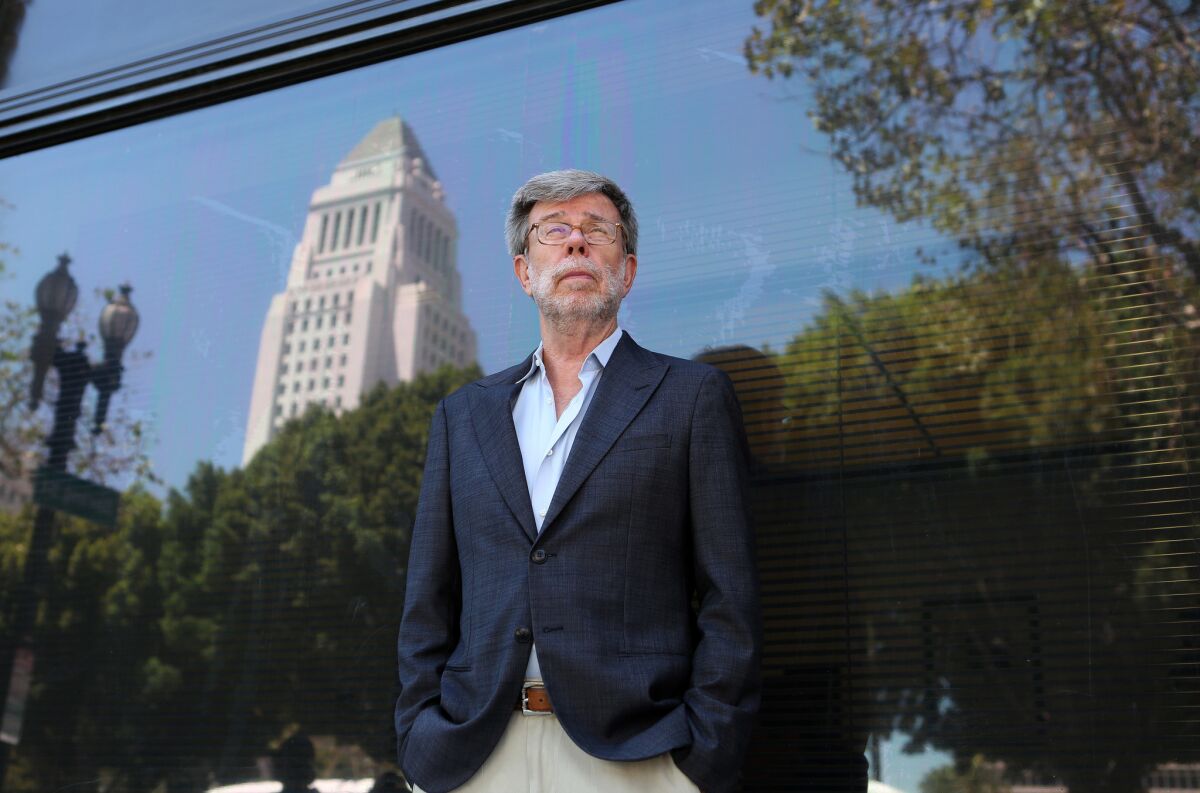 SIGN UP for the free daily politics newsletter »
They've made a mark before
Carrick and Clegg have been behind some of California Democrats' biggest political wins and losses over the past few decades. And, if they've done their jobs right, no one would ever know it was their work that notched victories.
Carrick, a South Carolina native, is best known for his long association with Feinstein. He worked on her 1990 gubernatorial campaign and, along with business partner Hank Morris, crafted a television ad to introduce Feinstein to Southern Californians that was so well received it helped her become the first California woman to win a major party's nomination for governor.
Feinstein lost the general election to Republican Pete Wilson, but was elected to the Senate soon after. Carrick has played a role in each of her reelection campaigns.
Carrick's Senate rival lauded that 1990 campaign ad as "iconic."
"He's earned his stripes and he's really one of the most highly respected people out here on the West Coast," Clegg said.
Carrick has worked on national campaigns, including Missouri Rep. Dick Gephardt's failed presidential runs in 1988 and 2004. He consulted for President Bill Clinton in the 1990s.
He's shepherded campaigns for Los Angeles mayors Eric Garcetti, Jim Hahn and Dick Riordan, and for several current and former members of Congress, including Rep. Lois Capps (D-Santa Barbara). (Riordan, a Republican, has endorsed Sanchez.)
With colleague Ace Smith often out front, Clegg has been a less visible face and isn't as well known in the state's political circles.
After earning a degree in Political Science at Berkeley and working briefly for the U.S. Senate Judiciary Committee, Clegg joined Smith's opposition research firm in 1992.
Later at SCN Strategies, the firm consulted for Gov. Gray Davis, Boxer and Gephardt, along with Gov. Jerry Brown, Lt. Gov. Gavin Newsom, San Francisco Mayor Ed Lee and Oakland Mayor Libby Schaaf.
It was Clegg who, laying the groundwork for Brown's campaign and facing a well-funded opponent in Republican Meg Whitman, came up with the 2010 "Megatar" ad poking fun at her private jet use. As one of the first political ads to ever go viral, it was recognized by Adweek and won an award from the American Association of Political Consultants.
This isn't the first time they've been on opposite sides of a race: two other cases were the 1998 gubernatorial race and the 2006 primary for attorney general.
And Carrick and SCN Strategies worked together both for the Clintons and for Feinstein.
"We've been back and forth," Carrick said. "That's the nature of politics, you meet people going and coming. Particularly in intra-party politics you are all on the same side a lot, and sometimes you're not."
In one of their highest profile match-ups, the 2001 Los Angeles mayoral race, Carrick and Jim Hahn beat SCN and Antonio Villaraigosa, in part with an ad criticizing Villaraigosa for urging President Clinton to pardon drug dealer Carlos Vignali, whose father was active in the Latino community.
Villaraigosa came back and won the position in 2005, something Clegg called a "highlight" because "nothing stings like a loss."
A lack of interest in the race in a presidential year has made mounting a campaign more difficult, Carrick said.
Clegg said while it's difficult to figure out which voters are up for grabs, the Harris campaign doesn't plan to cede Latino voters to Sanchez, especially as Sanchez courts Republicans to build a disparate coalition.
"How do you put together the Trump voters with Latinos? Good luck. It's just a self nullifying proposition," he said.
California has had a long and specialized relationship with political consultants
The success of one of the first major U.S. political consulting firms, Spencer-Roberts, in Ronald Reagan's 1966 bid for governor created an outsize role for political consultants in the state "long before it became a fashion of the rest of the country," said Dan Schnur, director of University of Southern California's Jesse M. Unruh Institute of Politics.
California consultants, more than those in other states, advise campaigns on when to run ads, where to hold events, even what the candidate should say. So they can play a major role in shaping a race. And it matters which consultant has the candidates' ears behind the scenes, especially now, say experts and fellow consultants.
Schnur says Carrick and Clegg are "the best in the business."
"If someone you cared about was running for the U.S. Senate you would want them to hire one of these two individuals," he said.
---
Who has Loretta Sanchez's ear?
Name: Bill Carrick
Age, Hometown: 66, Los Angeles
Founder of Carrick Consulting, Inc. in Los Angeles
Education: Political Science, University of South Carolina, 1972
Background: Carrick's political career began in his native South Carolina, inspired by his parents, who were political activists.
Carrick worked on Sen. Edward M. Kennedy's (D-Mass.) presidential campaign before working as his political director in Washington. Since moving to California, Carrick has consulted on the campaigns of President Bill Clinton, Los Angeles mayors Eric Garcetti, Jim Hahn and Dick Riordan, and for several current and former members of Congress.
But he is best known for his long association with Sen. Dianne Feinstein. He crafted a television ad for Feinstein's 1990 governor's race to introduce Feinstein to Southern Californians that was so well received in helped her become the first California woman to win a major party's nomination for governor.
What his opponent says about him: "He's earned his stripes and he's really one of the most highly respected people out here on the West Coast," Clegg said. "Carrick's had a long, long track record in the state and is obviously one of the most experienced Democratic veterans."
Who has Kamala Harris' ear?
Name: Sean Clegg
Age, Hometown: 47, Berkeley
Founding partner, SCN Strategies in San Francisco
Education: Bachelors in political science, Berkeley, 1991
Background: With Smith as a prominent face at SCN Strategies, Clegg's played a less visible role in the more than a dozen campaigns they've worked on together and isn't as well known in the state's political circles.
Clegg joined Smith's opposition research firm, The Research Group, in 1992 as an associate. In 1996, Clegg, Smith and Dan Newman created SCN Strategies. The firm has consulted for Sen. Barbara Boxer for decades, as well as for Gov. Jerry Brown and Lt. Gov. Gavin Newsom, Gov. Gray Davis, San Francisco Mayor Ed Lee and Oakland Mayor Libby Schaaf and others.
After consulting on Villaraigosa's failed 2001 campaign and successful 2005 campaign, Clegg became Villaraigosa's Deputy Mayor. He left in 2008 to briefly work for communications firm Brunswick Group LLC in San Fransisco before returning to SCN Strategies.
What his opponent says about him: "I expect that they'll do a good job and I expect that they will be very organized, strategic," Carrick said.
Follow @sarahdwire on Twitter
Read more about the 55 members of California's delegation at latimes.com/politics
ALSO:
Why Loretta Sanchez is struggling to wake up California's sleepy Senate race
California Democrats trying to keep Senate race from becoming awkward
Updates on California politics
---
UPDATES:
3:40 p.m. Sept. 13: This article was updated to reflect that Carrick did not consult for Hillary Clinton's 2008 presidential campaign.
This article was originally published at 3:05 a.m. Sept. 8.
Life is stressful. Our weekly mental wellness newsletter can help.
You may occasionally receive promotional content from the Los Angeles Times.