California's U.S. Senate race heads into the home stretch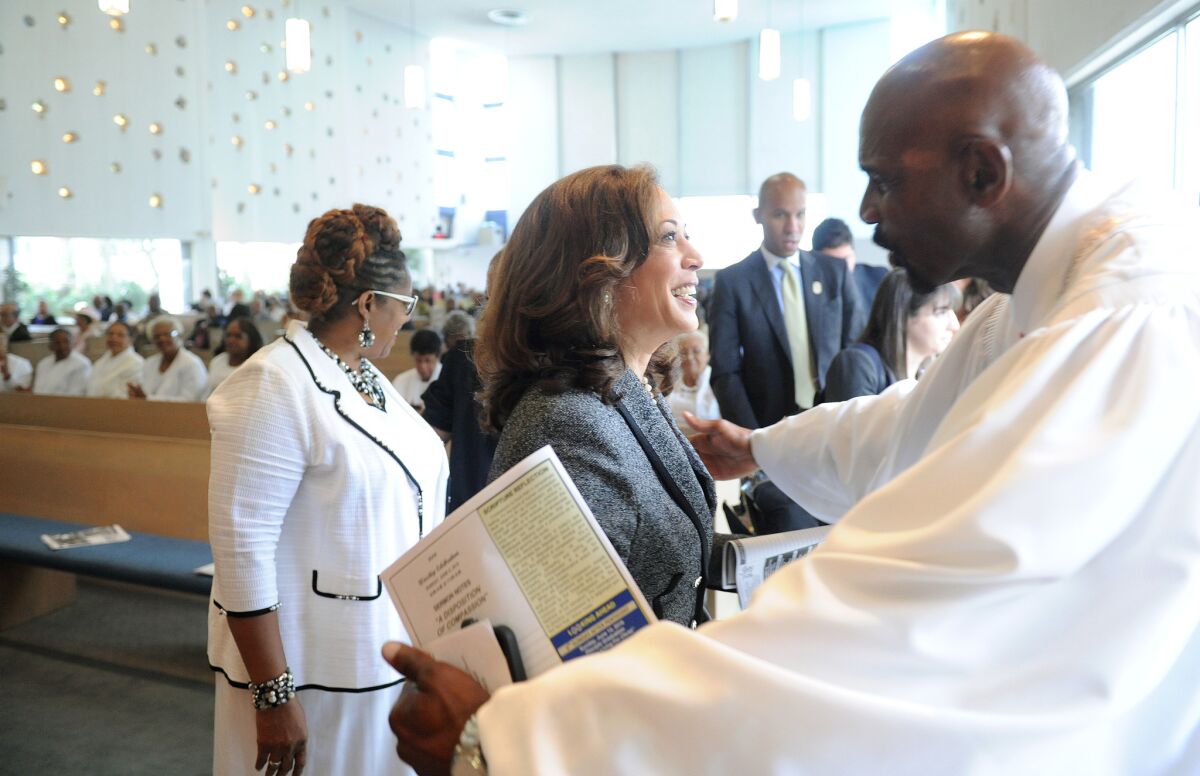 Reporting from Sacramento —
The top candidates in California's U.S. Senate race cooed at babies, schmoozed with hot rod aficionados and hung out with shotgun-shooting dentists this weekend, all hoping to win over a few last voters before Tuesday's primary.
Roscoe's House of Chicken and Waffles in Inglewood, where President Obama made a surprise stop in 2011, was the must-see spot for Democratic hopefuls state Atty. Gen. Kamala Harris and Rep. Loretta Sanchez of Orange, who lead the polls.
George "Duf" Sundheim knocked on doors in Orange County, and campaign volunteers for fellow Republican Tom Del Beccaro spent Saturday morning burning up cellphone minutes pleading with voters to back their guy.
At stake is the first open Senate seat in California in more than two decades, a coveted political prize as four-term Democratic Sen. Barbara Boxer retires.
The flurry of campaigning over the weekend and trickle of Senate campaign ads that hit the television and radio airwaves over the last few weeks were a notable departure from a Senate race best known for its lack of sizzle or intrigue.
Harris spent the final weekend on a bus tour crisscrossing Southern California.
At the San Pedro Fish Market on Saturday, Harris got a tour of the raw fish for sale before making her way to the sun-baked patio to talk with families tucking into platters of crab, squid and oysters. After the attorney general cooed over the infant she was holding, Krystle Green, 29, of Ontario, said she plans to vote for Harris on Tuesday.
"She seems very personable and like she actually wants to do something," she said.
On Sunday, Harris caravanned across Los Angeles with a constellation of political heavyweights attending services at a string of predominantly African American churches.
Even though Tuesday is only the primary, some of Harris supporters were already looking down the road of her political future. As she walked out of the First African Methodist Episcopal Church in South Los Angeles, the Rev. J. Edgar Boyd turned to her and said to her: "By the way we'll need somebody to replace Hillary Clinton in eight years."
Raquel Sanchez, at a rally for Clinton at Sacramento City College on Sunday night, said she wasn't following the Senate race too closely, but plans to vote for Harris.
"I'm concentrating on the presidential race, because Donald Trump scares me," the 31-year-old government researcher said of the presumptive Republican presidential nominee. "That takes all my time."
Harris, who with more than $11 million has raised twice as much as all other Senate candidates combined, dished out $1.2 million for television ads. At least a few popped up in some prime — and expensive — times, including at the end of the first game of the NBA Finals and the highly rated season premiere of "America's Got Talent."
Sanchez, who has raised $3.5 million for her campaign, is running three of her four ads in Spanish – an indicator of just how hard she is targeting California's influential Latino vote. Her campaign listed spending $1.2 million for a media buy, but didn't specify whether that was all for television ads. Many of her spots have been running during the day.
On Saturday, the congresswoman was focused on handshakes and chitchat. She stopped off at an outdoor classic car show in Whittier, speeding through the crowd and posing for snapshots. Sanchez urged attendees to vote for her on Tuesday, warning them "it's a long, long list of candidates — 34 of them."
"You have to make sure to find my name, Sanchez, OK?" she asked Natalie Robles.
For California voters, picking a U.S. Senate candidate could be 'like throwing darts at a dart board' >>
Robles said she appreciated Sanchez being there.
"She's actually coming down to our level and making contact with the people," said Robles, who added that she is still undecided.
Sanchez bounced from shaking hands in Inglewood to asking for votes in Spanish in downtown Los Angeles and mingling in restaurants in West Hollywood on Sunday.
She spoke with the dozen or so people waiting in line at Randy's Donuts in Inglewood as her staff passed out water bottles and tote bags.
Capitalizing on a captive audience, Sanchez visited cars in the drive-through line, leaning against their windows and asking people how many doughnuts they were going to buy. She lamented not having time to get in line herself.
At The Abbey, Tom Dunlap, 58, of West Hollywood, was excited to see his old friend. His company has raised funds for Sanchez, and he's already voted for her.
"She's always been very proactive in the gay community and very proactive for many of the same positions that I stand for," he said.
Election 2016 | California politics news feed | Sign up for the newsletter
More than a quarter of California's registered voters were still undecided at the end of May, according to a new USC Dornsife/Los Angeles Times poll. Most voters said they were either entranced by the wild presidential race or just lacked time to bother.
Del Beccaro dropped by Birds Landing Hunting Preserve and Hunting Clays, a shooting range an hour's drive from Sacramento, on Saturday during a charity sport shooting event by the California Dental Foundation. The conservative Walnut Creek attorney, a former chairman of the state Republican Party, boasted of being the only candidate with an A-rating by the National Rifle Assn.
"I went hunting with my dad. They're going to try to close us down, to take away a sport from our youth," said dentist Doug Gordon, at the range Saturday. "Tom has my vote."
Under California's top-two primary system, the two candidates who receive the most votes Tuesday will advance to the November election, regardless of party.
Sundheim spent the weekend campaigning in Southern California, walking voter precincts with Orange County Republicans near Stanton and dropping by Torrance's monstrous Del Amo Fashion Center mall Sunday.
The Silicon Valley attorney also served as a chairman of the state Republican Party. He doesn't have much money to play with – raising just $620,000 as of mid-May. Still, it was enough to buy time for a radio ad campaign, which starting airing statewide last week.
Sundheim also is being backed by two independent expenditure campaigns, both with ties to GOP mega-donor Charles Munger Jr., one of the top benefactors for Republicans in California.
Del Beccaro says he is being attacked by the groups because of his conservative views, and knew that it was going to be difficult running as an anti-establishment candidate. He has raised just $297,000, but also has been boosted by the Tea Party Express, Howard Jarvis Taxpayers Assn. and other conservative groups.
Republican Ron Unz's eclectic, shoe-string campaign remained true-to-form all weekend — he spent the time reading books and articles on immigration policy.
Unz authored a 1998 ballot initiative to end bilingual education, and he unsuccessfully challenged Gov. Pete Wilson in 1994 in the Republican primary.
He said in an email that he plans to hold an election night party in San Francisco, but doesn't expect much interest because he is such a long shot: "Given the current polls I doubt they'll be any need to provide access for the TV cameras."
Twitter: @philwillon
Times staff writer Christine Mai-Duc contributed to this report. Willon reported from Sacramento, the others reported from Los Angeles.
ALSO:
Poll finds Senate hopeful Loretta Sanchez strong among Latino voters but few others
How race helped shape the politics of Senate candidate Kamala Harris
California's next senator could be a Latina. Will her past mistakes get in the way?
Duf Sundheim resists the moderate label
Senate hopeful Tom Del Beccaro is forging his own version of the California GOP
Updates on California politics
---
Life is stressful. Our weekly mental wellness newsletter can help.
You may occasionally receive promotional content from the Los Angeles Times.