Gov. Jerry Brown's pardon of former state senator was opposed by prosecutors, new records show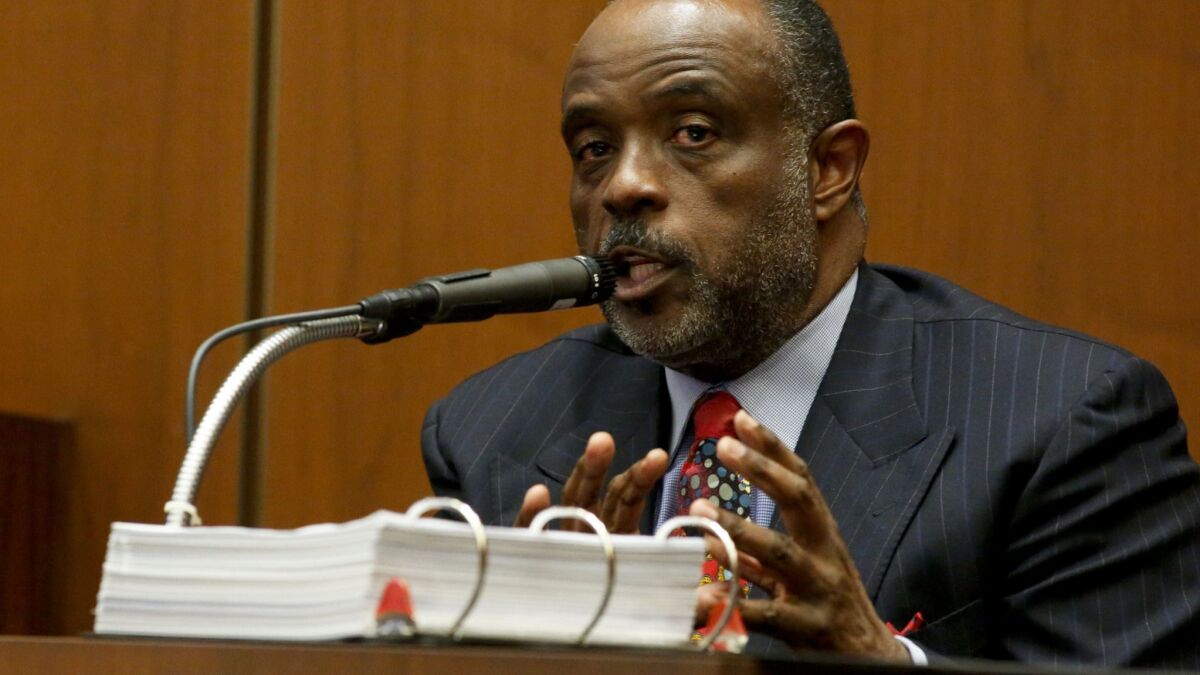 Reporting from Sacramento —
Gov. Jerry Brown's recent pardon of former state Sen. Roderick Wright was supported by several of California's top political figures but opposed by Los Angeles County Dist. Atty. Jackie Lacey, who warned it would undermine a fundamental state law, according to court documents unsealed Thursday.
The county prosecutor told Brown that clemency for Wright, an Inglewood Democrat who was was found guilty in 2014 of lying about living in his legislative district, could lead other politicians to disregard requirements that they reside in the areas they represent.
"A grant of pardon for Mr. Wright would set him above the law, and encourage future candidates to break it," Lacey wrote in the Sept. 6 letter to the governor, which was among 299 pages of documents released Thursday under an order by the California Supreme Court. Brown pardoned Wright, 66, in November.
Other documents unsealed by the court showed Brown was under pressure from key Democratic allies, including 11 state legislators, to grant clemency.
"The documents released today show that the granting of the Wright pardon was a highly politicized process," said Glen A. Smith, a spokesman for the First Amendment Coalition.
The group petitioned the state's high court to release the documents on grounds that it was in the public's interest to know what information was considered by Brown in making his decision.
Brown has granted more pardons than any governor in California history, with many recently going to drug offenders and immigrants facing deportation. The process in many cases has been shrouded in mystery, as much of the information he has used to make decisions is sealed from public view.
In recent weeks, the California Supreme Court has taken the rare action of rejecting seven clemency proposals by the outgoing governor, including an attempt last month to commute the sentence of a man serving time for robbing and murdering a cab driver in 1992.
The newly released documents include Wright's application for pardon in which he listed Rep. Maxine Waters (D-Los Angeles) and former Assembly Speaker Willie Brown as references, both of whom Wright once worked for. The governor's office redacted 19 pages of documents, including Wright's criminal record and the state Board of Parole Hearings investigative report; no document showed whether Waters and Willie Brown had been contacted.
Waters, who attended Wright's 2014 sentencing as a show of support to the legislator, did not respond to a request for comment.
The file included letters sent to probation officials in 2014 by Willie Brown, Inglewood Mayor James T. Butts, former state Senate leader Don Perata, former Sacramento Mayor Kevin Johnson and other politicians supporting Wright as he awaited sentencing after his conviction.
Johnson called Wright "an extraordinary public servant" in his letter, while Willie Brown wrote that the former senator had "many positive traits and those people who rely on him have their trust well placed."
The newly unsealed files also include a March 2018 letter to Gov. Brown in support of a pardon from Assemblyman Chris Holden (D-Pasadena) on behalf of the 11-member California Legislative Black Caucus. The caucus said Wright was prosecuted based on a disputed interpretation of the law on residency.
Wright testified at his trial that he felt he complied with the law requiring a domicile in his legislative district by maintaining a residence he owned in Inglewood, though prosecutors said he actually lived in a home in Baldwin Hills.
The caucus noted that the former senator, after serving his sentence, stayed productive, teaching a summer course at UC Davis and working as a consultant providing technical assistance to the city of Los Angeles over its development of a "big box" ordinance on large stores.
"Because of the political nature of his crime and his contributions to our Great State, the caucus strongly urges you to consider pardoning Sen. Wright's offenses and bring back the 'just' in justice," wrote Holden, who was the caucus leader last year.
Internal emails showed the Brown administration expedited the processing of Wright's application, with a prison agency official telling others involved that it was a "very high profile case" involving a former state senator with a "potential for media attention."
Wright, who served in the Legislature for 12 years until 2014, said in his pardon application that he faced "continuing punishment" by being barred for life from further service in elected office and faced obstacles to banking, travel and seeking other employment.
He said he was the only sitting legislator he knew of that had been prosecuted under the interpretation of the law by the district attorney.
The case centered on whether Wright's Inglewood property was his "domicile" under state law, which prosecutors said is a home where one intends to stay and to return after an absence.
Prosecutors provided evidence to the jury, including photos, that showed few of Wright's personal belongings there but full closets, three luxury cars, prescription medicines, collectibles and artwork at the Baldwin Hills house.
In finding Wright guilty of perjury and voter fraud, the jury concluded that he had lied about his address on voter registration and candidacy documents in 2007 and 2008 and voted fraudulently in five elections in 2008 and 2009.
The former senator was sentenced to 90 days in county jail but spent less than a day in custody because of county policies aimed at relieving jail overcrowding.
"The entire case was based on circumstantial evidence as there was no direct evidence of a crime," Wright wrote in his pardon application to the governor, which Brown's office had refused to release before the court order.
"In the worst case scenario, I misinterpreted the law," Wright wrote.
Lacey, whose office won the conviction on eight felony counts against Wright, opposed a pardon in a letter to Brown and disputed many of Wright's contentions about his case.
In a report on the pardon request attached to Lacey's letter, the district attorney's office disputed Wright's argument that his violation of the law was unintentional.
"The facts of this case paint a very different picture," the D.A.'s report said. "They reveal that he acted with great deliberation on how he could manipulate the circumstances to circumvent the law. He flouted a long-standing safeguard to our democratic elections process."
The prosecutors told the governor that Wright changed his driver's license to his Inglewood address only after he won the primary election in 2008, and continued to use his Baldwin Hills home address for his vehicle registration, bank statements, credit cards, Senate personnel matters and as a contact for his daughter's high school.
As for Wright keeping a small portion of his possessions in the Inglewood property, the D.A'.s report said: "His token gestures were purely for political convenience."
In pardoning Wright in November, Brown cited the former lawmaker's long career in public service and his behavior since his conviction.
"He has shown that since his release from custody, he has lived an honest and upright life, exhibited good moral character, and conducted himself as a law-abiding citizen," the governor wrote.
Coverage of California politics »
Twitter: @mcgreevy99
---
Life is stressful. Our weekly mental wellness newsletter can help.
You may occasionally receive promotional content from the Los Angeles Times.