Immigrants facing deportation, drug offenders and a former state lawmaker receive pardons from Gov. Jerry Brown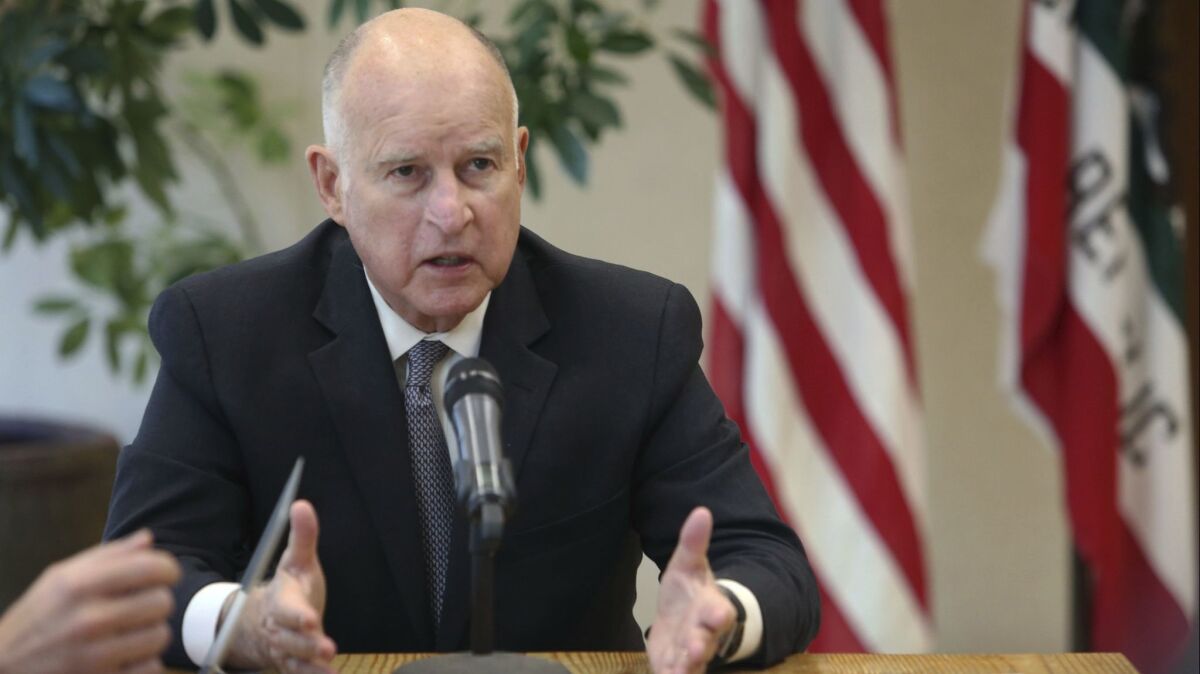 Reporting from Sacramento —
No governor in California history has given more former offenders a chance at redemption through a pardon or commuted sentence than Gov. Jerry Brown, who on Wednesday granted clemency to a group that included onetime drug offenders, immigrants facing deportation and a former state senator.
Brown issued 38 pardons for people convicted of felonies who had completed their sentences and commuted the existing sentences of 70 more.
Pardons given to three men may allow them to avoid deportation by federal immigration agents. As the Trump administration has ramped up its enforcement of immigration laws, Brown has increasingly turned his attention to the cases of immigrants at risk of deportation. On Wednesday, he granted clemency to three men facing federal removal orders from the country.
Tung Nguyen arrived in the U.S. as a Vietnamese refugee. He was convicted of murder and robbery at age 16 in 1994 after a fight at a hotel that ended in the death of another man. While serving his life sentence, Nguyen would later risk his life to save 50 people in a prison riot. Brown granted him an early release in a 2011 executive order because of the act, saying Nguyen did not start the fight or participate in the stabbing that led to his conviction.
Nguyen has since become an advocate for changes to the juvenile justice system and helped start an Orange County organization to help Asian and Pacific Islander inmates reenter society after prison, according to his pardon.
Hai Nguyen, who was also pardoned, is not related to Tung Nguyen, but he helped him found the reentry organization for inmates and has volunteered with the Anti-Recidivism Coalition, a Los Angeles-based nonprofit organization started by Hollywood producer Scott Budnick to provide a support network for people who have been incarcerated.
The former Vietnamese refugee arrived in the U.S. when he was 2 and was sentenced to 35 years in prison for robbery at age 16. He served nearly 16 years in prison and was released in 2015 under a state law meant to give young people a second chance.
A third immigrant, Truong "Jay" Ly, has become a restaurateur since his release from prison in 2007. He said he was grateful for the second chance to repay society for his crime, and for the approach the state is now taking toward young people and immigrants caught in the criminal justice system.
"Their level of maturity, their cultural understanding is different from Americans'," Ly said. "I'm glad the governor is understanding of that."
Born in Vietnam, Ly settled in East Los Angeles with his family when he was 11 after spending several months in refugee camps. He affiliated with gangs through his middle school and high school years and served more than 10 years in prison for voluntary manslaughter after a passenger in his car shot and killed a person. He was 18 at the time of the crime.
Ly now advocates for criminal justice policies, helps current and former inmates and owns Stinkin Crawfish, a chain of restaurants he started with friends. He plans to open another restaurant, Sushimi Rollin, in West Covina.
"One supporter wrote that Mr. Ly is the exact type of person who merits protection from deportation and should be allowed to remain in the country that he now gives back to in a meaningful way," Brown wrote in his pardon.
Ly said it would help him become a green card holder again.
The governor commuted the sentence of Earlonne Woods, a San Quentin State Prison inmate who has received national attention for a podcast he helps produce about life in prison, "Ear Hustle." Woods, 47, has been serving a sentence of 31 years to life for his part in a 1997 armed robbery. Brown noted "accolades from members of the correctional staff and many volunteers" for Woods' behavior and leadership in helping other inmates. The commutation makes Woods eligible for parole.
"I believe Earlonne will continue to educate, enlighten and enrich the lives of his peers at San Quentin and the many, many people who listen faithfully to Ear Hustle," Brown wrote.
The governor also took swift action on the case of former state Sen. Roderick Wright, an Inglewood Democrat who was found guilty in 2014 of lying about living in his legislative district. His record also included an auto theft conviction from when he was 19 — a second felony that as a result required the California Supreme Court to clear the way for a gubernatorial pardon. Just a day earlier, justices recommended that Brown pardon Wright.
Wright, who spent 12 years serving in the Legislature, was barred for life from further service in elected office after being convicted of felony charges including perjury and voter fraud.
Brown noted the former lawmaker's long career in public service in the pardon decree.
"He has shown that since his release from custody, he has lived an honest and upright life, exhibited good moral character, and conducted himself as a law abiding citizen," the governor wrote.
Wright said the action by Brown means he will no longer face the stigma of the felony convictions, which can include questions from prospective employers and limits on international travel.
"All of the benefits that go to a person not having a felony are huge," Wright said on Wednesday.
"The fact that he just looked at this objectively, I can't say thank you enough."
Among the many drug offenders pardoned by Brown on Wednesday was Jason Burnett, a resident of Paradise who lost his home during the deadly Camp fire. Burnett completed his prison sentence in 2002 and has, the governor noted, lived within the law ever since — a story similar to the dozens of others with drug crimes in their past who received pardons.
Some four dozen of the commutations given by Brown were to prisoners convicted of murder. In each case, the governor's action does not release the person from prison, but instead shortens the amount of time that must be served before the case can be considered by the state Board of Parole Hearings. A number of the crimes were subject to either life sentences without the possibility of parole or sentences that would have made it almost impossible for a person to be released before dying in prison.
Since returning as governor in 2011, Brown has used the holidays to take executive action on 1,341 cases of men and women who were serving time in prison or already had completed their sentences. Only former Gov. Ronald Reagan came close on clemency requests, issuing 574 pardons and 17 commutations in his eight years. Most governors of the state's modern era have intervened far more rarely.
Follow @johnmyers on Twitter, sign up for our daily Essential Politics newsletter and listen to the weekly California Politics Podcast
---
UPDATES:
5:54 p.m.: This article was updated with additional details about those pardoned.
This article was originally published at 4:30 p.m.
---
Life is stressful. Our weekly mental wellness newsletter can help.
You may occasionally receive promotional content from the Los Angeles Times.