California bill requiring warning labels on sodas, sugary drinks is shelved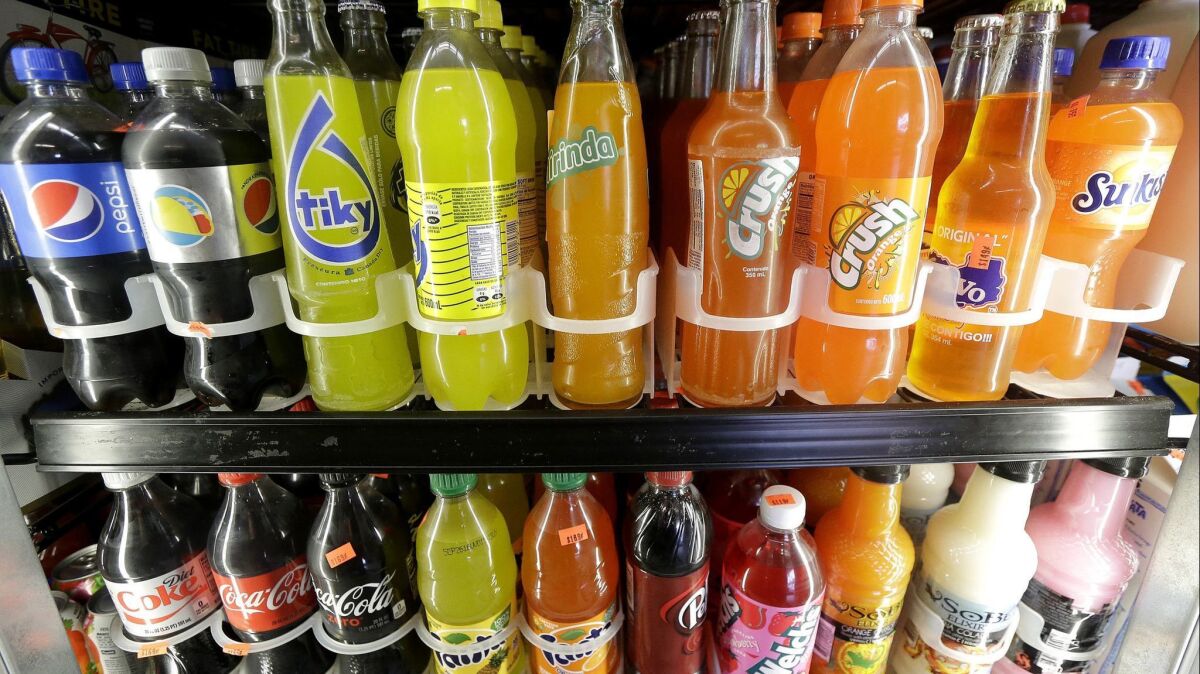 Reporting from Sacramento —
For the fifth time in as many years, a proposal to require health warning labels on sugary drinks in California was scuttled Tuesday in the Legislature, putting an end to a package of measures aimed at reducing obesity by regulating sodas.
Sen. Bill Monning (D-Carmel) said his bill lacked sufficient votes in the Assembly Health Committee to advance this year. So he canceled a vote by the panel on Tuesday.
"Unfortunately, the power of this industry is influencing a health committee in the state Legislature, a health committee that should be here to protect the health of the people you represent," Monning said angrily to the panel. "It is with great regret that we have fallen short of the necessary votes today for the Assembly Health Committee to take a step that is supported by public health advocates."
The bill may be taken up again next year, Monning said.
The shelving of the warning label bill follows previous decisions by lawmakers to sideline measures this year that would have taxed soda, banned the sale of "Big Gulp"-style drinks, restricted where sugary beverages could be sold in stores, and barred discounts aimed at spurring purchase of sodas.
The bill that was shelved Tuesday would have required beverages with added sweeteners that contain 75 calories or more per 12 ounces to have the following safety-warning label: "STATE OF CALIFORNIA SAFETY WARNING: Drinking beverages with added sugar(s) may contribute to obesity, Type 2 diabetes, and tooth decay."
The bill also would have required that, in stores and fast-food restaurants, warning labels be placed on the exterior of any self-service beverage dispensing machine used by a consumer to dispense a sugar-sweetened beverage.
In restaurants where cups of sodas are filled by employees, a warning label would have been placed in a location visible to consumers.
Monning said the bill supported by the California Medical Assn. was essential for public health and to allow consumers to make informed decisions.
"It's an important part of a broad public health campaign that seeks to limit the harmful health impacts that sugary beverages continue to have on the health and happiness of our constituents," Monning said. "Skyrocketing rates of obesity and preventable Type 2 Diabetes continue to wreak havoc on families in all of our districts."
The measure faced strong opposition from the soda industry, the California Restaurant Assn., the California Grocers Assn. and the California Chamber of Commerce.
Opponents, including Assemblyman Chad Mayes (R-Yucca Valley) said public education is needed and objected that the bill doesn't address other sugar-laden foods and drinks, including coffee drinks to which sugary syrup is added.
"It seems like we are singling out one industry," said Assemblyman Freddie Rodriguez (D-Pomona), who also said he could not vote for the bill.
Consumers are being offered and are drinking more low- or no-sugar drinks, assisted by calorie and nutrition labels already on cans and bottles, said John Latimer, a lobbyist for Pepsi and the California Retailers Assn.
"We are giving consumers a full range of beverage choices," he told the panel. "Consumers know what they are drinking."
Assemblyman Kevin McCarty (D-Sacramento) said providing calories and grams of sugar based on serving size confuses those buying soda. "The consumer has no idea," he said.
Bills requiring health warning labels on cans and bottles of sugary beverages also failed to garner needed votes in 2018, 2017, 2015 and 2014. Monning, who will be forced to leave the Senate after 2020 because of term limits, authored three of the previous bills.
Sign up for our Essential Politics newsletter »
Twitter: @mcgreevy99
---
Life is stressful. Our weekly mental wellness newsletter can help.
You may occasionally receive promotional content from the Los Angeles Times.