In two California Senate special elections, Gonzalez and Dahle are the winners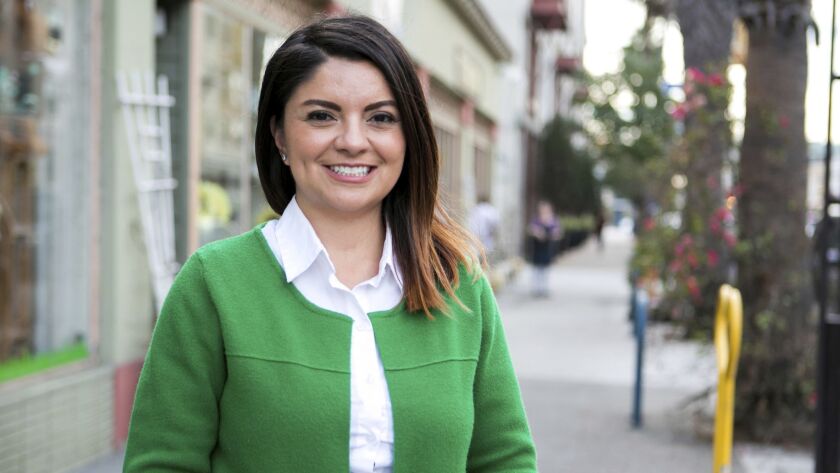 Reporting from Sacramento —
Long Beach City Councilwoman Lena Gonzalez cruised to victory in the election for a Los Angeles County state Senate seat Tuesday night, while conservative Brian Dahle won the contentious Republican-versus-Republican contest to represent a Northern California district in that legislative house.
The races attracted hundreds of thousands of dollars in outside spending from the California Correctional Peace Officers Assn., the powerful prison guards union that wields influence over criminal justice policy and state spending, as well as from oil companies, utility giants, labor organizations and other entities with substantial interests in Sacramento.
The outcomes of the two contests will not affect the balance of power in the state Senate, where Democrats hold a two-thirds supermajority. Gonzalez replaces a fellow Democrat, and Dahle succeeds another Republican.
The elections fill Senate vacancies created in November when Sen. Ricardo Lara (D-Bell Gardens) was elected state insurance commissioner and Sen. Ted Gaines (R-El Dorado Hills) was elected to the state Board of Equalization.
Gonzalez was the favorite to win in the race for the 33rd Senate District, where she faced off against Republican Jack Guerrero, a Cudahy City Council member. In a district that stretches from Long Beach to Huntington Park, Democrats account for 55% of the voters and Republicans 11%.
Gonzalez tweeted out thank you messages to her supporters throughout Wednesday.
"Honored to have the faith of residents all over Senate District 33 — there is a lot of work ahead and I can't wait to get started!" she said in one post.
Gonzalez was endorsed by Long Beach Mayor Robert Garcia, with whom she worked when he was a member of the City Council, as well as Rep. Alan Lowenthal (D-Long Beach) and Los Angeles County Supervisor Janice Hahn.
Gonzalez dominated Guerrero in campaign fundraising, pulling in $733,000 in contributions, with major support coming from organized labor. Guerrero raised $26,000, including $10,000 of his own money.
The Coalition to Restore California's Middle Class, an independent expenditure committee funded largely by major oil companies, also spent more than $1.1 million supporting Gonzalez's campaign, which raised questions after the Democrat ran on a platform to fight climate change and strengthen air and water protections. She was also endorsed by the California League of Conservation Voters.
Gonzalez disavowed support from the coalition of oil companies, saying she had not "coordinated or courted their involvement."
The race in Northern California's 1st Senate District pitted two Republican assemblymen against each other: Dahle of Bieber and Kevin Kiley of Rocklin. The sprawling district encompasses the northeast corner of California, from the Sacramento suburbs to the Oregon border, and has the highest Republican voter registration of any Senate district in the state.
Dahle led by just over 6 percentage points with likely thousands of ballots left to be counted, including vote-by-mail ballots that were dropped in mailboxes Tuesday and were still on their way to elections offices.
Still, the margin was great enough for Kiley to concede the race late Tuesday night.
"Today's election did not go our way," Kiley said in a statement. "Although some ballots remain to be counted, it's not enough to overcome our current deficit of 53% to 47%. Congratulations to Sen.-elect Brian Dahle. I wish him the best in his new position."
Kiley will continue serving in the Assembly.
That race became an increasingly bitter contest, with the GOP candidates flooding voters' mailboxes with campaign attack mailers.
"On the face, they're pretty similar in terms of their conservative credentials, but certainly the race had gotten a lot more contentious than a lot of people expected," said Phil Escamilla, public policy professor at William Jessup University in Rocklin.
Dahle, who previously served as Assembly Republican leader, sent voters a mailer questing Kiley's conservative credentials by calling him a "former Kamala Harris staffer." The mailer included a picture of Kiley with Harris, a Democratic U.S. senator and current presidential candidate.
Kiley criticized the mailer as dishonest, saying that the picture was doctored and that he never met Harris in person. Kiley worked as a deputy attorney general while Harris was California attorney general, but he was a staff attorney and not a political appointee.
"The desperation you've seen from Brian raises questions about why he's willing to exceed all boundaries of fair play just to run for this seat," Kiley told the Sacramento Bee in April.
Kiley, in turn, sent out campaign mailers accusing Dahle of benefiting from more than $414,000 in "dark money" campaign spending from Pacific Gas & Electric Co., the mammoth Northern California utility blamed for the deadly wildfire that destroyed most of the town of Paradise. Prominently displayed on the mailer was a picture of Dahle posing with President Trump.
Escamilla said Kiley was probably trying to attract support from Democrats in the district "who don't have a favorable impression of Trump."
Both candidates hauled in substantial campaign funds — Dahle raised $1.1 million and Kiley $870,000.
The race was also a magnet for outside spending, the vast majority on Dahle's behalf.
An independent expenditure committee called Taxfighters for Brian Dahle, funded by the prison guards union and other interest groups, spent more than $500,000 supporting the candidate.
A special election will be scheduled to fill Dahle's Assembly seat once the election results are certified and he resigns from the Assembly. Long Beach also will hold a special election to fill Gonzalez's City Council seat after her election is certified and she joins the state Senate.
Twitter: @philwillon
---
Get our Essential Politics newsletter
The latest news, analysis and insights from our politics teams from Sacramento to D.C.
You may occasionally receive promotional content from the Los Angeles Times.