California Democrats aim to send Trump a message with State of the Union guests
When President Trump looks out onto the House gallery Tuesday evening while delivering his second State of the Union address, California Democrats hope he'll see faces that embody their opposition to his agenda.
Many in California's newly expanded delegation of House Democrats are using their invitations to cement the state's place in the resistance.
The guests invited to see the president's speech include Californians who have been affected by Trump's policies: so-called Dreamers and Deferred Action for Childhood Arrivals program recipients, furloughed federal workers and active duty transgender members of the military. One Los Angeles member of Congress, Jimmy Gomez, has invited Costa Rican immigrant Sandra Diaz, who worked for the president as a housekeeper while living in the United States illegally.
The guest list also includes at least eight Dreamers or DACA recipients who have been in legal limbo since Trump decided to end Obama-era deportation protections last year.
Among them is Miriam Tellez, a student at Cal State Fullerton, who will attend as a guest of Rep. Gil Cisneros (D-Yorba Linda). The freshman congressman has called Trump's efforts to negotiate a DACA solution in exchange for U.S.-Mexico border wall funding "crass and inhumane."
Tellez, who is the first to attend college in her family, is a sociology major and works at a campus center that supports Dreamers.
"My success is due to my parents' struggle and their dream for a better life in the United States," Tellez said in a statement, adding that the actions of Congress and the president have "real consequences."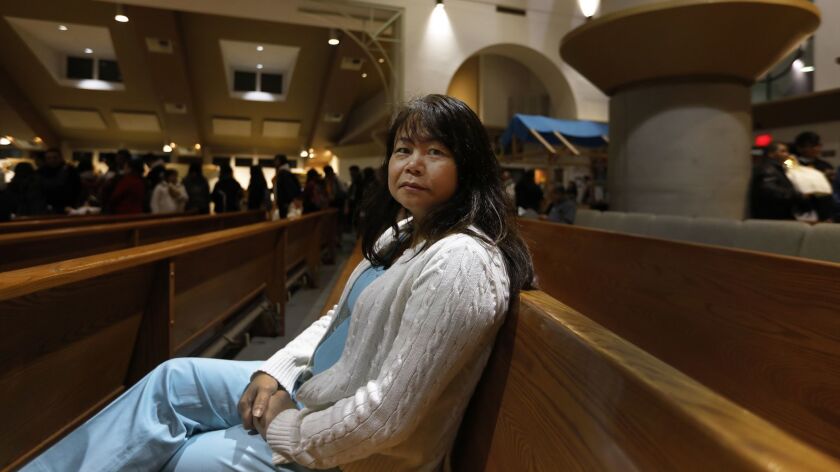 Attending with Rep. Katie Porter (D-Irvine) will be Helen Nguyen, an Orange County woman whose husband has been imprisoned in Vietnam since July. A nurse who works at Orange County hospitals, Nguyen said she was forced to sell her husband's business to stay afloat financially.
Porter said she hoped that inviting Nguyen would send a strong message to Vietnam's communist regime. Nguyen's attendance comes as the administration's recent threat to deport Vietnamese immigrants with criminal convictions has stirred controversy in Orange County's Little Saigon.
Also in attendance will be Shaima Swileh and Ali Hassan, who struggled to reunite in the U.S. as their 2-year-old son, Abdullah, was hospitalized in Oakland. Swileh, a Yemeni national, was blocked from seeing her son for months as the family sought treatment for his degenerative brain disease. She was granted a visa after the family's story received national media attention and was able to see her son before he died.
In a call for bipartisanship, Rep. Josh Harder (D-Turlock) will bring John Casazza, a walnut farmer and lifelong Republican from his Central Valley district who said his business has been hurt by tariffs. In a statement, Casazza said he was happy for the opportunity to "show that we in the valley can put politics aside and focus on what matters."
Others invited by California's members of Congress include Air Force Staff Sgt. Logan Ireland, an active duty transgender serviceman who will attend as a guest of Bay Area Rep. Jackie Speier (D-Hillsborough); Chrissy Lewis, a veteran and single mother who was furloughed from her job as an air traffic controller during the shutdown and has been invited by Rep. Katie Hill (D-Agua Dulce); and Rajwinder Kaur, a breast cancer survivor and single mother whose pay on medical leave as a Central Valley prison guard was disrupted by the government shutdown. She will attend as a guest of Rep. T.J. Cox (D-Fresno).
Most of California's seven remaining GOP members of Congress had not announced guests for the event; Rep. Ken Calvert (R-Corona) said he would bring a staff member and Rep. Doug LaMalfa (R-Richvale) has invited former Grass Valley Mayor Jan Arbuckle.
Coverage of California politics »
For more on California politics, follow @cmaiduc.
---
Get our Essential Politics newsletter
The latest news, analysis and insights from our politics teams from Sacramento to D.C.
You may occasionally receive promotional content from the Los Angeles Times.