California Atty. Gen. Xavier Becerra leading three challengers in early election returns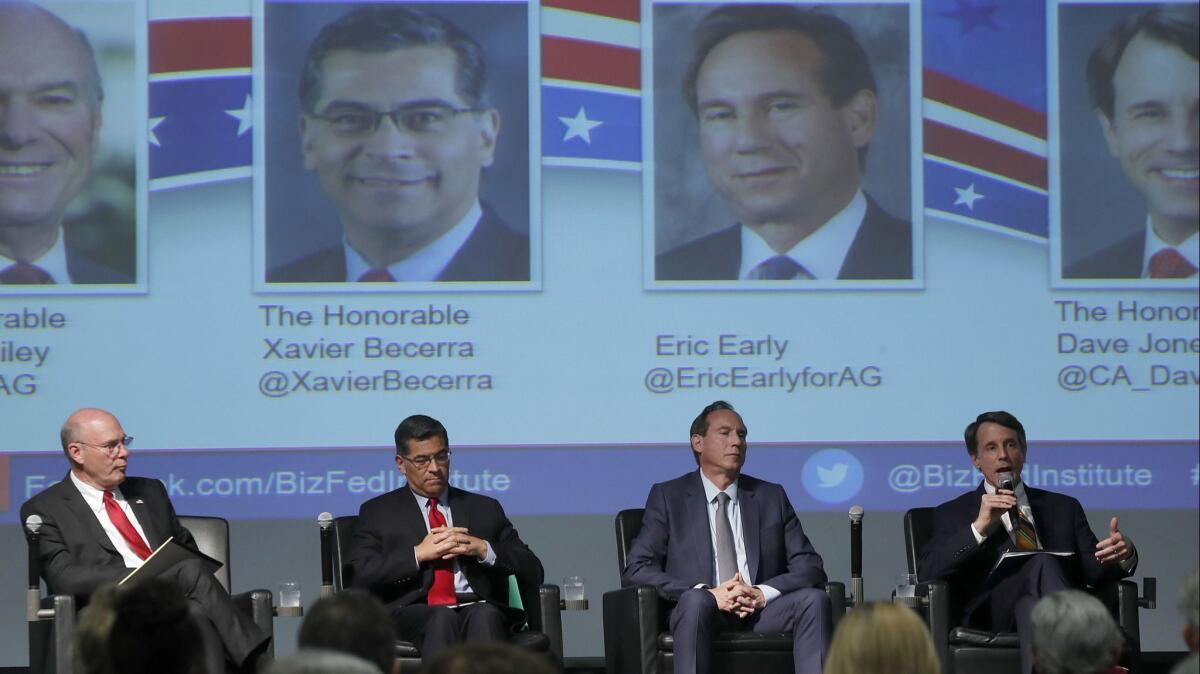 Reporting from Sacramento —
Tuesday's election featured seven statewide contests besides the governor's race, including a barnburner for state attorney general in which incumbent Xavier Becerra took a big lead in early vote returns against three challengers to see who will face off in November for California's top cop job.
Those competing with Becerra for two spots on November ballot for attorney general were retired El Dorado County judge Steven C. Bailey, a Republican who had the second highest number of votes in early returns, followed in the tally by Republican attorney Eric Early and then Democrat Dave Jones, who is the state insurance commissioner.
Becerra was appointed by Gov. Jerry Brown more than a year ago after the previous office-holder, Kamala Harris, was elected to the U.S. Senate. A former 12-term congressman, Becerra is in his first statewide election.
Becerra has grabbed the national spotlight and drawn criticism from the Republican candidates for filing more than 30 lawsuits challenging policies of the Trump administration on subjects including immigration, the environment and health.
"Are you feeling as good as I am?" Becerra asked a cheering crowd at a Sacramento election party after the first vote tallies were posted. He reminded that there is "still work to do" in the November runoff.
"Job one for the attorney general is to have your back, to make sure that I'm protecting everything that you value," Becerra told the supporters at the event hosted by Planned Parenthood Affiliates of California.
Bailey also sounded a confident note: "I will be in the top two, and when Californians hear our message, they will vote out the incumbent attorney general."
Tuesday's ballot also features crowded fields of candidates for lieutenant governor, treasurer, controller, secretary of state, superintendent of public instruction and a replacement for Jones as insurance commissioner.
With Lt. Gov. Gavin Newsom forced out by term limits and running for governor, the crowded, 11-person race to fill his current post features some high-profile candidates, including state Sen. Ed Hernandez, and fellow Democrat Eleni Kounalakis, a businesswoman and former U.S. ambassador to Hungary, and Jeff Bleich, an attorney and former U.S. ambassador to Australia.
Early returns had Kounalakis in a tight race for first with Hernandez running in second followed by Republican Cole Harris, an entrepreneur.
Kounalakis said as the polls closed that she felt good about talking to a lot of voters during the campaign. "One thing became clear: Californians are ready to fight to protect our California values and to make sure our economy works for everyone," she said.
The post often is described as "governor lite" because there are not many powers. The lieutenant governor fills in when the governor leaves the state, can break a tie in the state Senate, and serves as a University of California regent, a trustee of the California State University, a member of the state Lands Commission and chairman of the Commission for Economic Development.
Secretary of State Alex Padilla, a Democrat, led in early returns for his reelection bid and faces seven challengers. Republican election law attorney Mark P. Meuser had the second most votes in early returns, followed by Democrat Ruben Major, a paramedic and businessman.
Incumbent state Controller Betty T. Yee also jumped out to an early lead in vote tallies as she seeks reelection, with Republican challenger and entrepreneur Konstantinos Roditis receiving the second highest vote in early returns, followed by Peace and Freedom Party candidate Mary Lou Finley, a retired educator.
With state Treasurer John Chiang also running for governor, those seeking to succeed him include Democratic state Board of Equalization member Fiona Ma, who had a lead in early returns, with Republican businessman/CPA Greg Conlon, getting the second most votes early.
Live coverage of California's primary »
Jones, the attorney general candidate, is prevented by term limits from running for reelection as insurance commissioner.
Businessman Steve Poizner, who held the insurance commissioner post as a Republican from 2007-2011 and is running as a no-party-preference candidate, was leading in early returns.
Democratic state Sen. Ricardo Lara had the second most votes in early returns, followed by Democrat and physician Asif Mahmood, teacher and then Peace and Freedom Party candidate Nathalie Hrizi.
Superintendent of Public Instruction Tom Torlakson is prevented by term limits from seeking reelection, and four candidates are seeking that post in the nonpartisan contest.
Candidates include Assemblyman Tony Thurmond, who has backing from teachers unions, is battling fellow Democrat Marshall Tuck, an education consultant backed by charter schools, with early returns showing no one with the majority vote needed to avoid a runoff in November.
Thurmond was running just behind Tuck. The superintendent runs the California Department of Education, and implements policies set by the state Board of Education.
Four seats elected by districts on the state Board of Equalization also are on Tuesday's ballot a year after a scandal led the Legislature and governor to take away most of the panel's responsibility over taxes, including the hearing of taxpayer appeals.
Everything you need to know about the June 5 primary »
Twitter: @mcgreevy99
---
UPDATES:
9:30 p.m.: This article was updated with results after polls closed.
This article was originally published at 10 a.m.
Get our Essential Politics newsletter
The latest news, analysis and insights from our politics team.
You may occasionally receive promotional content from the Los Angeles Times.