Stephen K. Bannon brings his 'war' against the GOP establishment to California
Reporting from Anaheim —
Former Trump administration strategist and GOP agitator Stephen K. Bannon on Friday told California Republicans, whose state party has fallen in membership and political influence, that their salvation lies in putting aside their differences and getting to work — just as they'd done to help move President Trump to his surprise victory in November.
"We have a problem with understanding how to win. Nothing else matters," Bannon told hundreds of Republican delegates gathered in Anaheim for the state party's fall convention. "If you want to take your state back … you have to roll your sleeves up."
Welcomed with a standing ovation, Bannon clung to themes of "economic nationalism" in his speech, putting the interests and fortunes of American workers ahead of the Republican establishment. He laughed off the small number of protesters outside, saying their liberal message would repel voters and help Republicans keep their targeted congressional districts.
Bannon's fiery remarks evoked both praise and consternation among Republicans at the convention at an Anaheim hotel. Few state or federal elected officials attended his speech. But it was a popular ticket among the party's most conservative members, as was demonstrated when Bannon's harsh criticism of former President George W. Bush and Sen. John McCain (R-Ariz.) was greeted with boos in agreement.
A few dozen anti-Bannon protesters — outnumbered by police and reporters — chanted outside the hotel, riled by the person widely considered to be one of the primary architects of Trump's victory in November.
National and state Democrats pounced before Bannon's appearance, arguing that it showed how out of step the California GOP is with the state's voters.
"Steve Bannon is a race-baiting thug masquerading as a pseudo-intellectual," said Eric Bauman, chairman of the California Democratic Party. Bannon's speech Friday also drew out the divide among California Republicans over whether embracing or rebuffing Trump will improve the party's fortunes in the state.
"Bannon is a uniter, not a divider. With the establishment working with instead of trying to crush the conservative movement, we win!" said former state Assemblyman Tim Donnelly of San Bernardino County, a favorite of the state's tea party members.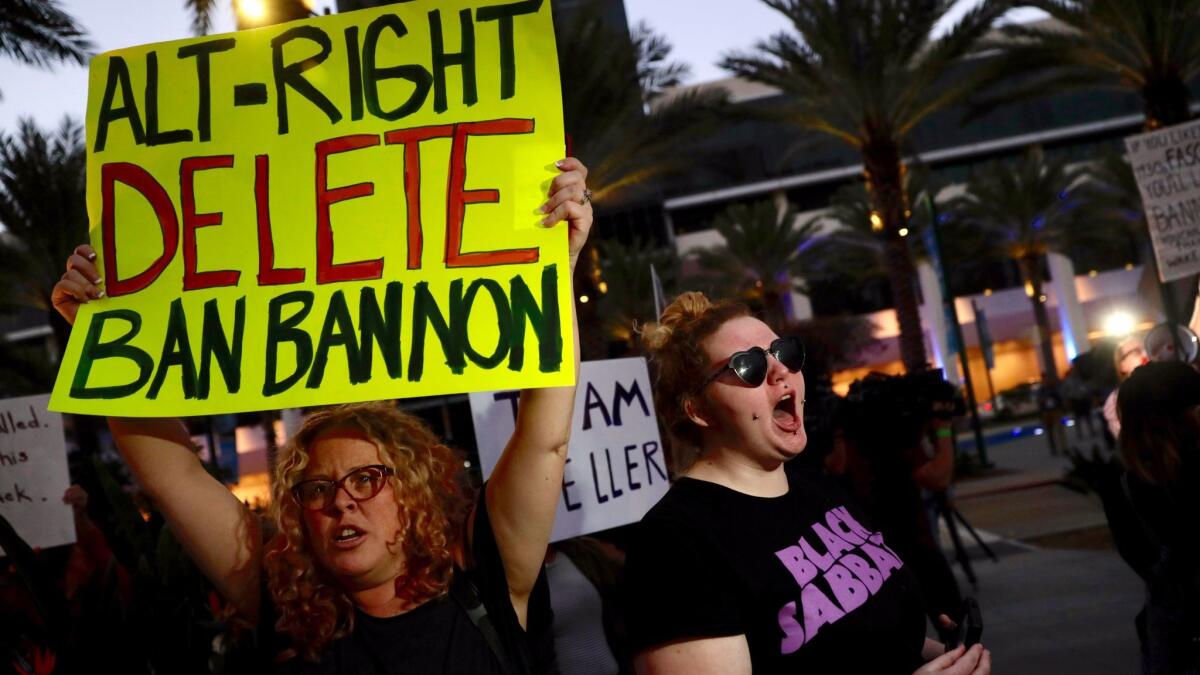 But Republican political consultant Luis Alvarado said Bannon's appearance at a state party event sends the wrong message. He noted that four Republican members of Congress from Orange County, where the convention is being held, represent districts that voted for Hillary Clinton in the 2016 election and are being targeted by Democrats in 2018.
"I see a downside if the party embraced what Steve Bannon is selling," Alvarado said.
In California, Clinton beat Trump by more than 4 million votes in November. Opinion polls show the president remains widely unpopular in the state.
Bannon was widely regarded as one of Trump's most influential strategists during the campaign, driving the then-candidate's embrace of economic populism and nativism. Once in the White House, he made no secret of his disdain for the Republican establishment, speaking about the "deconstruction of the administrative state" and creating a new political order in the country a month after Trump took office.
Since being ousted from the White House in August, Bannon has said he's launched a "season of war" against those Republicans he believes have impeded Trump and his "America First" agenda.
In Anaheim, Bannon took special aim at laws enacted by California's Democratic legislators to counter the president's agenda, such as the so-called "sanctuary state" bill Gov. Jerry Brown signed this month.
"Trust me, if you do not roll this back, and I'm talking about the people in this room, 10 or 15 years from now the folks in Silicon Valley and the progressive left in this state is going to try to secede from the union," Bannon said.
Thus far, Republicans in California's congressional delegation have not felt Bannon's political wrath, but the anti-establishment uprising that swept Trump into Washington has also inflamed a divide within the state GOP.
Republicans face a rocky path if they hope to rekindle the party in California. Democrats hold nearly a 19-percentage-point edge in voter registration. California voters have not elected a Republican to statewide office since 2006, and Democrats hold super majorities in both legislative chambers, allowing them to raise taxes without a single GOP vote.
phil.willon@latimes.com | Twitter: @philwillon
seema.mehta@latimes.com | Twitter: @LATSeema
Updates on California politics
ALSO
Steve Bannon's speech to the California GOP tonight has some Republicans nervous
California's GOP members got a big boost from group that held fundraiser with Vice President Pence
California GOP vice chair steps down, setting off search for state party's next leader
California Republicans aim to avoid another top-two race that pits Democrat vs. Democrat
Get our Essential Politics newsletter
The latest news, analysis and insights from our politics team.
You may occasionally receive promotional content from the Los Angeles Times.