Billionaire Tom Steyer is trying to reach a half a million California voters in vulnerable GOP districts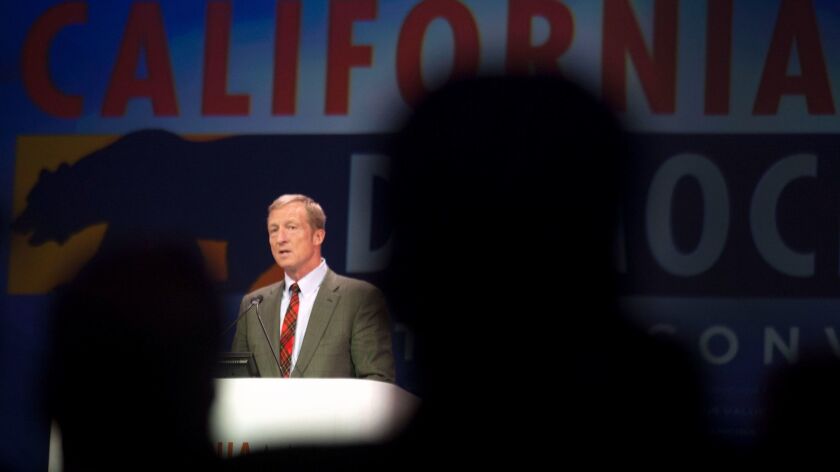 Reporting from Washington —
After years of spending money to influence political races around the country, billionaire Democratic philanthropist Tom Steyer is turning his attention to his home state in hopes that investing early in vulnerable Republican districts could help Democrats take back the House.
Steyer's nonprofit NextGen America, the California Labor Federation and six voter outreach groups on Tuesday will announce a partnership called "Uniting California" aimed at mobilizing voters to unseat seven California Republicans whose districts backed Hillary Clinton for president in 2016. The partnership will have several million dollars to work with, NextGen staff said, but a firm amount hasn't been announced.
For the record:
7:30 a.m. Oct. 3, 2017
An earlier version of this article referred to efforts by Tom Steyer's NextGen America and a coalition of groups to reach a million voters in the next year. The goal is to reach a half a million voters.
Mass voter outreach typically doesn't begin until a few weeks before an election. But starting more than a year before the November 2018 midterms leaves plenty of time to train local organizers who will interact with voters repeatedly in the coming months, Steyer said. He's hoping to reach a half a million California voters and inspire people who haven't been engaged in politics to go to the polls.
"We're going to try to work through local groups and empower local groups to be stronger and to do their jobs in a bigger more effective way," Steyer said.
Karla Zombro, who works with the Million Voters Project, one of the voter outreach groups, said "there's just no substitute" for talking with an actual member of the community, rather than someone bused in to knock on doors. Organizers will check in periodically, invite voters to public meetings and keep them informed about what's going on in Congress and local government.
"We're building a relationship with folks," she said. "Someone's knocking on your door who probably lives down the street."
Labor unions are a major force in California and often do a lot of the door-knocking that residents are used to seeing. But Art Pulaski, head of the California Labor Federation, said the effort "brings us to something that is much more in-depth and long-term than we've ever done before."
The California Labor Federation is nonpartisan, but Pulaski said he sees the partnership as going after "people who are sinfully bad on issues that affect working people."
Steyer said that he feels as if California is under attack from President Trump's policies and that he wants voters to know Republicans in California's delegation stand with Trump.
"They have voted against the interests of their constituents repeatedly, and I think it's important for people to know that. And they're supporting someone who's targeting California in very specific ways," Steyer said.
Steyer funded other efforts with local organizers in a half dozen swing states in 2016, and will do so again in 2018, his staff said. He has long been regarded as a potential candidate for statewide office. He has been coy about potential plans to run for governor next year, and recently wouldn't rule out challenging Sen. Dianne Feinstein (D-Calif.) in 2018 if she doesn't retire.
A similar voter effort is being organized by the Congressional Leadership Fund, a conservative advocacy super PAC. Its volunteers have been knocking on the doors of swing voters in four of the vulnerable GOP districts since June, and the group plans to spend $1 million in each district.
Follow @sarahdwire on Twitter
Read more about the 55 members of California's delegation at latimes.com/politics
ALSO:
---
For reporting and exclusive analysis from bureau chief John Myers, get our California Politics newsletter.
You may occasionally receive promotional content from the Los Angeles Times.