As harassment allegations rock Sacramento, violence against women becomes a focus of state Senate campaign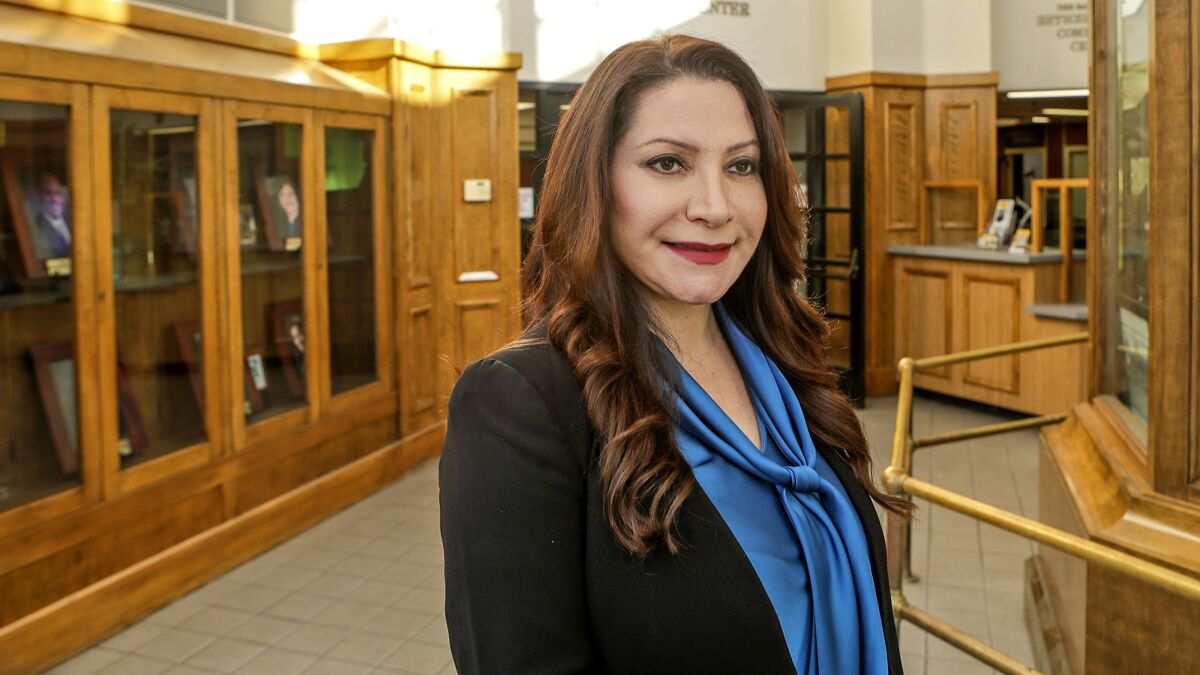 Reporting from Sacramento —
Baldwin Park Councilwoman Susan Rubio shook up the state Capitol last year when she went to court and obtained a domestic violence restraining order against her estranged husband, then-Democratic Assemblyman Roger Hernández.
Now, as she runs for a state Senate seat in the San Gabriel Valley against former Assemblyman Mike Eng, her campaign is garnering attention at a time when women in politics are speaking out about sexual harassment and unwanted touching they've experienced in the Capitol.

For the record:
10:30 a.m. Nov. 12, 2017An earlier version of this article said Susan Rubio was endorsed by the Legislative Women's Caucus in her run for a state Senate seat in the San Gabriel Valley. She was endorsed by the Democratic Legislative Women's Caucus.
The race has divided Democrats.
Rubio has been endorsed by the Democratic Legislative Women's Caucus, but legislative leaders — including Senate President Pro Tem Kevin de León and Assembly Speaker Anthony Rendon — are supporting Eng for the seat.
The caucus endorsement pits female legislators against several powerful male counterparts, including Sen. Ed Hernández (D-Azusa), who is not related to former Assemblyman Hernández. The senator picked Eng to replace him when term limits forced him to leave the 22nd Senate District seat.
Eng, according to Rendon, "is a close personal friend, an accomplished legislator, and community leader who I believe will be a great state senator."
The split in allegiances comes as a conversation about harassment and abuse is taking center stage in Sacramento.
More than 140 women — including leaders of the Democratic Legislative Women's Caucus — recently signed a letter criticizing the "pervasive" culture of sexual harassment and misconduct in state government. The signers, who include lawmakers, lobbyists and legislative aides, said they had all witnessed "dehumanizing behavior by men in our workplace."
Several of the women say the male-dominated Legislature has failed to set up a system of independent investigation that will protect women while holding harassers and abusers accountable.
Rubio's backers say issues important to women are not getting the attention they need, in part because of a decline in the number of women in the Legislature. There are 26 women in the 120-member Legislature, the lowest number since the 1997-98 session.
"We women are few in the Legislature, making up only 22 percent of both the Senate and Assembly," wrote Assemblywoman Cristina Garcia (D-Bell Gardens), chairwoman of the Democratic Legislative Women's Caucus, in the endorsement letter to Rubio. "We hope to grow our numbers with women like you."
Similar letters have been sent to about half a dozen other women running for legislative office by Garcia, who also signed the letter on sexual harassment.
"When women are elected, the issues that are elevated change," Garcia said in a statement sent to Rubio for use in her campaign. "We think Susan Rubio can join our collective voice and further magnify the work we are doing for women and families in our Golden State."
Rubio won the caucus' endorsement in a majority vote of some 16 members present at a retreat. Three Democratic state senators who are members of the caucus — Toni Atkins of San Diego, Connie Leyva of Chino and Cathleen Galgiani of Stockton — have endorsed Eng. They declined to comment on their decision.
Assemblywoman Blanca Rubio (D-Baldwin Park) said her sister Susan is "well-qualified" to serve in the Senate and showed heroism in taking a public stand against alleged abuse by her former husband while he was in office.
In April 2016, a Superior Court judge ordered Roger Hernández to stay away from his estranged wife for three years after she said the lawmaker severely beat her during their marriage. Susan Rubio said in a court declaration that Hernández engaged in "pushing, shoving, hitting and choking" her.
Shortly after the court order, Rendon stripped Hernández of his committee assignments. The embattled Democrat from West Covina ended his term in office on medical leave and dropped his campaign for Congress against a fellow Democrat, Rep. Grace Napolitano of Norwalk.
Since the letter from 140 women was released, Rubio has started talking at campaign events about the alleged abuse by her ex-husband.
"For the first time in our circle, she said, 'I was a victim of domestic violence, but I am not a victim anymore. I am a survivor, and I will be a champion for women,' " Blanca Rubio recalled. "I think it was brave of her because it was very difficult. She knew it was going to be blasted all over the place."
Susan, the younger Rubio sister, is a fourth-grade teacher who says she will fight for equal pay and stronger protections for women, improved education and well-paying jobs for district residents, and she says she will stand up for immigrants and veterans.
Eng said his priorities include working toward more affordable housing and environmental protections, protecting consumers, making sure there is clean water for all, reducing student loan debt, improving safety at schools and addressing the needs of immigrants.
He noted he has the endorsements of many prominent female officials, including Los Angeles County supervisors Kathryn Barger, Janice Hahn and Hilda Solis, as well as his wife, U.S. Rep. Judy Chu (D-Monterey Park). He said he supports proposals by women to improve the process of preventing sexual harassment.
"The proposals have to be taken very seriously. We have to make sure they are implemented," he said.
Rubio also said she would work toward improving protections against abuse and harassment in the Capitol.
"I am 100% committed to protecting women and making sure that no woman lives in fear of losing her job because of someone else's misconduct," she said. "I will push to move forward with whistle-blower protections and an independent review panel so everyone feels protected, including men."
Twitter: @mcgreevy99
ALSO
Female lawmakers, staffers and lobbyists speak out on 'pervasive' harassment in California's Capitol
Graphic allegations about California legislator show there are few protections for female lobbyists in the Capitol
Life is stressful. Our weekly mental wellness newsletter can help.
You may occasionally receive promotional content from the Los Angeles Times.