As Trump makes border visit, leaders from California and Mexico will discuss pollution
Reporting from Sacramento —
As President Trump makes his third visit to California on Friday to tour the border in Calexico, state lawmakers and Mexican leaders will meet at another end of the state's southern boundary to discuss what they see as a crisis in the border region: high levels of air and water pollution.
The inaugural event in Imperial Beach, which includes a series of conversations with top-level government officials on both sides of the border, will mark the launch of the California-Mexico Strategic Dialogue initiative, a new effort led by Assembly Speaker Anthony Rendon (D-Lakewood) to forge working relationships on key issues such as climate change, immigration and trade.
Rendon, legislators in his chamber and Mexican Consul General Liliana Ferrer have worked toward the partnership over the last year, sending a delegation to Mexico City in December for the inauguration of President Andres Manuel Lopez Obrador. Though the project is unrelated to efforts in the California Legislature to counter Trump administration policies, Rendon said, state leaders have stepped up to fill what some called a vacuum in diplomatic relations at the federal level.
The speaker's office has extended an invitation asking Obrador to give a joint address to both chambers of the California Legislature.
"My speakership began March 2016, before Trump became president," Rendon said. "Initially, [this effort] wasn't about that, it was about making sure international affairs office worked in a real way. But I certainly think it has filled a void."
In recent months, Trump has traded barbs with Gov. Gavin Newsom over the president's characterizations of an influx of migrants arriving at the border, many seeking asylum after fleeing drug war violence in El Salvador, Guatemala and Honduras. The president has threatened to shut down the border or impose auto tariffs if Mexico fails to do more to prevent people from crossing illegally. On Friday, he plans to tour a 30-foot-tall bollard-style barrier constructed in Calexico, just before Newsom is scheduled to depart for El Salvador in his first international trip as California's governor.
Assemblyman Eduardo Garcia (D-Coachella Valley), who represents a region grappling with exhaust fumes and other pollution from vehicles crossing international ports of entry, said he did not want the president's visit to distract him "from the fact that we have some work to do."
"We have a different crisis in the border, and it's not one of people 'invading' California," he said. "The crisis is air quality issues. The crisis is water quality issues. The crisis is the lack of infrastructure to move goods to and from the state in a much more efficient and effective way."
In 2016, Garcia helped pass landmark climate change legislation aimed at generating investments in clean technologies and reducing greenhouse gas emissions. This year, he is among several members of the Assembly working to clean up the New River, which cuts through Imperial County, and the Tijuana River near San Diego.
The California-Mexico initiative's first event will focus on the Tijuana River Watershed, 70% of which lies in Mexico, while the mouth of the Tijuana River, mostly carrying treated wastewater, drains into the Pacific Ocean in the cities of Imperial Beach and Coronado. The river's flows are typically diverted before they cross into the U.S. and pumped at the coast, but storms can overwhelm the system, dumping sewage, sediments and trash into the ocean.
Pollution there has affected residents and businesses for decades, but neither the U.S. nor Mexico has fully funded projects to revamp sewage and infrastructure. Local officials sued the federal government in March after more than a year of demands that it strengthen infrastructure along the border to prevent flows from Mexico into San Diego County wetlands and beaches.
"The beaches are closed half the year, and there is some serious stuff in the river — human waste, industrial pesticide garbage," Assemblyman Todd Gloria (D-San Diego) said.
Mexican officials have said that upgrading the network of pumps, tunnels and pipes that serve as the central sewage infrastructure in Tijuana would cost close to $30 million, according to a 2017 study provided by Rendon's office. Revamping the sewage treatment plant, which legislators say is the main cause of pollution, would total at least $372 million.
Lawmakers also plan to discuss a number of projects, including installing trash capture devices, as well as renewing several memorandums of understanding first drafted under former Gov. Jerry Brown — some of which expired last year — to develop joint task forces to battle wildfires, improve data on air quality and reduce greenhouse emissions.
The initiative coincides with Newsom's efforts to improve relations between California and Mexico. He has committed to reopen a trade office in Mexico City, revitalize a state commission to work on issues with Mexican government officials and earmarked millions for nonprofit groups assisting asylum seekers in San Diego.
Legislators have already begun to debate some of those efforts and the governor's other proposals, including an expansion of state-funded healthcare to cover more young immigrants who are in the country illegally.
Rendon and Ferrer say they want to build relationships to outlast both Trump and Newsom.
"Our relationship goes beyond one individual and one administration," Ferrer said. "We have really strong historical ties, cultural ties, social ties."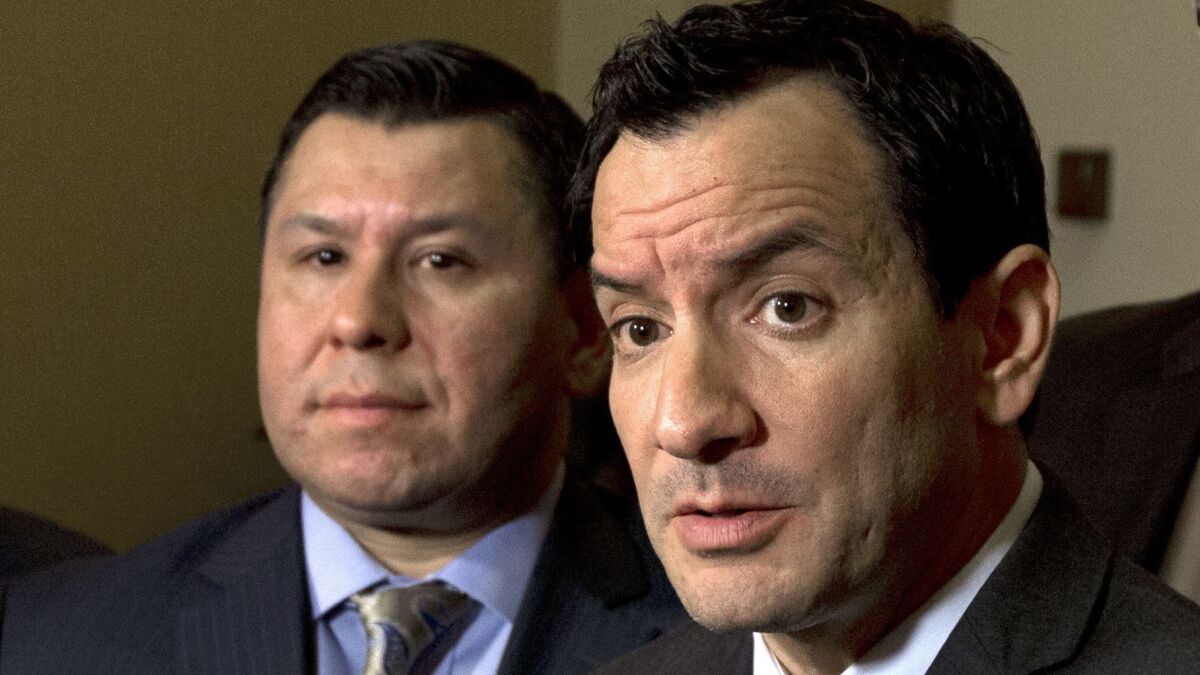 More stories from Jazmine Ulloa »
Follow @jazmineulloa on Twitter.
---
Life is stressful. Our weekly mental wellness newsletter can help.
You may occasionally receive promotional content from the Los Angeles Times.